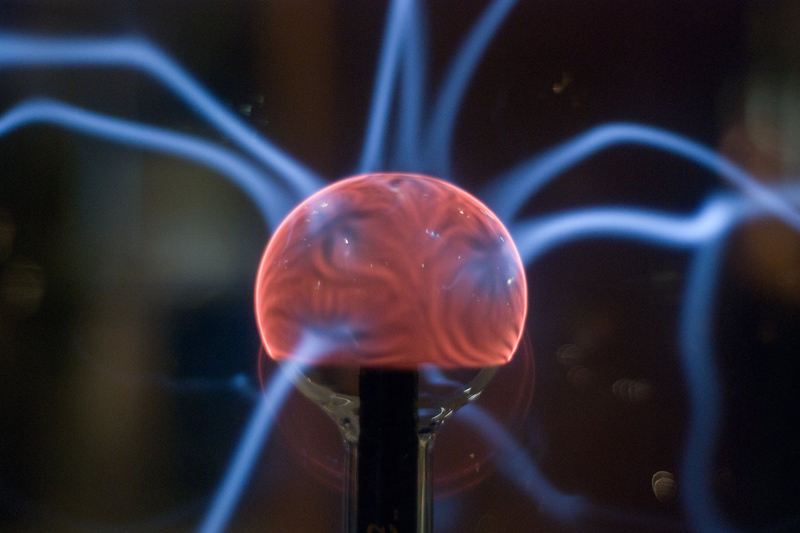 Jeri Ryan will probably be best remembered by scifi TV fans as Seven of Nine, the part-human, part-Borg who joined the crew of "Star Trek: Voyager" partway through the series and gave the show a spark of life in her silver catsuit. Ryan, an accomplished actress, has been a regular on several TV series since then, including "Boston Public" and "Body of Broof."

Her current husband, Christopher Eme, is an L.A. chef whose French restaurant, Ortolan, recently closed (he's planning a more casual, healthier, organic-themed restaurant for the future). Ryan has two children, including one from her first marriage to Jack Ryan, an investment banker who is best known for running against Barack Obama for Illinois' U.S. Senate seat--and wtihdrawing, in part due to revelations about his divorce with Jeri Ryan.

The following interview came out of a press conference call organized by Syfy Channel.

Q. You recently returned to science fiction in "Warehouse 13." What was it like to be back in that genre?

Jeri Ryan: I'd be eager to do a lot of stuff in that genre that you don't really get to do in typical drama or comedy, which is one of the reasons you become an actor--to do as many different things as you can and live as many different lives as you can. And it's fun to do a role where you can really suspend reality a bit. It's a good time. It was just a great group of people, and Eddie (McClintock) and I had a ball working together, especially.

Q. What was most memorable about your experience on "Warehouse 13?"

Jeri Ryan: There were some really, really nice emotional scenes that Eddie and I got to play together. It was just really fun connecting with him. He's a great actor; he's a funny, funny guy.

Q. Was there anything challenging about your role?

Jeri Ryan: Always with comedy, and especially comedy that is in the sci-fi genre, you're really suspending belief. You have to find that line between playing the comedy and playing the realism too, and that's always a bit of a balancing act. But it's fun. And the people in the show, they're pros. This is what they do. That fine line is one they walk all the time, so there is no better training ground. It was a lot of fun.

Q. What's your ultimate dream role? Is there anyone you'd like to work with that you haven't yet?

Jeri Ryan: Oh, there are tons of people I'd love to work with that I haven't. I used to say Hamlet was my ultimate dream role, and it still is an amazing role, and I would love to play it. But there are so many actors I would love to work with. I'd love to work with Clint Eastwood as a director, I'd love to work with Sidney Poitier, because he's the reason that I became an actor in the first place. Meryl Streep is everyone's dream, because she's the greatest living actor of our time. There are a lot of just amazing talents that I would love to work with at some point.

Q. How did you get started in acting?

Jeri Ryan: Well, it's what I always wanted to do. When I was a kid, it was always an actress. An actress or a veterinarian. When I was in high school, I had to decide what I was going to major in in college, and my decision was between majoring in theater and majoring in biomedical engineering. I had an incredibly practical nature, but (decided that) acting could be a better idea. And I did a lot of community theater when I was growing up and things like that, and moved out to L.A. after I graduated from Northwestern. I was really lucky. I've worked steadily ever since.

Q. You've done comedy and drama and scifi. Are there any genres you would like to do more of?

Jeri Ryan: I'd like to do action, like "Mortal Kombat: Legacy." That's sort of action-fantasy. I think I've done all the genres--there are not too many that I haven't done...But I would like to do more comedy because it's fun and that's an escape. It's just a very light environment to work in. But I like being able to jump around and do all kids of things.

Q. What do you like about doing science fiction?

Jeri Ryan: I like that it gives you a little more freedom to play period. It's not so stuck in reality, obviously. You can really suspend disbelief and suspend reality and do things that you don't get to do in ordinary life, so it's fun.

Q. Which do you like better, filming movies or television?

Jeri Ryan: Personally, I like TV better. The pace is very, very different between TV and films. On TV, we'll do between six and sometimes we've even done eight pages in a day of script. So that's six or seven scenes, sometimes. In film, you shoot two pages a day. So you're shooting the same scene all day long. And that, to me, is a bit mind-numbing. And I don't know how they do it. I was working in a movie called "Down with Love," and I was sitting on the set between shots with Renee Zellweger and I asked her, "How do you do this? If you've got a big emotional scene, how do you do this?" And she said, "You just have to live in it all day." You don't have lunch with the crew, you don't hang out between shots. You sit in your trailer and you just stay in that emotional place all day because you have to. And I just don't know how you could (keep) your sanity doing that, and go home to your family at the end of the night and not be just insane.

Q. What was shooting the "Mortal Kombat: Legacy" web series like?

Jeri Ryan: Production-wise, there wasn't a huge difference once we were shooting. If anything, we actually had a little more time than we do shooting a TV series, a network TV series, because we have seven days to shoot a one-hour (or basically 40-minute) episode for TV. For this, our episodes were six to--I think the longest one was 12 or 15 minutes. So we could take a little more time when we were actually shooting it. It's a big difference within the prep--there was none. So I think I had three days' notice of the offer coming through, making the deal, and getting on a plane to fly to Vancouver to start shooting. So the difficulty there for me was no time for fight training. I think most of the other actors, if not all of them, are trained fighters. So for them, just going in and learning a big fight scene is just a matter of choreography. For me, it's not. So that was hard. I would have loved to have had at least a couple of weeks to get in some fight training and really be able to make a more involved fight scene, but that was the only big difference.

Q. Is there any talk about doing more of the "Mortal Kombat" series?

Jeri Ryan: We would have loved to do more of it. We're just waiting for word it it's going to continue, if we're going to get season two or what's going to happen. So yes, we had a ball doing it, everyone involved, and we're all very proud of it. Kevin (Tancharoen), the director, his vision is incredible for this and we'd love to continue and see where he takes us.

Q. You learned tango recently for a job. Is that something you'd like to continue?

Jeri Ryan: Yes, I did that for an episode of "Leverage." I would love to continue it. The question is having the time, and my husband having the time and the interest to take tango lessons with me. But I loved it. It was a lot of fun. I've always loved dancing….I think if I had more time to do it, I'd be able to do it really well. (With) two or three lessons in the course of a week, there's not much you can learn. And that does not mean I want to be on "Dancing with the Stars," which is what everybody asks me.

Q. Is there something surprising about you your fans might be surprised about?

Jeri Ryan: I will say pre-Twitter they would have probably been surprised, but if any of them follow me on Twitter I don't think anything would surprise them at this point. But yes. I'm a bit old science nerd from way back. Not science fiction, per se. I never really watched that genre when I was growing up, but actual science. Oh yes, I love it. That's my favorite thing about the role I'm playing now on "Body of Proof," that I get to play a medical examiner, which means I got to observe autopsies and that, for me, was just incredible.

Q. What kind of advice do you have for up-and-coming actors?

Jeri Ryan: Boy--it's kind of twofold. For the people who are just starting out, if there's anything else that would making you happy doing it besides acting, then you should do that. Because this is a very difficult business, and there's a lot of rejection. So it's hard, and everybody's emotional--everyone's psyche can't really take all of that rejection, and that's not the best thing for everyone. If this is all that will really fulfill you and make you happy, then do it. If you're going to do it, you have to completely do it and you've got to be incredibly persistent and not give up and not take no for an answer and just keep going. It's a numbers game for everyone when you're starting out. The more auditions you can go to, the better your chances of getting a job. Because there's a lot of rejecting, and it's usually not anything to do with your acting ability, especially in Hollywood as opposed to the theater. You're too blonde, you're not blonde enough, you're too tall, you're not tall enough, you're too pretty, you're not pretty enough. It's that physical stuff, even more than your acting ability, for a lot of jobs when you're just starting out. You have to learn to not take things personally, and get a really thick skin. But you've got to be prepared.

That's my other piece of advice: be prepared. Be ready. So when that opportunity comes--because it will, but you have to be ready for it because it may not come again, your big break or your big chance. So be trained. Get in class. Be ready so that when that chance comes, you don't screw it up.




Related Articles
Editor's Picks Articles
Top Ten Articles
Previous Features
Site Map





Content copyright © 2023 by Helen Angela Lee. All rights reserved.
This content was written by Helen Angela Lee. If you wish to use this content in any manner, you need written permission. Contact Helen Angela Lee for details.