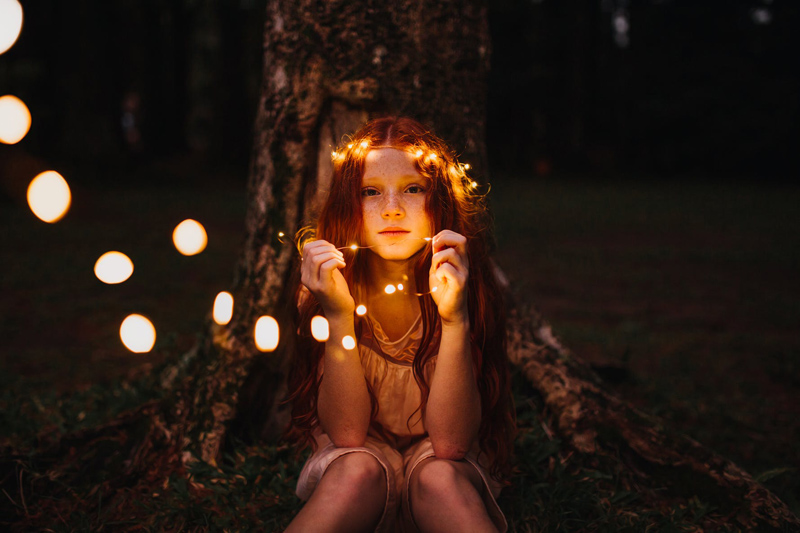 The film, "The Golden Compass", is an adaptation of the first novel in the bestselling trilogy, "His Darkness Materials." Written by Phillip Pullman, the trilogy is comprised of "Northern Lights," released as "The Golden Compass" (1995), "The Subtle Knife" (1997), and "The Amber Spyglass" (2000). In this exciting fantasy multi-universe, which moves between many alternate worlds, witches rule the northern skies, armored bears are the bravest of warriors and every human is joined by a "daemon," a human soul manifested as an animal. In childhood, the daemons have the ability to shape-shift to signify the ever-changing nature of a child. Whereas, in adulthood, the daemons assume a more permanent form that best reflects the human's inner soul. In this world, where the Magisterium dominates and seeks controls over all humanity and all worlds, there are two things which stand in their way: the Alethiometer, or the Golden Compass, a powerful truth- and future-telling device that is able to answer questions formed in the mind of its user, and Lyra, the child who is destined to possess it.

Lyra Belacqua, played by Dakota Blue Richards, is an orphaned 12-year-old girl who lives a fascinating life among the scholars who have raised her at the distinguished Jordan College, not so much different from Oxford or Cambridge. Unsupervised and running rampant through the streets on unusual and wild adventures with her 11-year-old best friend Roger, played by Ben Walker, Lyra is also accompanied by her own shape-shifting daemon, Pantalaimon or Pan, voiced by Freddie Highmore, who serves as her voice of reason. But Lyra's world soon changes once her uncle, Lord Asriel, played by Daniel Craig, embarks on a trip to the Arctic Circle in an effort to investigate a high concentration of mystical particles known as Dust, a strange elementary particle believed by the Magisterium to be, less attracted to the innocence of children, evidence for the original sins of nasty thoughts and unhappy feelings by their ancestors. The Magisterium will stop at nothing to prevent Lord Asriel, accompanied by his daemon, a snow leopard named Stetmaria, from investigating the Dust and from opening a rift between worlds.

As rumors continue to circulate about the mysterious disappearances of children, presumably taken north by Gobblers, henchmen of the General Oblation Board, reality becomes terrifyingly real for Lyra when Roger, too, suddenly disappears. She swears that she will rescue Roger. And, it is when a beguiling scientist and world traveler by the name of Marisa Coulter, or as she is called Mrs. Coulter, played by Nicole Kidman, and her daemon, a golden monkey with a cruel, abusive streak, arrives at the college, that Lyra truly believes that this is her one chance to get away. At first Lyra is enticed by Mrs Coulter and the opportunity to travel with her, but she soon finds that the cold and manipulative Mrs. Coulter is head of the General Obligation Board and has drawn her into a trap in order to retrieve the thing that the Magisterium desperately seeks most, the Golden Compass, a gift given to Lyra by the Master of Jordan College, played by Jack Shepherd. It is at that moment that Lyra realizes that she must get herself away from Mrs. Coulter and begin her quest to rescue her friend, Roger, and the stop the Magisterium.

As fate may have it, Lyra finds herself in the company and protection of a tribe of seafaring Gyptians, who are led by Lord Faa, played by Jim Carter, Ma Costa, played by Clare Higgins, and Farder Coram, played by Tom Courtenay, and have been following closely behind Lyra ever since she left Jordan College with Mrs. Coulter. An unlikely allegiance is developed with the Gyptians, a mysterious witch by the name of Serafina Pekkala, played by Eva Green, and an aeronaut named Lee Scoresby, played by Sam Elliott. Lyra is taken on an adventure from the sky to the ocean, to the wilds of the icy north. Once she reaches the north, Lyra gains an even more powerful ally in an armored bear named Iorek Byrnison, voiced by Ian McKellen, who pledges to serve her campaign until he is dead or she has her victory.

As the great war approaches, it is not only a war that threatens Lyra's world, but all worlds parallel beyond the northern lights. With her newly band of friends and allies, and with the power of the Golden Compass, Lyra will need to gather all her skill and all her courage in order to be victorious.
You Should Also Read:
The Golden Compass: Official Site
The Golden Compass: Trailers


Related Articles
Editor's Picks Articles
Top Ten Articles
Previous Features
Site Map





Content copyright © 2023 by Cathy Spearmon. All rights reserved.
This content was written by Cathy Spearmon. If you wish to use this content in any manner, you need written permission. Contact Cathy Spearmon for details.