Eight Essential Beer Glasses for Your Bar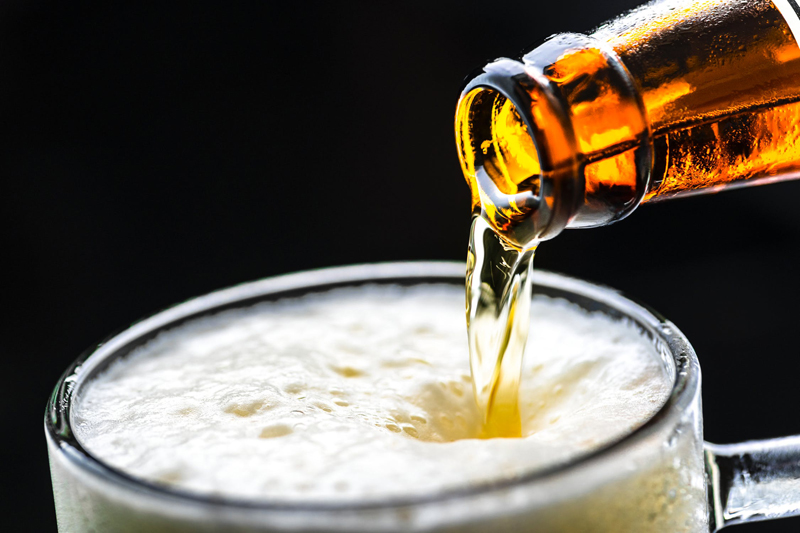 Craft beer walks hand-in hand with wine. Together, they are more alike than dissimilar. Both are from the land - wine being from grapes and beer from grain; wine, popular in warm climates, while beer favors cold; both are fermented products of great complexity. Those with simpler flavors are preferred by the novice, like a man in his first pursuit of love, while richer flavors of challenge and complexity await the experienced, along with the deep satisfaction of mastered victory.
Sales of U.S. Craft Beer have reached a 31.5% increase over a three year period from 2005 through 2007. This statistic speaks volumes about the changing tastes among American consumers. inspired by festivals on the local level, the Great American Beer Festival on the National level, the World Beer Cup, Zythos, and the Mondial de la Biere on the International level, and such Internet based giants as beertown.org, beeradvocate.com, allaboutbeer.com, and celebrator.com.
A once naive beer community is growing into a sophisticated group of epicureans who seek to pursue the comforts of fine food with a well-matched brew. They understand the hedonistic pleasures of well presented beer – the sensual sight of a meringue head, swelling over a coppery body; the aromatic intoxication of exotic fruit, merging with florals and spice; the supple silkiness of bready malt, slithering down the back of the throat.

Glassware is essential for such bon vivant pleasure. Enjoy your amber elixir and show your respect for beer and the crafters who brew it by serving beer in a glass that will maximize appearance, aroma and flavor for each style you choose to drink. Begin your glassware collection with the eight essentials; then expand as your desire grows.
Eight Essential Beer Glasses for your Bar
Chalice – As a piece of artwork, the chalice (aka goblet) upholds the dignity of the beer it carries. In many styles, the interior is scored at the bottom to stimulate a constant stream of bubbles, thus replenishing the head continuously. The rim of the glass may be edged in silver or gold, a silent commentary on the value of the liquid within. Trappist beers are most often designed to be served in the chalice, perhaps echoing the monks' connection to God and the service of mankind. The wide mouth allows the volatiles to pepper the air, while depth of color sits like a jewel within the bowl.
Recommended for use with: American Wild Ale, American Double/Imperial IPA, Belgian IPA, Belgian Golden Strong Ale, Belgian Dark Strong Ale, Dubbel, Tripel, Quadrupel


Flute – Slender elegance speaks of the delicacy of a biere brut, most commonly served in a flute glass. Head and carbonation is concentrated in close quarters. The small size of the bowl is compatible with beers that appear to be light, but carry a punch of 10-12% ABV. Volatiles are compressed into concentrated volume, then delivered to the olfactory senses as a direct hit.
Recommended for use with: Bieres Brut, Unblended Lambic, Fruit Lambic, Dry Mead, Faro, Flanders Oud Bruin, Gueuze, Weizenbock, Berliner Weiss. Flanders Red Ale

Oversized Wine Glass – A 22 oz. wine glass is the ideal delivery system for Belgian and French Ale, Barley Wine, Old Ale, Wheat Wine or Braggot. By filling the glass to the halfway point, you allow the esters to develop within the curve of the bowl, where they entice you with their stimulating aromas. The reflective hues of these beers give serious thought to the connection beer has to wine
Recommended for use with: American Double/Imperial IPA, Imperial Stout, American Wild Ale, Belgian IPA, Belgian Pale Ale, Belgian Golden Strong Ale, Belgian Dark Strong Ale, Biere de Garde, Saison, English Barley Wine, American Barley Wine, Braggot, Wheat Wine, Old Ale, Wood Aged Beer, Flanders Red Ale, Flanders Brown Ale/Oud Bruin
Pilsner – The tall, thin, tapering walls of the pilsner display the clear body and gentle effervescence of a golden pilsner, while maintaining a creamy head that gracefully emits Saaz-like florals into the air. A variation of this style is the Pokal, a European design with a stem and base.
Recommended for use with: Bohemian Pilsener, German Pils, Classic American Pilsner, Vienna Lager, Dark American Lager, Munich Helles, Dortmunder Export, Munich Dunkel, Maibock/Helles Bock, California Common Beer, American Amber/ Red Ale, English IPA, American IPA, American DIPA, Dusseldorf Altbier
Pint Glass – As the traditional Ale glass, the Pint is a cylindrical glass that tapers outward toward the top. A standard Pint glass holds a measure of 16 oz. and is ideal for displaying session beers, ales and lagers. Its wide mouth allows for the enjoyment of heavier esters found in ales, while its comfortable shape provides ease for the drinker. An Imperial Pint holds 20 oz., swells with a ridge toward the top, and is known as a Nonic. The Germans have put their own signature to this style by adding a taper at the top. This version is most commonly called a Becker.
Recommended for use with: Standard/Ordinary Bitter, Best Bitter, ESB, Premium American Lager, Schwarzbier, Marzen/Oktoberfest, Dark American Lager, Traditional Bock, Doppelbock, Cream Ale, Blonde Ale, American Rye Beer, North German Altbier, Scottish Light 60/, Scottish Heavy 70/, Scottish Export 80/, Irish Red Ale, American Pale Ale, American Amber Ale, American Brown Ale, Mild, Northern and Southern English Brown Ale, Brown Porter, Robust Porter, Baltic Porter, Dry Stout, Sweet Stout, Oatmeal Stout, Foreign Extra Stout, English IPA, American IPA, Roggenbier, Witbier, Saison, Biere de Garde, Old Ale
Snifter – High gravity beers deserve a wide bowl with stem and footed base. As these beers warm, they release complex volatiles that enhance the drinking experience. The wide bowl provides an ample surface for swirling without spillage and sits comfortably in the palm of your hand, aiding in the warming process. The mouth tapers inward, holding the lean head and veil that is characteristic of these substantial beers.
Recommended for use with: American Barley Wine, English Barley Wine, Wood Aged Beers, American DIPA, American Double Stout, Russian Imperial Stout, Belgian Dark Strong Ale, Belgian Golden Strong Ale, Ancient Ale, Kriek, Eisbock, Flanders Oud Bruin, Flanders Red Ale, Strong Scotch Ale, Baltic Porter, Belgian Specialty Ale, Christmas Specialty Spiced Beer, Classic Rauchbier, Winter Ale
Bavarian Weizen Glass – Tall and curvaceous with thin walls, this German wheat beer glass is designed to merge the delights of a hazy golden body with the fluffy white head. Esters and phenols are captured in the thick head, and release as you imbibe.

Recommended for use with: Weizen/Weissbier/ Hefeweizen, Dunkelweizen, Weizenbock, Roggenbier, American Wheat or Rye Beer,American Dark Wheat Ale, Gose
Tulip – A stemmed glass, shaped like a tulip, is a versatile selection that showcases the glistening gem-like qualities of most beer styles, while retaining a capacious head that releases complex esters and volatiles for the epicurean enhancement of the drinking experience. Other themes on this glass include the Stem Glass – with a less bulbous body and a straighter inward-taper toward the top, and the Thistle – mimicking its namesake in the floral world, and having a bulbous body that cuts outward, on a more angular cut at the top. The Thistle is often used for Scotch Ales.
Recommended for use with: Scotch Ale, Tripel, Saison, American DIPA, American Wild Ale, Gueuze, Belgian IPA, Biere de Garde, Fruit Lambic, Belgian Strong Ale, Flanders Red Ale, Quadrupel
Other Glasses to Build your Collection


Stange – These tall, slender cylinders are of German origin and are used for delicate beers such as Altbier, Kolsch, Faro, Gose, Lambic



Mug – Heavy and sturdy with thick glass sides, this drinking vessel with strong handle is of European origin. Associated with raucous male bonding, it is good for a hearty toast among enthusiastic drinkers. A German mug made of glass is a Seidel, while a Stoneware or ceramic mug with a lid is a Stein.



Stein -These became popular in Europe during the Black Plague – they served well in keeping flies that carried disease out of the drink. Mugs and Steins are generally used for Lagers, both American and German, Ales, Stouts, and Porters.



5 oz. Taster – Often found in brewpubs, the Taster is a small glass used when presenting several styles of beer for gastronomic assessment.



Kwak Glass with Stand – The Kwak Glass was designed by Pauwel Kwak for the drivers of Mail Coaches during Napoleon's time. Drivers of these Mail Coaches were not permitted to leave their coach when making deliveries. Kwak had a special glass hand-blown by local artisans - with a ball-shaped bottom and a throat that extended upward and outward from the ball like a trumpet. It held a substantial portion of beer, and was hung on a notched holder of wood on the side of the coach.



Drinking Horn – A drinking vessel common in Northern Europe, the drinking horn was commonly fashioned from the European Buffalo. It was usually edged around the perimeter with gold or silver, and embellished with these same precious metals on the tip. Use for drinking Strong Scotch Ale, Sahti, and Gruit.



Witbier Glass – Belgian Witbier is served in a multi sided tumbler that displays the hazy, straw body and voluminous white head. Aromas of coriander and Curacao orange peel gently feather through the air from the wide mouth of this drinking glass.
Cheers!

Where to start? This classic set is a great beginning. You may also wish to seek out Stemmed Pilsners or Wheat Beer Glasses before expanding to Oversized Wine Glasses, Champagne Flutes or Digestive Glasses.
Spiegelau Barrel Beer Classics Lager Glass, Set of 6 in Barrel Gift Tube


Spiegelau Beer Classics Ultimate Beer Glass Set 6-pc.
You Should Also Read:
Ask the Beer Fox - Introducing Beer to Wine Lovers
What is a Cicerone ?
Beer Glassware for American Beer


Related Articles
Editor's Picks Articles
Top Ten Articles
Previous Features
Site Map





Content copyright © 2023 by Carolyn Smagalski. All rights reserved.
This content was written by Carolyn Smagalski. If you wish to use this content in any manner, you need written permission. Contact Carolyn Smagalski for details.