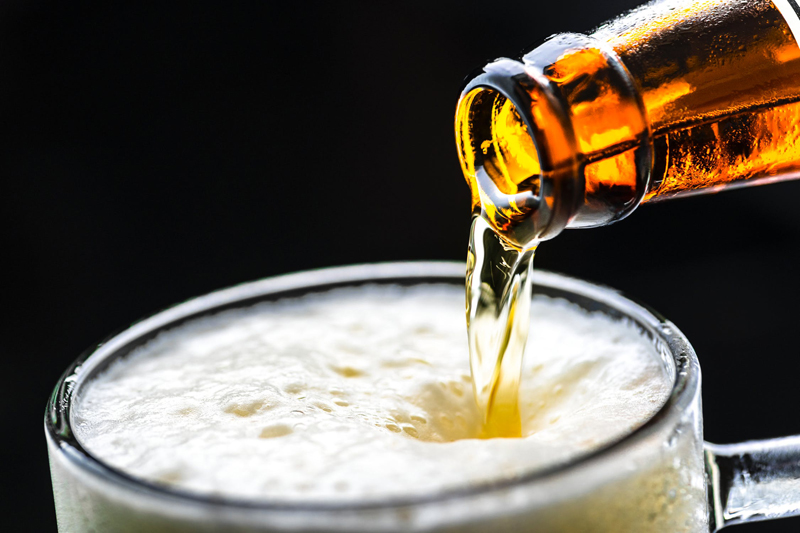 Today I knew the transformation was complete. I was passing a magazine rack where an open book caught my eye. A story about the thrills of drink splashed its colors across the page, demonstrating the rush of a champagne bottle on the pop. Beneath the bottle, a flute glass showed off the glimmering, pale, jewel-tones of its contents, and I thought to myself, "Something's missing. That doesn't look appetizing at allEhere's the pouffy head of voluminous white mousse, and the elegant effervescent bubbles moving upward in the glass? It looks flatEeadEull.Ebr>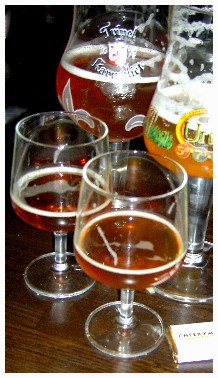 Revelation suddenly grabbed my attention, like the sun rising over the ocean in the early hours of daybreak. I had become so passionate about beer that mere champagne could no longer measure up. Give me Biere Brut, with its complex remuage and degorgement, imparting layer upon layer of mouth sensation Ea satiny head, rolling across the lips; light flavors of citrus, gracing the palate; a touch of malt, soothing the throat ; effervescence, lighting the tongue; waves of honey and fruit, tickling the nose. Sensations that wine or champagne can no longer satisfy.
At one time in my life, I would have shaken my head in horror at the thought of beer as the main toasting agent for a celebration. I think about all the weddings I had attended Ecelebrations where uninteresting bottles of vinegary champagne were used for the main toast, and the majority of attendees treated it as if it were special. Somewhere in the deep recesses of my mind, someone had convinced me that I would like it if I "got used to it.ELike Bud Lite or Mad Dog 20/20. And somewhere in the course of socialization, I accepted wine as one of those odd drinks that didn't always taste great with what I was eating Elike the arresting chemical reaction that occurs when orange juice follows an encounter with the toothbrush. Don't misunderstand me. There are many wonderful wines, and many good wine and food pairings, but when the best chefs in the country present pairings of foods with beverages, beer consistently takes top honors in the final round.

Beer, with all its variety of style and depth, works so well with food, or as the highlight of a toast. A sparkling gueuze, fruit lambic, or biere brut holds a head and a sparkle that is unmatched by any other drink in the world. For quenching, there is little that can do as well as a spritzy witbier or golden helles. And as a satiating digestif, a smoky scotch ale or bittersweet barley wine soothes the palate into gentle oblivion.
All too often, fine dining establishments do not carry a fine selection of beer that can age well in their beer cellar. They may carry the major brands, and believe themselves exotic if they carry Heineken or Blue Moon. These beer styles have short shelf lives, and are not well suited to be served with the elegant flair that many women crave. Through consultation with a cicerone or a local beer establishment that specializes in beer, they could make better choices for their customers and follow up with recommendations that are pleasing to the palate.
Are you not sure about what to look for in a beer? What kinds of flavors will you find? Will you like it? Will it please your tongue? Will it be dark or light? You may realize that there is so much you don't know about beer.
Let me help. Here are seven styles to get you started:

Irish Red Ale Eclear amber to coppery red with moderate caramelly flavors and no bitter hop flavors

Scotch Ale ELight copper to dark brown; clear; malty; caramelly; roasty and smoky with low hop bitterness

English Pale Ale ELight yellow to medium copper; fruity, dry, malty and may have caramel flavors; hoppy

Dusseldorf Altbier Eorangy bronze to deep copper and brilliantly clear; assertively bitter with clean, crisp malt character

Brown Ale EDark, caramelized, and malt accented; nutty; toasty; bittersweet chocolate and coffee flavors; vinous

Gueuze Epale; slightly hazy; effervescent; dry; funky from wild yeast fermentation; tart

Barley Wine EDark in color; strong and assertive; bittersweet, dried fruit; toffee; molasses; treacle; coffee; sherry


Cheers!

 
You Should Also Read:
Terroir and Beer
Creating Desserts With Beer
Beer Float Recipes - Sweet Seduction


Related Articles
Editor's Picks Articles
Top Ten Articles
Previous Features
Site Map





Content copyright © 2018 by Carolyn Smagalski. All rights reserved.
This content was written by Carolyn Smagalski. If you wish to use this content in any manner, you need written permission. Contact Carolyn Smagalski for details.