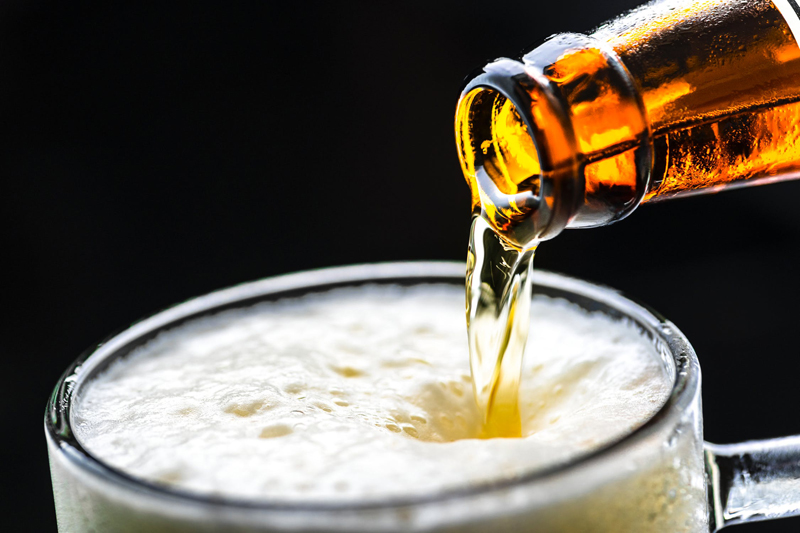 Terroir (pronounced tehr-wah), the French word for "soil" or "earth," is primarily used by oenophiles and coffee aficionados to describe the influence of local environment on wine and coffee, respectively. It transmits a distinctive character…un gout de terroir, or "taste of the soil," by means of external agents associated with a particular region. For wine, these influencers may be soil, bedrock, slope of the land, aspects of the slope, drainage, climate, wind direction, humidity, water table, exposure to sun and wind, cultivar type, rootstock, pruning philosophy, and training system. Many oenophiles assert that, despite any measure of technical duplication, one would be incapable of reproducing the flavor of a prized wine beyond the area from which it was originally cultivated. Could this philosophy possibly apply to beer?

Macro-brewers would have you believe that consistency is the key to quality brewing. The "American franchise mindset" would certainly support the idea to homogenize flavors across the country. Recalling the pre-McDonald's era of the early 1950's, a traveling American could never depend on finding a restaurant with consistent food, cleanliness, or operating hours while passing from one town to the next. With the launch of food franchises, consistency became an acceptable mantra, associated with "easy, affordable and fast." Who could argue with that? Although the country's macro-brewers had roots immersed in German beer heritage, they embraced this new-age philosophy, and met with huge economic success.


Many brewers in Europe still hold firmly to regional convictions that select styles can only be crafted in their original environment with regional materials. Vaclav Berka, Senior Trade Brewmaster and third generation brewer at Pizensky Prazdroj in the Czech Republic, strongly promotes the ideology that Pilsner Urquell is best brewed in its original home of Plzen. Michael Jackson, the Beer Hunter and world's leading expert on beer, asserts that a remarkable "zoo" of micro-organisms propagate in the area of Pajotteland, the vicinity just southwest of Brussels, Belgium. This strange micro-world provides a unique setting for the design and production of lambic beers, the only world environment where spontaneous fermentation produces these singular Belgian styles.

The belief in terroir is still upheld for kölsch beers that are only available in Cologne (Köln), and for Dûsseldorf Altbier, English Ales of Burton-on Trent, and the dry stouts of Ireland. American Pale Ales of the Pacific Northwest also display a distinctive profile that would be difficult to match in other areas of the world.

And what of the grain? Russian rye is very tolerant to dry and cool conditions, as well as to soil acidity, and adds notes of spiciness to kvass and rye whiskey. Maris Otter, CaraVienne, Munchener, Peated malt, and Carapils all carry the taste of the land and climate with them. Water can be modified through chemical treatment; however, tests by sensory analysts support the claim that altered flavor profiles can be distinguished by the human taste-buds.


Hop aromas, flavor and bittering are another aspect to consider in terroir. The world's principal hop growing regions are in Germany, Belgium, the Czech Republic, Kent and Worcestershire in the United Kingdom, and the Yakima Valley and Willamette Valley in the United States. Both the angle of the sun and richness of the soil are key components to the successful production of hops, which grow most successfully at the same latitude. The Anheuser-Busch Elk Mountain Hop Farm in Northern Idaho acknowledges this and is situated in a climate that mirrors the Hallertau region of Bavaria, no accidental decision.

The design of beer is such that each component – the grain, water, hops and yeast – may be influenced by any number of environmental conditions, creating a complexity far beyond that assessed in relation to wine. In addition, beer may carry the terroir of exotic spices, smoked woods, honey, or molasses. Not only is beer influenced by aspects of soil, slope, drainage, and exposure to sun and wind, but also by geology, the heartiness of the seed, altitude, and human history.

Whether you are a novice to the world of beer, or an aficionado with many years of experience, I encourage you to perform your own analysis on terroir. Choose two beers of equal claim and style from different areas of the world – perhaps Duvel from Brouwerij Duvel Moortgat in Breendonk-Puurs, Belgium; La Fin du Monde from Unibroue in Chambly, Quebec, Canada; and Interlude from Allagash Brewing Company in Portland, Maine, USA – all Belgian Strong Pale Ales. Assess them for the most delicate nuances. Pour them gently into the same style of glass, observe the appearance, aromas, flavors and mouthfeel. If you write your impression as you taste, you will find the accuracy astounding. Do this with other styles – German Rauchbier, English Ales, American Barley Wines. Is terroir real?

Cheers!


Photos: (from Top) Pilsner Urquell; Vaclav Berka of Pizensky Prazdroj; Michael Jackson, the Beer Hunter
You Should Also Read:
Pilsner Urquell - A Bohemian Original
The Seductive Style of Kolsch
German Schwarzbier - Bold & Black


Related Articles
Editor's Picks Articles
Top Ten Articles
Previous Features
Site Map





Content copyright © 2018 by Carolyn Smagalski. All rights reserved.
This content was written by Carolyn Smagalski. If you wish to use this content in any manner, you need written permission. Contact Carolyn Smagalski for details.