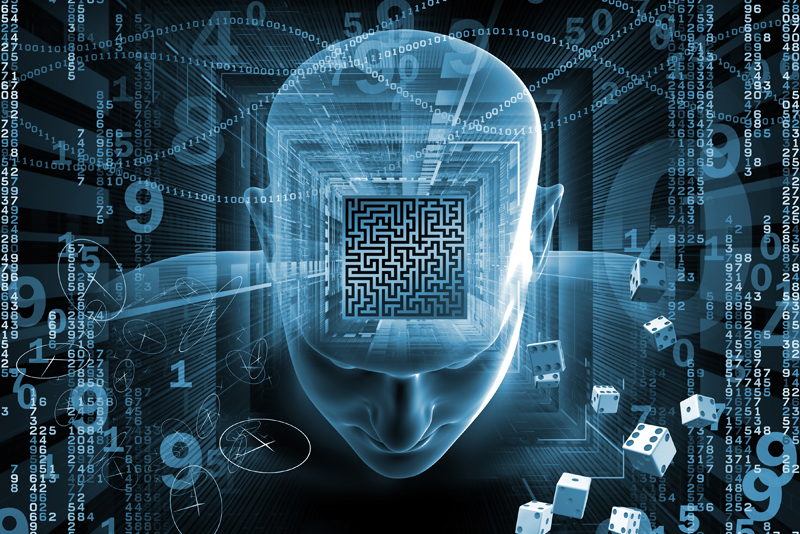 The underlying theme of both "Young Goodman Brown" by Nathaniel Hawthorne and "The Man in the Black Suit" by Stephen King concerns an encounter with the Devil. The consequences of this meeting differ greatly in each of the stories. In Hawthorne's tale, the Devil wins. In King's story, the Devil loses.

In "Young Goodman Brown," Brown is to be initiated into Satan's realm, but he is resistant because he is concerned about the supposedly pious people of the town's opinion of him, and of breaking the heart of his wife, Faith.

The devil informs Brown that he knows Brown's family and many others in New England including religious and political figures.

On his way to the ceremony, Brown encounters some of his church members and wonders where they could be going so far into the woods. He hears a young woman's voice and believes it to be his Faith. He becomes "maddened with despair" (661). Hawthorne remarks that "The fiend in his own shape is less hideous, than when he rages in the breast of man" (662). This is the point at which Brown genuinely begins losing to Lucifer. When Brown reaches the sight of the congregation and sees that the members are all familiar faces including his wife, he feels that all is lost.

Although Brown is able to resist "the Wicked One," he nevertheless allows the encounter to ruin his life. In his conversation with the Devil, he is very concerned about what all the pious people of his community including his wife would think of him if he gives into its temptations. After realizing that the people of his community are all hypocrites in league with Satan and that his wife has also been tempted by the creature, regardless of her ultimate choice, he is destroyed. He can't forgive any of them, not even his Faith. He allows his opinion of everyone else to cause him to become "stern," "sad," and "distrustful" (665).

In "The Man in the Black Suit," Stephen King tells the story of a nine-year-old boy's encounter with the Devil. This encounter is very different from Brown's because Gary has no desire to become in league with Satan. There isn't that kind of choice involved in King's story. All Gary wants to do is to get away from him on that sunny Saturday afternoon. He is very frightened. He is young, and doesn't doubt his own mind. He knows exactly whom he is dealing with and this gives him an edge over most adults. He doesn't waste time and energy with denial. He mind goes right into escape mode, he outwits the devil, and gets away.

Gary's family and endured much, but pulled together and loved each other very much. It is this love and concern for each other that enable Gary to defeat the Devil. Gary is young, strong, and resilient. He accepts what happened, deals with it, and goes on with his life. He didn't even think about the event "for many of the years in between" (846) his youth and his old age. He doesn't let it destroy his happiness and success in life.

As Gary becomes an old man, his strength and resilience naturally wither. His fears come back in his last days of life. He is alone, and he is weak. It is natural for one's fears to come back at this time. I don't understand why God doesn't bring peace and acceptance to Gary or any of us as we age and lose our ability to look out for ourselves. It seems that old age can be a cruel joke for us. Hopefully we are rewarded once we pass into the gates of heaven. I like to think that Gary has nothing to fear and his soul is safe.

Each of the protagonists in these two stories has the possibility of beating the Devil. It is the mental and emotional strengths of Gary that allow him to win, and the mental and emotional weaknesses of Brown that cause his failure.


Works Cited

Hawthorne, Nathaniel. "Young Goodman Brown." James H. Pickering. Fiction 100. An
Anthology of Short Fiction. Tenth Edition. Upper Saddle River: Prentice Hall, 2004. 656-665.

King, Stephen. "The Man in the Black Suit." James H. Pickering. Fiction 100. An
Anthology of Short Fiction. Tenth Edition. Upper Saddle River: Prentice Hall, 2004. 832-847.












Related Articles
Editor's Picks Articles
Top Ten Articles
Previous Features
Site Map





Content copyright © 2023 by Deena Budd. All rights reserved.
This content was written by Deena Budd. If you wish to use this content in any manner, you need written permission. Contact Deena Budd for details.