Beer Wrapped in Tissue - A Sign of Luxury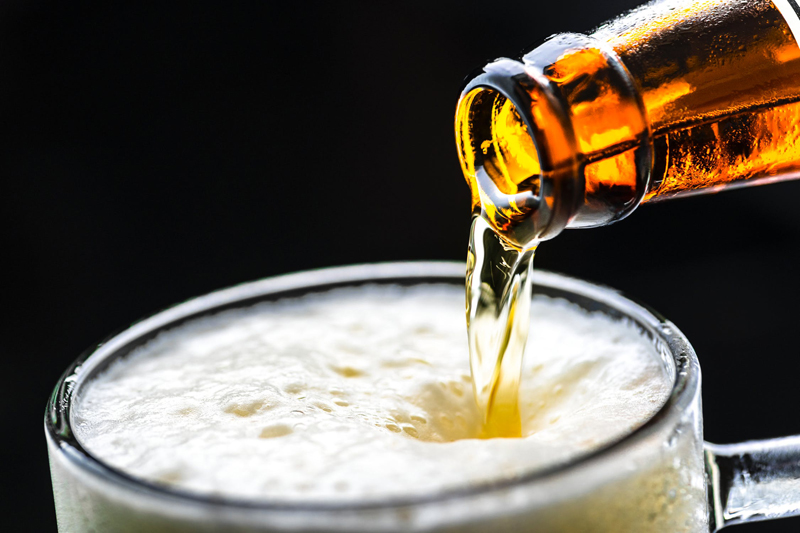 We are sensory creatures. We are constantly tuned-in to those things that stimulate our senses. My reference is not to mind-altering hallucinogenic drugs, ether, mescaline and the like. Hunter Thompson covered that with his own brand of intensity in Fear & Loathing in Las Vegas. We do, however, enjoy being enveloped by our surroundings – a movie with surround-sound, Scotland's salty air on the shores of St. Andrews, or a sunny Florida beach with the ocean's roar in our ears.
The most successful brewers understand the power of kinesthetic appeal and strive to pique the senses on all levels. Designers recognized early on that tissue, added to the inside of expensive men's socks, produced a pleasant crinkling sound when touched, stimulating the auditory sense. As they added tissue to the packaging of designer shirts and imported shoes, the idea of luxury became more closely associated with tissue. Then they wrapped Austrian crystal and bone china, and created gift bags so we could add our own tissue in colors of vivid forest green or brilliant white, flecked with gold. This veil of crackling obscurity adds to the mystery.
What better way to involve all the senses in the experience of beer than to wrap a beer bottle in a thin layer of decorated, crackling paper?!
When you see a tissue-wrapped beer bottle for the first time, your initial reaction may be one of confusion…for just a split moment. As you come out of the fog, you begin to think that the brewer must have high regard for this beer if he carefully wraps it in tissue for the sake of presentation. Beneath the mystery of the tissue, you may find the bottle sealed with cork and wire, or it may have the normal crown cap with 21 divots. The presentation has piqued your interest; however, your expectations of the beer itself have also risen. If the beer does not measure up to the artistry of the exterior, the brewer ultimately loses. Word travels quickly in beer circles.
Brouwerij Liefmans is famous for presenting its beer in tissue, as are Kleinbrouwerij De Glazen Toren and Brouwerij De Ranke. All three are in Belgium, and craft high quality beer. Harbin Lager from the Harbin Brewery Group, in Xiangfang, China, presents their Euro Pale Lager in a 600 ml green bottle that resembles a bottle of fine Scotch whisky. It is wrapped in the finest rice paper and is tied with a good luck knot. As an alternate presentation, Harbin Lager presents itself in an ornate gift box - again, in the sexy, green bottle. This one is dressed in red rice paper. A traditional red envelope, with a ceramic Chinese New Year symbol inside, is tied to a "good luck knot" at the neck.
On the pour, the fluffy white head dies quickly. Beneath the head, a pale golden body emits mild, grassy notes that echo in the taste. Harbin Lager is brewed using Qindao Dahua aroma hops from the northwestern hop growing regions of China, but the floral aromas you might expect are not prominent. Instead, Harbin Lager more closely resembles an inoffensive American macro lager. Is the tissue and elaborate presentation merely a hook? For brand-centric beer drinkers who buy beer based on loyalty and prefer mild, unobtrusive flavor, this raises awareness that they, too, deserve to be treated in a special manner. If you, however, are seeking exotic flavors and delicate beer craftsmanship, avoid Harbin and gravitate to the Belgian beers. Let the buyer beware.
Five Top-Rated Tissue Wrapped Beers
Goudenband - Brouwerij Liefmans, Oudenaarde, Belgium – Flanders Oud Bruin – 8% ABV
Meaning "Gold Riband," Goudenband is twisted into stylishly printed crinkly tissue and labeled as a provision beer, one that can be cellared for a considerable period of time. Beneath the tissue, a cork and cage awaits discovery. Four month old beer is blended with two other, more mature beers, then centrifuged, primed with invert sugar, and given a second dose of Goudenband yeast before it is bottle conditioned in the cellar. The body is of chestnut, with a glow of red gracing the edges and a head of off-white above. An acidic sourness, wine-like and toasty, hits the nose upon opening, along with a touch of oak. Flavors are both sweet and tart - like port wine, - blending with cherries, leather and brown sugar. Mouthfeel is lightly silky, effervescent, and long in the finish.
Oudineke Oilsjtersen Tripel - Kleinbrouwerij De Glazen Toren, Erpe-Mere, Belgium – Tripel - 8.5% ABV
Wrapped in white tissue and adorned with De Glazen Toren logos of yellow and red, this premium tripel is the official beer for the town of Oudineke. (Does your town have an "official beer"?) Hazy aureate, with a splendid white head, this Belgian tripel emits a honey nose with a fruit-and-spice base and a funky brett in lingering waves. It is creamy on the tongue, with flavors of tropical fruit, brett, and yogurt milkiness. It projects a pleasing hop bitterness and is dry in the finish.
Saison D'Erpe-Mere - Kleinbrouwerij De Glazen Toren, Erpe-Mere, Belgium – Saison Farmhouse Ale – 7.5% ABV
Tissue of white, marked with gold-and-green logos, provide the mystery that lives beneath. A foggy straw yello elixir sparkles in the glass, supporting a strong white head. Floral blossoms drench the air, interspersed with citrus. On the palate, sweet-tart lemon can be distinguished, with a long finish of hoppy bitterness.
Kriek De Ranke – Brouwerij De Ranke, Wevelgem, Belgium – Cherry Lambic – 7% ABV
Kriek De Ranke announces itself in aristocratic tall lettering on the outer tissue. Inside, an unmarked green bottle bursts forth. The international flavor emerges in the crafting of this elegant angel. Two sour pale ales are blended with Girardin Lambic. Cherries from Poland are then immersed in the blend, where it takes on a juicy, fruit-skin cherry nose, along with leather horse blanket funk and light graininess. An arresting pink head perches above the deep garnet body, begging you to taste its seduction. Cherry and lemon puckers the tongue, as it merges with a bready, multi-grain profile and barnyard funk.
Glühkriek – Brouwerij Liefmans, Oudenaarde, Belgium – Fruit/Vegetable Beer – 6% ABV
Wrapped in dark green tissue that is decorated with cherries in red and the white Liefmans logo in Olde English lettering, the brown bottle beneath carries an aura that entices you to pry off its notched cap. Intended as a winter sipper, this beer develops intensity when it is heated to the steaming, not boiling, point. A spicy cinnamon and clove captures the nose, balanced with fruit, and a pleasing acidity. The taste richly sings of fruit, layered with winter spices, but with a restrained touch of star anise.

Photos courtesy of Liefmans.be, eurobier.net, beerzou.hp

Cheers!
You may wish to add a bit of class when serving beer of such high standards. This classic set is a great starting point. You may also wish to seek out Stemmed Pilsners or Wheat Beer Glasses before expanding to Champagne Flutes or Digestive Glasses.
Spiegelau Barrel Beer Classics Lager Glass, Set of 6 in Barrel Gift Tube
You Should Also Read:
Biere de Garde - The Best Kept Secret of French Flanders
Pleasurable Saison & Belgian Beauty
Winter Warmers - 20 Must Haves for the Beer Cellar


Related Articles
Editor's Picks Articles
Top Ten Articles
Previous Features
Site Map





Content copyright © 2022 by Carolyn Smagalski. All rights reserved.
This content was written by Carolyn Smagalski. If you wish to use this content in any manner, you need written permission. Contact Carolyn Smagalski for details.