Philly Beer Geek 2008 Steve Robson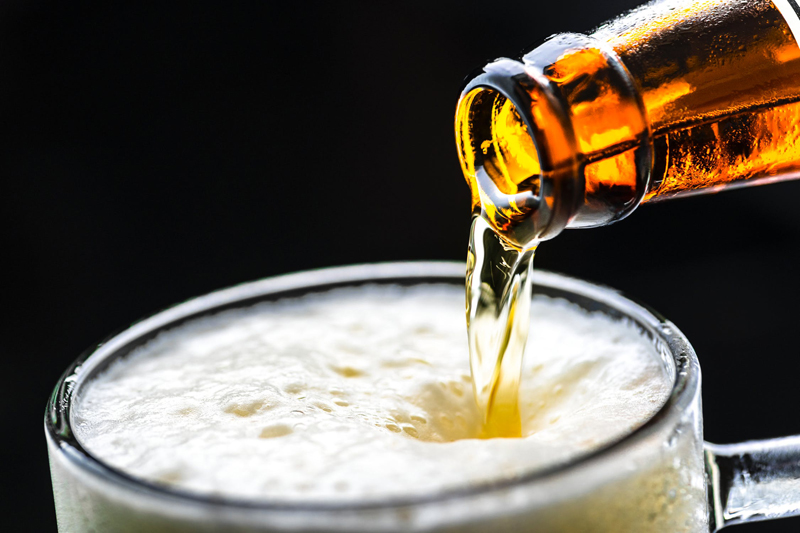 Veets? Veets Nosbor? Was this some strange language from an obscure country within the European Union, or some other-worldly communication from an off-shore Spam account? Such an email name might baffle the faint and fragile. But for those of us who have the uncanny talent to write backwards in cursive, this was a natural. It was from the newest icon to enter the celebrity beer world…Philly Beer Geek 2008, Steve Robson! (Yes, read it backwards)

On March 13, 2008, a jubilant Steve Robson seized the crown as Philly Beer Geek 2008 at Johnny Brenda's in Philadelphia, Pennsylvania, USA as the winner of the 1st Annual Philly Beer Geek Finals Competition. Robson toted home a cache of prizes worth more than $1,000, including gift certificates for dinners and homebrew supplies, gift baskets packed full of vintage and specialty beers, beer glasses, and apparel, nearly a dozen books on beer and brewing, cases and kegs of beer, and an invitation to a special evening, cracking open beers from a secret beer cellar. Iron Hill Brewery, his sponsor, honored him with a special celebration, complete with crown, sash and scepter.  For a true lover of beer, this was Nirvana.


As the Beer Fox and co-founder of Philly Beer Geek, I was fortunate to spend an evening with Mr. Robson at Spinnerstown Hotel Restaurant and Bar, talking with him about our favorite subject…beer! "This is what it's all about," he says. "The taste, really good beer, the search for something different -like Selin's Grove Brewing Company. I love that place! …and AWESOME conversation." Robson is a ball of fire: animated, enthusiastic, smart, passionate about his subject, and always "on." He loves a challenge, so the Philly Beer Geek Competition seemed tailored to fit his personality.

Young guys discover good beer in small bits, and Robson was no different. In 1982, during the Beer Renaissance that was picking up steam in the USA, Robson and a friend began brewing beer in their dorm room at college, crafting 2 gallons of homebrew at a time, using a hot plate near an open window. When he tasted his first Molson Brador, a dark Canadian malt liquor with a sweet malty profile and lots of flavor, he knew there was more to beer than the BudMillerCoors on most local taps.

In being more selective about his beer, he started frequenting Dock Street Brewery, back in the day when it was at 18th and Cherry Streets, off Logan Circle in Philadelphia. Robson reminisces about his old corner seat, the mural, cigars and Dortmunder. He remembers saying, "What IS this stuff? It's like God's urine! This has flavor! This is wonderful!" By the time he tasted his next beer, a Märzen, he was hooked.

Today, Robson is an award-winning homebrewer and has won ribbons for brewing both beer and wine – in AHA competitions and those established by the HWBTA and Winemaker Magazine International, respectively. Although he would like to be known as "Blue-Ribbon Robson," little brewing glitches are what often stick to your reputation.

Steve tells the story of "The Ginger Man" – not the one about Sebastian Dangerfield by J.P. Donleavy, but of his own experience making Ginger Mead. The recipe called for ¼ ounce of Ginger, but he thought it said ¼ pound. Being a purist, he wanted the ginger to be as fresh as possible, so he used real ginger root (a root that looks like horseradish), and meticulously shaved it until he had his quarter-pound. Ginger is a hot and spicy substance in high concentrations, and can cause severe skin irritation if it is not diluted or suspended in essential oils. It is also slightly phototoxic, so any dusting on the skin can become toxic when exposed to sunlight. Did I mention that Robson was in his underwear as he prepared this exotic ingredient? He initially noticed tiny red dots all over his skin, followed by a severe rash and irritation…and his Ginger Mead was not soon to be forgotten. A well-earned reputation - and, he's a good sport about it!

Robson has a highly competitive spirit, so it is not a surprise that he did well in the Philly Beer Geek Competition. He is a Certified Beer Judge with the Beer Judge Certification Program, and has set his sights on becoming a Cicerone. He also was the Grand Prize Winner of the KisE (Keystone is Everywhere) Challenge, sponsored by Keystone Homebrew Supply in Montgomeryville and Bethlehem, PA, and winner of the "Best Overall" division. His next challenge is to compete in the ProAm at the Great American Beer Festival in October, 2008.

In keeping with the tempo of this year's Philly Beer Geek interviews, I presented Steve Robson with many of the same questions asked of his co-competitors from the Philly Beer Geek Finals. His answers reveal the spirit of a true winner:


Impress me with your philosophy about beer. What's so great about Philly Beer?

I live for beer, good beer, Philly beer. I'm an award winning brewer and a beer judge…It's a lifestyle. I build my life around beer dinners, beer seminars, beer tappings, who's tapping what where. Whatever it is, I'll be there. But it's not just about drinking beer. It's about getting people involved, being with people, sampling new styles or a new release, making friends and seeing new places. Promoting it…building up that buzz. I'd like to take it to the next level, showing the country, and indeed the world, that there is a number one beer city: Philadelphia.

What is the most addictive part of beer?

The taste. The search for really good beer. I'm having so much fun. I got Justine [Justine Manien, his beautiful girlfriend] into it. I am amazed at her knowledge.

How did you become associated with the "geeky side" of beer?

As a brewer, I wanted to know all there was to make me better. There was a time when a brewer-friend offered me his yeast, and I didn't even understand why I should want it. I was an extract brewer. Now I attempt all kinds of styles. Even Lambic. Now there's "math from hell!"

Are you certified in beer tasting - have you had any formal education about beer or is your approach purely through self-motivated experience?

I am a Certified Beer Judge with the BJCP, and would like to become a Cicerone [the beer equivalent of a sommelier]. I am also extremely self-motivated.

Do you maintain a beer cellar? If you do, how extensive is your collection? What do you tend to store in your cellar?

My townhouse doesn't have a basement, so I don't have an actual beer cellar. I do have a beer closet, with some Russian River Temptation and a few other great beers, but it doesn't last. I believe beer was meant to be shared, and I share it as much as possible.

Is your approach to beer more scientific or organoleptic –based in the technical or the overall "feel-good" aspects?

Both. I love tasting new beers, but I'm not put off by the technical side of beer. I will brew a Demigoddess Ale that takes up to 3 pages of directions, or a Belgian Sextuplet that approaches a Utopia. It all feels good to me. I have a great paper on brewing Lambic Beer called, "A Lambic Lesson: The Cult of the Biohazard Lambic Brewers" written by Jim Liddil. I'll email it to you.

Do you collect beer stuff? Beer coasters, neon lights, glasses, bottles, bottle caps, napkins, etc.?

I do collect beer bottles. I have one with a German girl on it that you can scratch the shirt off. I still haven't scratched it off, because I don't want to ruin the bottle.

What was it like competing in the preliminary round at your local bar/brewpub? Were you the favorite? Did you expect to win or did you surprise everyone?

I competed at Iron Hill in North Wales, where I was running neck-in-neck with Aaron Fournier…but I won there and did a triumphant run around the bar. Aaron went on to try again at the Drafting Room Taphouse and Grill, in Springhouse, PA where he won sponsorship and a chance to compete at the Finals. There were 9 competitors at Johnny Brenda's on Finals Night. Aaron made the finals-cut as one of the three finalists, and so did my "nemesis," Dell Massey.


How did you prepare for the Philly Beer Geek Finals Competition?

I didn't prepare for the Prelim at Iron Hill, but I studied and prepared for the Finals. I wrote my Philly Beer Philosophy, practiced it, timed it out…I prepared for the "Date with a Philly Beer," too. My girlfriend Justine quizzed me constantly, until she, herself, could have competed and won. I even went to JB's the night before and tasted and took notes of all the beers on tap, thinking I might get a jump on the Tasting Part. Then I found out the beer was brought in as a "special" for Finals Night only.

Was it unnerving to have random questions thrown at you by the eight celebrity judges?

Not really. I studied so much. Then, it seems like every question I got was not anywhere in my notes. I was asked "What Germantown Avenue Brewer …is best remembered for their logo of a man riding a high wheel bicycle?" [Gretz] Okay, I did get it right, but everyone else seemed to get the questions I knew, and I got all the weird ones.

How badly did you want to "stump the chumps"?

A lot. For fun, I directed my question about Pennsylvania's award winning beers [at the GABF 2007] to Judge Bruce Williams of Scotland. He used his lifeline, and asked Judge Carol Stoudt for help. She was incredible…got all of them but two: Kriek de Hill from Iron Hill and English IPA from the Brewworks.

What was your favorite part of the Philly Beer Geek Finals Competition?

Winning was a big plus! Okay, I liked the beer date. I liked the free form questions too: one was about beer and food pairings, and another about how I would take beer to the next level. They were good questions that keep me thinking, even now.


When you described your "Date with a Philly Beer," what beer did you date?

I dated Abominable Barley Wine from Stoudt's…you know, "Barleywine's not something you'd do every day."

Your description was pretty sexy. Is beer a sexy beverage?

Is beer sexy? [He holds up his glass] This is the color I want my girlfriend's hair to be…with a luscious, velvety texture." [How do YOU think he feels about it?]

Time constraints forced us to cut out the "Tasting" part of the competition with Beer A and Beer B. Were you disappointed that you didn't get to test that part of your geekiness?

I could take it or leave it. It might have been interesting, but I'm not disappointed.

A few quick questions:

Do you have any other interests?

I have a 9-year-old daughter, and my girlfriend Justine has two boys, so we work our schedules with them in mind. I also try to go on a major vacation every 6 months. I've been all over the Caribbean – Jamaica, Barbados, St. Thomas, Nassau, Paradise Island. Also to Europe - England; the Netherlands; Belgium; Italy; France; Germany; Luxembourg. And to Mexico…

What's your biggest gripe about beer places?

Getting beer from lines that aren't clean.

Favorite beer?

Dogfish Head 90 Minute IPA

Your most exotic homebrew?

I made one with 10 pounds of bananas, and another using 14 pounds of peaches. Oh…and you've got to taste the one with pineapple!

Best kept secret beer bar?

Cravings in Lansdale, PA

Goals?

I love challenges: To be in Zymurgy Magazine and to open a Beer Bar in Doylestown, PA.

Any final thoughts?

It's the people. It's all about the people!

As for my own observation in speaking with Steve Robson, It's all about passion and enthusiasm. Congratulations on your win, Steve!

Cheers!
Photos are (from top): Philly Beer Geek 2008 Celebration at Iron Hill - Beer Fox Carolyn Smagalski, Philly Beer Geek Steve Robson, Keystone Homebrew's Jason Harris, and Iron Hill Manager; Philly Beer Geek 2008 Winner Steve Robson and girlfriend Justine Manien; Steve Robson at Spinnerstown Hotel Restaurant & Bar; Robson's girldriend and "Philly Beer Geek Coach" Justine Manien; Steve Robson at Triumph Brewing in Philadelphia


You Should Also Read:
Philly Beer Geek Finalist Wardell Massey
Philly Beer Geek Finalist Aaron Fournier
Philly Beer Geek 2008


Related Articles
Editor's Picks Articles
Top Ten Articles
Previous Features
Site Map





Content copyright © 2022 by Carolyn Smagalski. All rights reserved.
This content was written by Carolyn Smagalski. If you wish to use this content in any manner, you need written permission. Contact Carolyn Smagalski for details.