Three Tier System of Alcohol Distribution - USA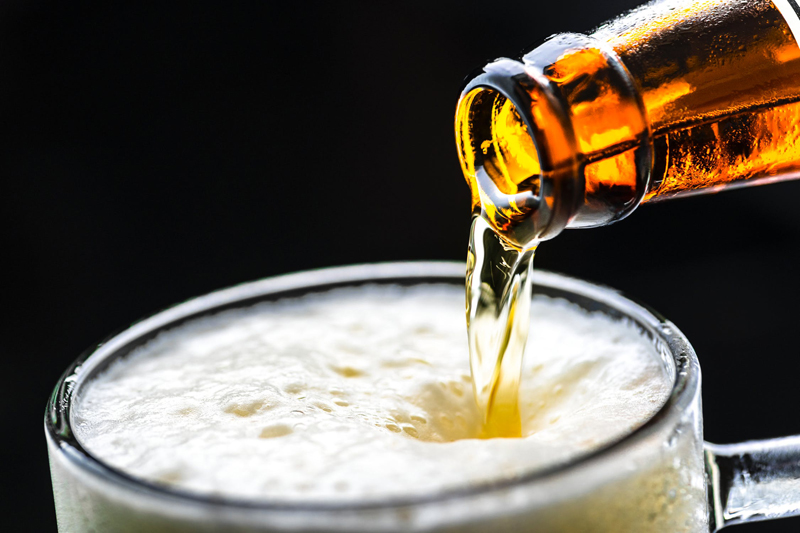 Imagine what it must have been like during Prohibition. Crazy and romantic, in its own way. Little shabby restaurants in brownstone houses…whisper the name of a mutual friend through the crack in the door, and the whiskey world would open to you. Or maybe you would drink beer. There was plenty of it. It may have only flowed at thirty percent of Pre-prohibition levels at first, but as the "failed experiment" marched on, availability rose to between 60 and 70 percent.

Organized crime made sure of that. I wonder if the rumrunners and bootleggers saw themselves as "organized," or if they were just a bunch of young guys who bucked the system for what they considered freedom. Money became addictive, and guns defended their wallets. Today, psychologists would label them as "suffering from Oppositional Defiant Disorder."

The secret parties had to be fun. At the very least, the air would be hazy with cigarette smoke, the kind that permeated your clothes, reminding you of "last night" in the sourness of the morning. Perhaps you'd see Louis Armstrong and his Cotton Club Orchestra, or Jelly Roll Morton and his Red Hot Peppers. Jazz and sweat would chain you to the tables, while the maltiness of liquor coated your lips with each successive sip. You might meet somebody, laugh it up, lick the malt from each others' lips by evening's end. Alcohol was illegal and available, but under Prohibition, it was slightly more controlled than before.

Those of us who write about beer don't like to think enforced temperance was necessary. Maybe it was. Imagine what it must have been like before Prohibition. By the early 1900's, a system of "tied houses" had taken over the bar scene across America. Producers of alcoholic beverages were financially connected to taverns in a variety of ways. In some cases, manufacturers (brewing companies and distilleries) furnished tavern-owners with bar equipment, supplies, and elegant "back rooms" for the better clientele; some sold beer for "no money down" on extended credit terms, or gave low interest or no interest loans to the bar-keeps. They gave rebates for aggressively pushing their beer or spirits, or for selling their brand exclusively. Tavern owners were happy to push alcoholic beverages onto their customers…really push it, for it assured prosperity. Never would they want to face the consequences that come with losing the support of their supplier – pulled inventory, no replenished stock, or worse…calling in the loans and losing their tavern. No buffer, no middleman, and no accountability.

It was not uncommon to see breweries on every corner in the large population areas. Between 1850 and 1880, eleven breweries operated within a twelve square block area in the Bushwick area of Brooklyn, New York. By 1900, Brooklyn had 48 breweries in service, and Philadelphia had 90 within the city limits. In addition, there were 100 more operating in the outskirts of Philadelphia's metropolitan boundaries. Supersized beer halls came into vogue, where more than 1,000 people could be seated and served. Drunkenness was a sign of the times, even among children. Some beer halls served sumptuous free buffets when associations booked a room, with the understanding that beer and spirits would be purchased by the membership. Clubs, labor unions and political groups were quick to schedule their events at these free venues, and the owners did their best to serve salty, hot and spicy foods that guaranteed an insatiable thirst. Overly aggressive marketing was straining society, and Prohibition was inevitable. It lasted 14 years in the USA, from 1919 to 1933.

Although many expected Prohibition to make things better, it introduced a new set of plagues to society – black market alcohol, racketeering, loss of tax revenue for the government, disdain for the law by ordinary citizens, and organized crime. But as the U.S. escaped the "failed experiment," regulatory controls were put into the hands of state governments, with the federal government taking the lead. In 1935, the Federal Alcohol Administration Act prohibited "tied houses," and a three tier system was put in place. Distributors served as a cushion between suppliers and the retail units. Neither brewers nor distributors are permitted to have any financial interest or influence over licensed retailers. In addition, retailers are not permitted to buy beer on credit or by consignment.

The three tier system consists of:

Manufacturers – the producers, i.e. the brewers, who brew and bottle the beer; the importers, who arrange for the import of beer into the country.



Distributors – work as independents (separate entities) - belong to a Wholesalers Association and insulate retailers from the control of those who produce alcoholic beverages.



Licensed Retailer – sell to consumers
Additional rules are in place governing brewpubs (establishments that brew their own beer and sell that beer directly to their patrons).

Reasons for the establishment of the three tier system were:

To avoid overly aggressive and abusive marketing and sales



To ensure that distributors are licensed and are selling only to licensed establishments



To generate tax revenues by ensuring effective state and federal tax collection from beer distributors



To protect the retailer and consumer from abuse by suppliers



To establish state and local control over alcohol



To encourage moderation



To give distributors the ability to customize inventory management for their customers, and to ensure that product will be delivered fresh and in an efficient manner



To avoid competition over the same geographic area – a usual practice is for producers to give distributors exclusive rights to distribute their product in a given area
The three tier system works pretty well. Is it perfect? Let's leave that up to the Masters of Debate.

Cheers!
 
You Should Also Read:
A Classic Beer Guide for Women
Beer & Molasses History - The Great Molasses Flood of 1919
Breweriana - Collectors' Corner of Beer Stuff


Related Articles
Editor's Picks Articles
Top Ten Articles
Previous Features
Site Map





Content copyright © 2019 by Carolyn Smagalski. All rights reserved.
This content was written by Carolyn Smagalski. If you wish to use this content in any manner, you need written permission. Contact Carolyn Smagalski for details.