Dave Alexander of the Brickskeller - Beer Tastings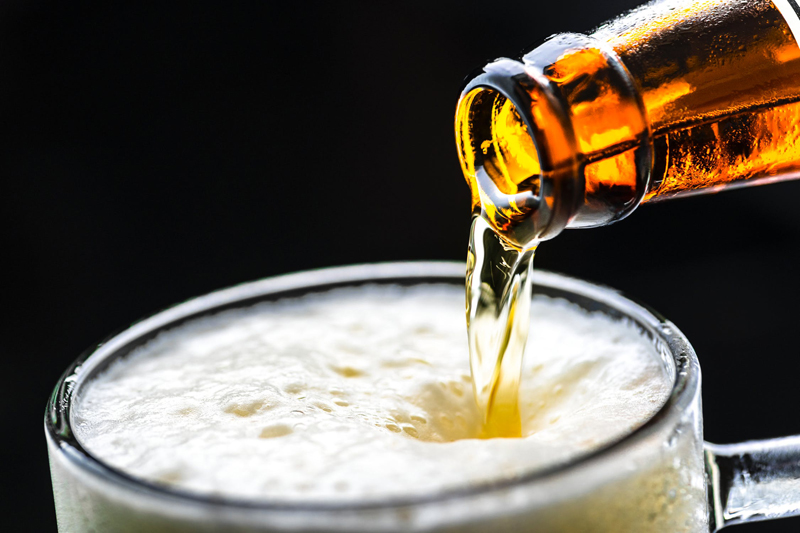 Beer tastings are delightful events for Epicureans of Beer throughout the USA and abroad. The structure of such tastings vary as much as human imagination allows, but the idea of tasting beer, en masse, was initiated by the convergence of ideas from a bunch of young guys who didn't really know what they were doing.

In 1965, Fritz Maytag bought Anchor Brewing Company in San Francisco, filled with ideas about crafting flavorful beer, marketing it, and spreading his thoughts of the American Dream. By the mid-1970's, British writer Michael Jackson had begun a new project of tasting beer throughout the world, organizing these beers into categories of style, and writing prolifically about every nuance he discovered. Little did he know this journey was to last a lifetime and that he would become the world's leading authority on beer and whiskey. Meanwhile, Dave and Diane Alexander became owner-operators of the Brickskeller in Washington, DC in 1983.

In a pompous move to advance the interest in beer, Dave Alexander styled the first ticketed show highlighting beer – a sit-down beer tasting – in the early 1980's. No one had ever done this before. He was met with criticism and laughter…but people liked his "beer tasting event." "Do we spit, or do we swallow?" they would ask. By the mid-eighties, Michael Jackson became the speaker for the first beer-matching luncheon in the USA, a luxurious affair at the Pierre Hotel in New York City. Four Belgian chefs prepared a cache of savory courses, each married-up with a specially selected Belgian beer.

It was not too long before Fritz Maytag appeared at the Brickskeller as one of the star presenters. As he captivated the audience with his anecdotes, he told a story about being at a restaurant in the seventies. While he looked at the wine list, the possibility of bars having beer lists crossed his mind, but he noted, "At the time, I thought the idea was preposterous, except at the Brickskeller." This single statement was enough to fuel a rocket to the moon for Dave Alexander.

In his youth, Dave had achieved moderate success in the music genre. He played guitar for Tiny Tim in 1970, roadied for KISS during the "Alive II Tour," played guitar with Porter Wagoner in 1980-81, and was pursued by ShaNaNa in the seventies, whom he turned down for what he considered a "better possibility." His eye was always on new ideas, so when he entered the world of beer, he was primed for the beer renaissance that was forging its own path in American history.

Dave Alexander has hosted more than 600 events at the Brickskeller, presenting industry superstars before they had become superstars. You might even be tempted to call him "The Ed Sullivan of Beer."

Some of these "superstars" included:

Garrett Oliver of Manhattan Brewing – Garrett is now Brewmaster at Brooklyn Brewery and author of "The Brewmaster's Table: Discovering the Pleasures of Real Beer with Real Food."


Tom Dalldorf, Publisher and Editor of Celebrator Beer News, who "introduced the east coast to wet hop ales at the dawn of a new millennium" - Dalldorf just celebrated the 20 year Anniversary of Celebrator Beer News.


The late Bert Grant, considered one of the pioneers of the microbrewery revolution, a Scotsman who founded Yakima Brewing and Malting Co. in Yakima, Washington in 1982.


The late Russell Scherrer, after whom the Russell Scherrer Award for Excellence in Brewing was established.


The late Beer Hunter Michael Jackson, whom Alexander hosted over 30 times at the Brickskeller and RDF in Washington, DC. Dave was a close friend of Jackson and hosted the Michael Jackson 60th Birthday Party. He also co-hosted Jackson's visits to the National Geographic Society for 10 years.
Alexander presented more than 125 events for the Smithsonian Institution, including over 50 evenings of Philosophy on Tap. He became so well-known that those in the Guinness World Record office sought his cooperation for inclusion in the famous Guinness Book of World Records. He now has a plaque on the wall of the Brickskeller proclaiming, "In 2002, The Guinness World Record for the most varieties of beer commercially available was awarded to David Alexander at the Brickskeller, Washington, DC." At the time he had 1,072 beers available – this number has grown to 1,346 in 2008.

Formed in the 14th Century, the Confederation of Belgium Brewers was founded as the Brewers' Guild in Brussels at the Grand-Place on the South side. With a history spanning over six centuries, this select guild has chosen to honor few outside its membership. But in 2003, Dave Alexander became the 5th American and first bar owner ever to be inducted into the Knighthood of the Confederation of Belgian Brewers – "Sir David Alexander."

He has been honored by Adams Beverage Media, publishers of Cheers and Bartender magazines, at the Excellence in Beverage Service Awards, where his was named "The Best Beer Program in the United States." Washingtonian Magazine created a category in their "Best and Worst" issue for "Best Beer Selection That's Not the Brickskeller" because he had won in every previous year. In 2007, Adams Beverage Media again honored Dave in New York City with a lifetime achievement award, the first ever "Cheers Benchmark Award 2007-Best Beer Bar."

That's some way to taste beer!

Cheers!

Photos are: Dave Alexander at the Brickskeller; Dave Alexander serving as a Judge at the Philly Beer Geek Competition, Johnny Brenda's, Philadelphia.
 
You Should Also Read:
Belgian Beer at the Brickskeller
Biere de Garde - The Best Kept Secret of French Flanders
Great Grains - Great Beers with Michael Jackson


Related Articles
Editor's Picks Articles
Top Ten Articles
Previous Features
Site Map





Content copyright © 2019 by Carolyn Smagalski. All rights reserved.
This content was written by Carolyn Smagalski. If you wish to use this content in any manner, you need written permission. Contact Carolyn Smagalski for details.