Sudan Grass - Dock Street Gluten Free Beer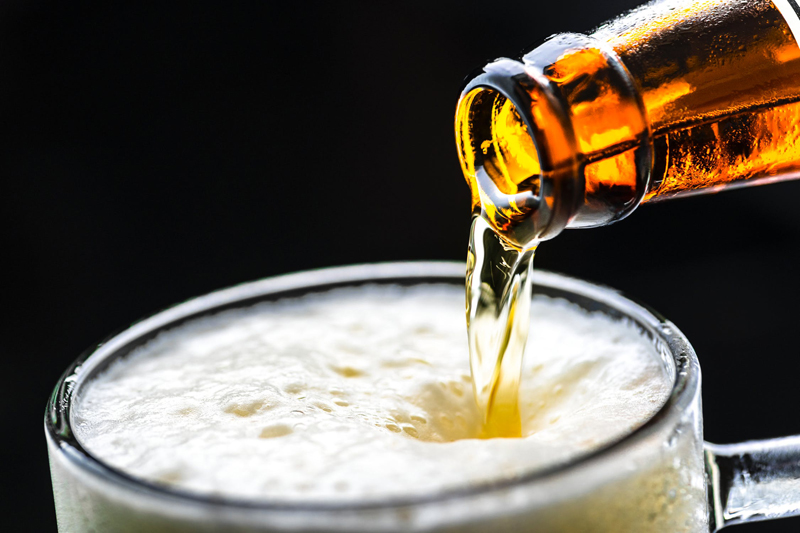 The lighting is soft. You are surrounded by the quiet, but awaken from an occasional echo within the deepest hollows of the museum. Sarchophagus…a matrilineal callabash…earthenware vats. Your mind begins to race. You know you are different than most who breeze past these antiquities. They are not thinking of what life may have been like 4,000 years ago. Ah…but you. You are aware. You gaze at a straw, fashioned of gold. In its description, you discover that an ancient priestess sucked the ambrosia of an antique beer through its channel, avoiding residue that sat on the surface of an ostrich egg drinking bowl made of gold and precious gems. The beer may have been touched with honey, and she was revered as a visionary. Lady Puabi…Ninkasi… Osmotar…a goddess of beer.

A growing awareness of cultural diversity has expanded the beer movement in America. A simple walk through a museum of antiquity may ignite ideas just as readily as a lively discourse at the Craft Brewers Conference.

Brewers strive for authenticity on all levels. When crafting lagers of German origin, a Brewmaster might insist on imported ingredients to achieve the delicate nuances of a Kellerbier or Helles. Creation of cask-conditioned ales requires knowledge of cellar and dispense. Wild fermentation using Brettanomyces or Lactobacillus is not uncommon in the design of Belgian style ales.

In March of 2007, Rosemarie Certo, owner of Dock Street Brewery in Philadelphia, was impressed by an exhibit on traditional African Beer at the University of Pennsylvania Museum of Archaeology and Anthropology, while at Michael Jackson's Tutored Tasting on "Extreme Beers." Inspired to celebrate America's significant African Heritage, she began researching sorghum as a possible grain for brewing.

Her search for other American breweries crafting Sorghum Beer led her to Randy Sprecher, of Sprecher Brewing in Glendale, Wisconsin. Says Rosemarie, "Randy Sprecher, who knew us from Dock Street in the 80's and 90's, was more than gracious and shared his experience. Our biggest fear was that our brewery would get gummed up and clogged, considering the nature of sorghum. He sent us samples and they were good. " This led to the development of Dock Street's Sudan Grass Sorghum Ale, with its distinctive profile. It also happens to be Gluten Free, making it a safe beer for Celiacs, who suffer damage to the intestines due to an intolerance to gluten, a protein found in the grains of barley, wheat, rye, spelt, oats, kamut and triticale.

Why Africa?


Once known as "the Dark Continent," Africa championed its nickname due to the mystery it held among Europeans as an unknown and underexplored region of the world. Although its traditions have been internally celebrated for centuries, Africa lived as a mystery to those countries where border wars and domestic challenge grabbed front page headlines. Eventually, however, African traditions rose to the attention of other cultures through the art of historical storytelling and the gift of the museum experience. America is fortunate to possess a significant treasure-chest of this African heritage.

Shakparo and palm nut wine could be found in almost every segment of the African culture. It was traditionally passed along matrilineal lines, from mother to daughter, particularly in Idashaland in the savannahs of Republic of Benin, West Africa. The sorghum, from which it was made, had been cultivated within sub-Saharan African societies since 2000 BCE.

As with most African-inspired ales, Sudan Grass is crafted using a combination of grains. Dock Street toasts buckwheat, an herb seed native to the Asian continent, in their own wood-fired brick ovens. They then combine the toasted buckwheat and sorghum, and ferment it using gluten free yeast to add to the purity of product. Centennial hops add an American edge that showcases the eclecticism that is the trademark of Dock Street Beers. This yields a golden ale, hazy in appearance, with aromas of fruit and a malt-like nuttiness. Sourheads will appreciate the distinctive tart apple profile on the palate, touched with a dash of chestnuts. It is well balanced by West coast bitterness. The mouthfeel succeeds – not thin and watery, but with a medium feel that satisfies the kinesthetic sense.

"I actually love our Sudan Grass, mostly, I think, because of its distinctive sourness," says Certo.

Once again, Dock Street Brewery in Philadelphia, Pennsylvania, USA is on the cutting edge with their release of Sudan Grass Sorghum Ale. Back in 1985, Rosemarie Certo and Jeffrey Ware joined the American Craft Brewing Movement with the establishment of Dock Street Brewery, making them among the first brewers in the country to step up to the plate with custom-crafted beers of superb quality. Although they sold the Brewery in 1998, Rosemarie Certo regained ownership of the brewery and restaurant in 2001 with visions of serving great beer in an atmosphere that is bohemian and comfortable.

Dock Street Brewery has that aura of "feel-good." It is a classic, where people mingle with people. Whether college professors, firemen, artists, musicians, or production workers, they are there to relax and have fun…and eat tasty victuals…and drink exceptional beer. Sudan Grass adds another dimension to Dock Street, where the eclectic profile continues to expand.

Cheers!

Photos are (from top): Beer Hunter Michael Jackson poses with Rosemarie Certo and Dock Street poster; Rosemarie Certo, owner of Dock Street Brewery
 
You Should Also Read:
Gluten Free Sprecher Shakparo - Fire Brewed & African Style
Celiacs Guide to Gluten Free Beer
Sprecher Mbege - Exotic East African Beer


Related Articles
Editor's Picks Articles
Top Ten Articles
Previous Features
Site Map





Content copyright © 2023 by Carolyn Smagalski. All rights reserved.
This content was written by Carolyn Smagalski. If you wish to use this content in any manner, you need written permission. Contact Carolyn Smagalski for details.