Sprecher Mbege - Exotic East African Beer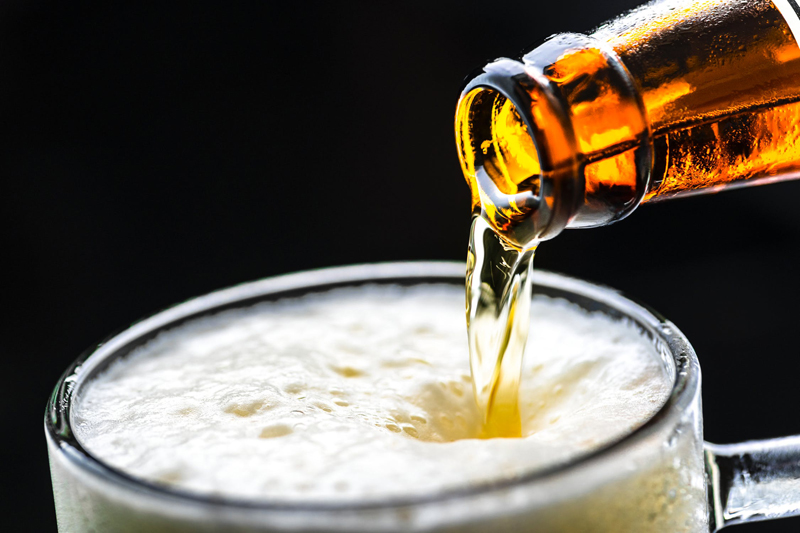 Tanzania, in Eastern Africa, seems to whisper her own natural beauty. To the north and west, Lake Victoria, Africa's largest lake, and Lake Tanganyika, her deepest lake, hold secrets of unique water-life within their ruffling shadows. The Serengeti plains unroll across the land, with Ngorongoro Crater on its northeastern edge, teeming with migratory herds of animals. Toward evening, night does not slowly bleed the daylight away, but falls out of nowhere like ebony ink, dropping like a blanket over the land.

At the foot of Mount Kilimanjaro, your eye is captured by the sight of sunflowers, maize and banana trees that grow in abundance. Although there are 120 different ethnic groups that live in Tanzania, the slopes of Kilimanjaro are dotted with the Chagga, many immersed in traditional life as it has been handed down through generations. One of those traditions is that of making banana wine and brewing Mbege, a fermented banana beer.

Mbege plays a significant role in business, ritual, and pleasure among the Chagga. Private transactions are done with Mbege on the table. It is used as payment in court cases – the guilty party pays with a ration of Mbege. It accompanies the joy of wedding feasts and other social gatherings, and is required in solemn occasions, particularly funerals. It is a strong supplement to the income in many households. The unfiltered nature of Mbege also ensures that the nutritive qualities of protein and B vitamins are preserved. In addition, bananas are high in potassium and are good for heart health and in the prevention of muscle cramps.

The banana plant is the largest herb in the world. Although the word "banana" has its etymology in the Arabic "banan," (meaning "finger"), the word itself is African. "Mbege" is the word that describes "finger millet," the catalyst that gives the beer flavor and nutrients.

In traditional Mbege, ripe banana forms the foundation of the beer. Bananas are typically hung around the upper perimeter of the room, just beneath the roof, until they are dark and ripe. Then they are peeled, after which they are plunged into boiling water. When the water turns a reddish-chestnut, malted millet flour is added, making a thick porridge that is simmered just below boiling temperature. Msesewe, an extract from the bark of the Quinine Tree, Rauvolfia Caffra, is washed, cut into small pieces, boiled and filtered. Twelve hours before drinking, this quinine bark is added to the porridge. This allows the flavors to mature, adds bitterness, and tends to slow fermentation.

Sprecher Mbege – A Feat in Design and Flavor

Mbege, designed by Craig Burge at Sprecher Brewing in Glendale, Wisconsin, hits the mark as an authentic East African beverage. Because it is brewed to mirror the recipe of African beer, it is gluten free by its very nature. Burge uses sorghum and de-husked millet in his Mbege, with a premium banana juice that is concentrated and frozen. This is a labor-intensive process, and produces a wort that requires the addition of Irish Moss to the kettle. A lambic yeast culture that mimics the wild yeast of the original African Ale was purposely selected to produce the sour profile associated with this style of beer. Goldings hops are used for bittering, rather than quinine bark. The flavors, although vastly different from anything in the US market, display a distinctive quality of African styling, much like a Belgian Beer in the European market.

You will find Mbege packaged in embossed, 16-ounce brown bottles, announcing it as fire-brewed and African style. Tropical birds grace the label, dense with exotic color in a wash of watercolor. The words, "Beer made with sorghum, millet and banana juice" roll across the background, seducing you to sample a taste of the unfamiliar. Upon uncapping, the air fills with the aroma of banana and exotic grains, tart and woody. Tumbling into the glass, the hazy, coppery amber body supports a head of creamy buff, solid and tight at first, then settling to a layer, one finger thick. A constant stream of effervescent bubbles rises from the bottom of the glass.

Banana awakens the tip of the tongue, initially sweet, while a woody grain profile, touched with sour notes, spreads quickly to the edges of the palate. A strong sorghum and millet graininess asserts itself, big and bold, in the background. Banana lingers. Mouthfeel is medium. The experience is a bit alien, mysterious, peculiar...brewed without wheat or barley. For the adventurous beer drinker, this encounter brings another continent into your expanding repertoire, and hooks you as a peregrine explorer in an avant garde expansion of flavor. You enter beer on a higher plain. A beer savant!

For more on African beer:
Gluten Free Sprecher Shakparo -
Fire Brewed & African Style

Cheers!
You Should Also Read:
Gluten Free Beer - Belgian Style from Green's
Redbridge - Made from Sorghum - A Celiac's Delight
Malting Sorghum for Bards Tale Gluten Free Beer


Related Articles
Editor's Picks Articles
Top Ten Articles
Previous Features
Site Map





Content copyright © 2023 by Carolyn Smagalski. All rights reserved.
This content was written by Carolyn Smagalski. If you wish to use this content in any manner, you need written permission. Contact Carolyn Smagalski for details.