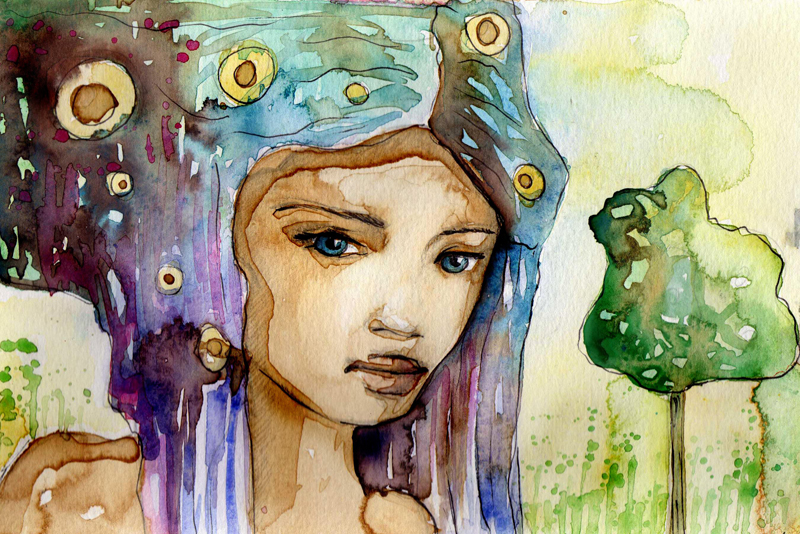 Coconut oil has reached new heights in the world of beauty and wellness. This week I'm republishing an article written by former bellaonline.com editor April Marquette, about coconut oil and its many uses.
In the words of April Marquette:
Today my friends, I'd like to speak about coconut oil and its many benefits. It is funny; because while doing a bit of research on the health advantages of this oil that is often used for skin and hair, I found goo-gobs of interesting facts. One of them is: coconut oil has been called '
the healthiest oil on earth
.' Interesting, right?
"So," you might say, "What makes coconut oil so noteworthy?" Well, let us first discuss what it is, and where it comes from. Coconut oil is ingestible, and is extracted from the edible portion, the flesh, or the meat of a mature coconut. Coconuts grow on the
cocos nucifera
tree, a member of the palm family, and are believed to have origins in the Indo-Pacific. This staple in the daily diets of millions the world over has a gazillion uses, some of which we will discuss in other articles. However, were you aware that coconut oil is widely used in the
making of cosmetics
? It is used in creams, lotions, and skin exfoliators. I wonder too if you knew that it is even used in organic deodorants!
For ethnic beauties, coconut oil is a great
moisturizer
. I can attest that it
chases dry skin
, leaving one soft and supple. If it is applied right after a shower, while the body is yet damp, this will enable one to reap the most benefits. It will leave the skin soft to the touch and looking dewy. In the colder months it can be added to a heavier moisturizer as a base. Coconut oil has long been used for other dry skin ailments too, ailments such as Xerosis, which is often caused by diabetes.
Used widely in India and numerous places in the world for
hair care
, coconut oil's conditioning properties are legendary, and aid with hair re-growth. Applied topically, coconut oil contains proteins that are essential for nourishing damaged hair. When used on hair, this oil offers natural nutrition and reduces protein loss. Again, I can attest that it aids in the health of ethnic hair and gives a near weightless shine. Massaging the scalp regularly with coconut oil will also ward off not only dryness, but is a key element in
treatments for dandruff
, and lice.
Were you aware that coconut oil is used in the manufacturing of various
hair conditioners
? Ethnic beauties, I am sure some of you know about the benefits of fatty acids like Capric, Caprylic, and Myristic Acids -- which are all found in coconut oil. Well when these nutrients become ingredients in shampoos or conditioners, they aid with hair follicle health. And haven't we long known how important a bit of oil is for nourishing our hair?
Although we see that it has a plethora of uses, I wanted to point out that coconut oil is also used
in the making of soap
, because of its solubility. Soap made with coconut oil retains more water than soap made with other oils, therefore it yields more soap. Coconut oil is soluble, dissolvable, in hard water and even salt water, which enables it to easily lather. Soap made with the oil of the coconut also tends not to dry the skin like other non-oil based soaps.
Coconut oil also
soothes irritations
such as sunburn or insect bites. In many countries this oil -- with its microbial properties and barely-there non offensive fragrance -- is even believed to heal wounds.
Coconut oil has long been used by those who want to tan. It is used as a massage oil, and some people use it as it as a lubricant. However, something to be aware of is... Although coconut oil can be used while getting one's swerve on, it
will weaken latex
condoms thus rendering them inactive.
Usually sold in cylindrical containers, solid coconut oil will quickly liquefy in heat if not kept in a cool dark place. Available in many forms for those who are health conscious, it also comes in ingestible capsules as well as tablets.
In subsequent articles we will discuss coconut oil for
inside
the body. We will look at how nutritious and fiber rich the coconut and its oil happens to be. We will also answer the refined and unrefined question. However, until then...enjoy coconut oil's benefits!
That's it for this week. As always ....
Dedicated To Your Beauty,
Juliette's Website
Nyraju Skin Care


Related Articles
Editor's Picks Articles
Top Ten Articles
Previous Features
Site Map





Content copyright © 2019 by April Alisa Marquette. All rights reserved.
This content was written by April Alisa Marquette. If you wish to use this content in any manner, you need written permission. Contact Juliette Samuel for details.