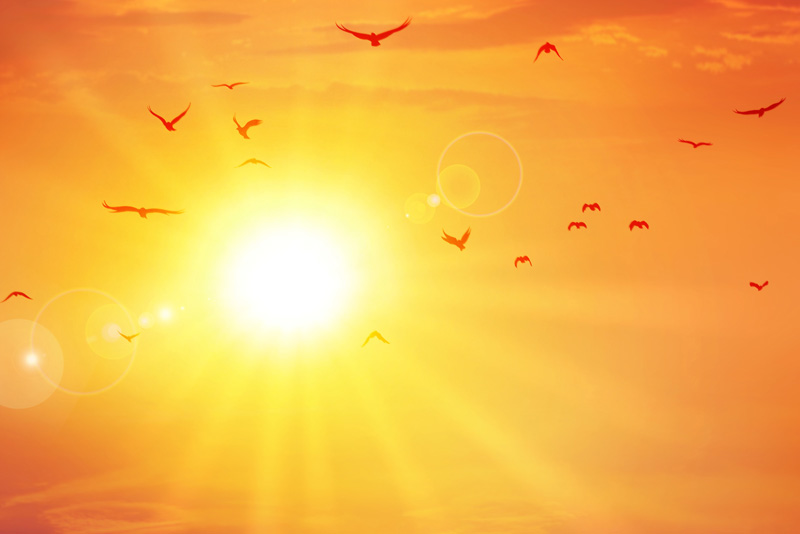 Christians observe holidays as a way to acknowledge and celebrate what God has done for us. You may not have heard of some of these special days or you may hold other days of particular importance. Not all Christian churches celebrate all holidays nor do they celebrate them in the same way. Differences in customs are natural and not meant to separate Christians. Our love and belief in Jesus Christ binds us together in one family. The world should know that we are Christians by our love, not by the holidays we celebrate.
Advent is the period of time between November 30th and December 23rd. In Western Christianity, Advent begins on the fourth Sunday prior to Christmas day or on the Sunday that falls nearest to November 30th.
Advent is the time that Christians prepare themselves spiritually for the coming of the Lord Jesus Christ. During this time Christians observe times of prayer, fasting and repentance. They experience anticipation, hope and joy of the coming Christ and celebrate by thanking God for Christ's first coming to Earth and also for the presence of the Holy Spirit today.



Christmas Day There are few people who don't know what this day celebrates. Observed on December 25th, it is the celebration of the birth of Jesus Christ. The story of His birth can be found in the Books of Matthew and Luke in the Bible.



Epiphany – also called Three Kings Day or Twelfth Night.
This holiday is celebrated on January 6; twelve days after Christmas or the end of the Christmas season. It is the celebration of the Magi coming to Bethlehem. The name Epiphany comes from a Greek word meaning 'reveal.' This day is often celebrated with festivities and gift giving. In fact, in some cultures, gift giving extends throughout the entire twelve days of Christmas.



Theophany is celebrated on January 19th and commemorates the baptism of Jesus Christ.



Ash Wednesday is celebrated 40 days before Easter. It is the beginning of the season of Lent. It is the start of a special time of repentance. In some churches the minister will rub the sign of the cross with ashes onto the foreheads of worshipers.
The practice of mourning with ashes is found in 2 Samuel 13:19, Esther 4:1, Job 2:8, Daniel 8:3 and in Matthew 11:21.



Lent is the 40 day period preceding Easter.
This is the time that Christians prepare for Easter. It includes fasting, repentance and spiritual discipline. The purpose is to set aside time for reflection on Jesus Christ and to remember His suffering, His sacrifice and His death. Lent is observed mostly by the Roman Catholic, Lutheran, Methodist, Presbyterian and Anglican denominations.
Eastern Orthodox churches observe Great Lent during the 40 days preceding Palm Sunday.


Palm Sunday is celebrated on the Sunday before Easter and commemorates the triumphant entry of Jesus Christ into Jerusalem. According to the Bible, crowds greeted Jesus with waving palm branches and by laying them down in His path. The biblical account is found in Matthew 21:1- 11, Luke 19:28-44 and John 12:12-19.



Good Friday is the Friday before Easter. It commemorates the suffering and death on the cross of Jesus Christ. Many Christians spend this day in prayer and repentance, meditating the suffering of Jesus and the reason for His sacrifice.



Easter Sunday
Christians celebrate the resurrection of Jesus, This joyous occasion is also called Resurrection Day. The biblical account of Jesus' crucifixion, burial, and resurrection is found in Matthew 27:27- 28:8, Mark 15:16 – 16:19, Luke 23:26 – 24:35, and John 19:16 – 20:30.



Pentecost Sunday is celebrated 50 days after Easter (Resurrection Day.) It marks the end of the Easter season and commemorates the descent of the Holy Spirit on Jesus' disciples. The biblical account is found in Acts chapter 2.



Thanksgiving Day is a United States national holiday and is not always considered a Christian holiday. However, since it is the celebration of the goodness of God in providing for the colonists, it is often celebrated by Christians.



St. Patrick's Day honors St. Patrick, the patron saint of Ireland and is a Catholic feast day. It is celebrated by those of Irish descent (and those who are Irish for a day.) St. Patrick's Day has been observed in Ireland on March 17th for hundreds of years. It falls during Lent, but prohibitions against eating meat were lifted for that day. The day is celebrated with feasting on a traditional meal of Irish bacon and cabbage.



St Andrews's Day commemorates the martyrdom of the apostle Andrew and is celebrated by those of Scottish descent. Andrew was the brother of Simon Peter.

Find Celebrating Biblical Feasts at Amazon.com
You Should Also Read:
A Good Friday Thought
Palm Sunday
The Meaning of Lent


Related Articles
Editor's Picks Articles
Top Ten Articles
Previous Features
Site Map



Follow @LynneChapman
Tweet





Content copyright © 2023 by Lynne Chapman. All rights reserved.
This content was written by Lynne Chapman. If you wish to use this content in any manner, you need written permission. Contact Lynne Chapman for details.