Lazy Magnolia Brewing Company - Symbol of Tenacity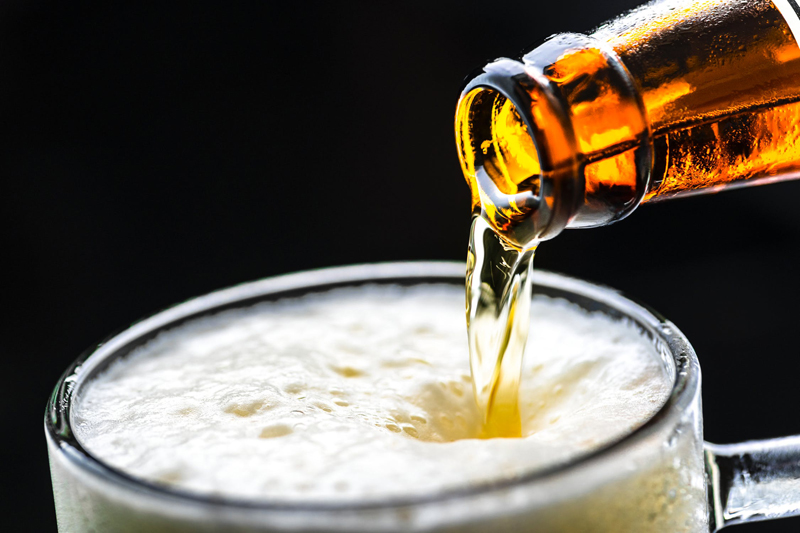 Fossilized specimens of the graceful Magnolia Tree reveal an ancient evolution dating back more than 20 million years. Fragrant sweetness from this evergreen fills the air throughout Mississippi and Alabama, as its creamy white flowers burst with pollen throughout the blooming season. Despite the delicate fragrance and stately beauty, the Magnolia, Mississippi's State Tree, is designed by the Maker to endure adversity. Its appearance in the botanical community emerged long before the evolution of bees or butterflies. Thus, it is pollinated by hard-shelled beetles. This delicate beauty endures the rigors of these crawling, ravenous insects. Were that the Magnolia should emerge as part of humanity, it would be designed with broad shoulders to carry the weight of the world.

When Leslie and Mark Henderson chose to open a brewery in 2003, they fittingly chose the Magnolia as the symbol of their tenacity. Up to that point, not one brewery had been established in Mississippi since Prohibition. Leslie had discovered a passion for brewing, and she was to become the first and only Brewster in the state. It was like pulling a wild card in a game of Straight poker, and the Hendersons were focused on winning. By 2006, despite the ravages of Hurricane Katrina the year before, they would earn two Bronze medals at the World Beer Cup in Seattle, bringing international recognition to their commitment of becoming the Great Southern Brewery.

They called their microbrewery Lazy Magnolia Brewing Company, but they were anything but lazy. Leslie Henderson had earned an M.S. in Chemical Engineering with a concentration in bio-remediation of hazardous waste from Mississippi State University. She had interned at DuPont and was working as a Research Engineer and QA Manager for Mississippi Polymer Technologies.

Mark Henderson had earned a double degree in Electrical Engineering with specialization in Control Systems and Automation. He was a gifted artist and master of design and gadgetry. Leslie brainstormed to find the perfect Christmas gift for Mark, and settled on a brewing kit (more to feed her own fascination with chemistry than to fit him with a present that would knock his socks off.) As the house filled with buckets of bubbling fermentables, they faced the facts. Leslie needed more. She enrolled in the American Brewers Guild Course in Intensive Brewing Science, and by 2004 was apprenticing at Crescent City Brewhouse in New Orleans.

In the meantime, Mark had immersed himself in designing a business plan, securing financing, calculating capital assessment, and developing the vision of a brewery that would expand with steady growth. They wanted to educate the palates of the community, while incorporating local flavor into the beer they crafted. He designed logos, artwork and posters to grab the imagination and heighten interest in craft brewing. They found a 10,000 square foot building at the Stennis Airport Facility & Industrial Park in Kiln, Mississippi, and set-up operations for brewing by January, 2005. Two months later they began distribution to an enthusiastic community, which allowed them to increase output throughout a growing area.

Fate dropped her deadly hunger in August 2005, when Hurricane Katrina chomped swift and furiously across the Mississippi/New Orleans region. Leslie and Mark's home was destroyed, as was much of their brewing equipment and hundreds of gallons of beer. Despite their loss, they were more emotionally affected by the trauma that others in the surrounding community endured. Head Brewer Gar Hatcher, who had only worked at Lazy Magnolia for 4 weeks, lost everything in the storm. In fact, 80% of Magnolia's existing accounts dissolved, and many were completely obliterated by the surging winds and water. Homes, educational institutions, and lives were lost, including the life of their most supportive fan, Warren Fuller, who dropped in at Lazy Magnolia on the first day of brewing to offer a welcome and his wishes for success.

Although brewing operations were suspended for a few months, Lazy Magnolia needed to reach beyond the previous business scope if they were to survive. Expansion came more quickly than planned. They rebuilt operations and expanded to other parts of Mississippi, most of Alabama, and Florida's panhandle. An extra boost came when they had the opportunity to license their name, The Lazy Magnolia Brewhouse & Restaurant, to a food service company in the Gulfport/Biloxi International Airport. Although they had no connection to the food service company, Lazy Magnolia beer became available in the restaurant through a local distributor.

Lazy Magnolia strives to infuse local flavor into their beer. At the insistence of Mark Henderson, Leslie has designed a beer using roasted pecans in a very hot mash that leaves complex sugar chains intact. She then adds interest with a combination of Maris Otter, Caramel Malt, and Wheat in soft alkaline water, tempered by Magnum and Tettnang hops. This produces a Pecan Nut Brown Ale that is loaded with sweet nuttiness and caramel maltiness. They call it Southern Pecan, a beer that won the bronze in the Specialty Beer category at the 2006 World Beer Cup.

The equally assertive Amberjaque (pronounced Amber Jack) Amber Rye Ale was also a bronze medal winner at the World Beer Cup and accounts for 50% of all sales. Developed from a gift of home-malted rye, this soft, yet complex, beer is a suitable groom for juicy steaks or spicy Cajun entrees.

Jefferson Stout, a late winter seasonal, combines Munich, Caramel, Carafa, and Chocolate Malts with sweet potatoes and lactose (milk sugar), to produce creamy, coffee-like flavors. Hopping leaves a gentle bitterness at 14 IBUs, while the mild 3.2% ABV adds a high drinkability factor that pairs well with oysters and creamy, chocolate desserts.

The Lazy Magnolia portfolio of beers includes a current total of eleven brews, ranging from light American Wheat Ales and Kristel Weizens to Bock and Wheat Beer brewed with Habanero peppers. With sights set on steady growth, Lazy Magnolia Brewing Company emerges as a strong Southern professional in the world of craft brewing.

Cheers!
 
You Should Also Read:
What is an American Craft Brewer ?
Behind Closed Doors - The Granddaddy of Beer Competitions
The Vieux Carre - Crescent City Brewhouse & Mardi Gras


Related Articles
Editor's Picks Articles
Top Ten Articles
Previous Features
Site Map





Content copyright © 2022 by Carolyn Smagalski. All rights reserved.
This content was written by Carolyn Smagalski. If you wish to use this content in any manner, you need written permission. Contact Carolyn Smagalski for details.