What is an American Craft Brewer ?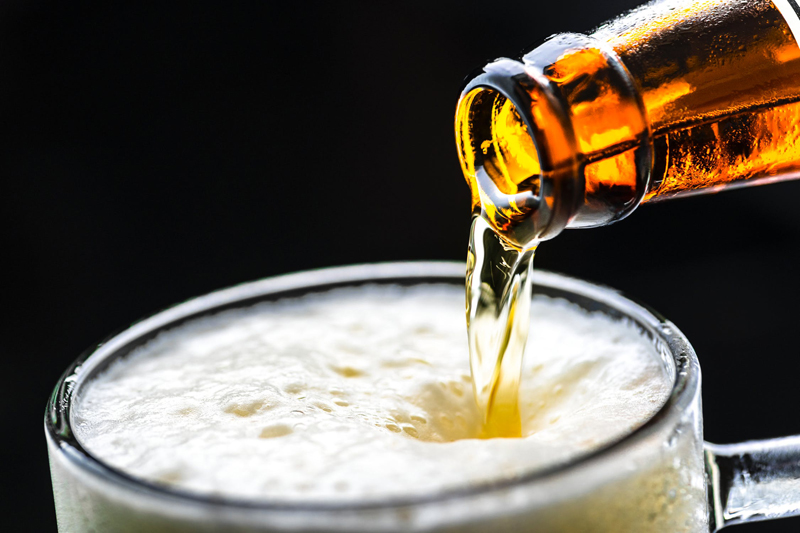 Beer is a sensual experience. Few can deny the initial salivation that occurs as one observes her favorite beer, spilling into the glass. Carbonation swirls within the glistening body. A head begins to form. Perhaps it is smooth and creamy, or piles like cumulonimbus clouds on a lemon meringue pie. Aromas waft through the air. If you have developed the habit of truly "tasting" beer, your nose begins to pick up the nuances of citrus, tropical or dark fruit, malt, toasted caramel, yeast, fresh bake-shop-breadiness, anise, licorice, toffee, cotton candy, leather, coriander, spruce tips, lavender, white pepper, heather, and…the list is endless. You pucker your lips, and allow the liquid to penetrate your pores. Taste-buds within your mouth stand firmly at attention, opening up to the sensory experience they are about to behold. Not only do they revel in taste, but in the total mouthfeel experience. Beer may feel smooth as silk, sliding across your tongue; it may prick like pine needles; dance like a hundred pounding hooves at the Kentucky Derby; or bite with assertiveness like Satan capturing your soul. It is Ravel's Bolero; Saint-Saens's Havanaise; Milt Jackson's Stairway to the Stars.

American Craft Brewers are committed to giving you this experience. They, too, may have slid through the childhood flavors of Mike's Hard Lemonade, Bud Light, and Miller Chill, but somewhere along the way, they discovered that satisfaction comes from refinement. They committed themselves to crafting a noteworthy product, and in the process, provided jobs, stimulated American agriculture, improved the balance of trade, educated Americans about the history of beer, stimulated the culture and development of the United States, and promoted responsible consumption of beer as a drink of moderation. On April 4, 2006, The U.S. Congress established American Craft Beer Week with House Resolution 753, commending American Craft Brewers for the significant contributions they have made to the nation's community, economy, and history. (Access H.R. 753 here.) This year, we celebrate American Craft Beer Week from May 12-18, 2008.

American Craft Beer Week 2008

In 2008, American Craft Beer Week celebrates "Brewers' Community Citizenship." As you walk through the gates of your favorite beer festival or event, you may only have glanced for a moment at the "proceeds to benefit" line at the foot of the poster. American Brewers take this line seriously. In 2007, they contributed more than $20 Million to charitable organizations. You heard that right: "Twenty MILLION Dollars!" Not only do craft brewers care about providing well-crafted beer to their patrons, but they also have big hearts.

What is the profile of an American Craft Brewer?

From my observation of craft brewers from Anchorage to Denver, and Wisconsin to Illinois, Tennessee to Texas, and Pennsylvania to Boston to Maine, they seem to share the following characteristics:

They are committed to crafting high quality beer, using fresh ingredients. They are attentive to storage procedures, temperature, and turn-around. They prefer natural products.



They are creative in the formulation of their recipes. They understand cooking and the chemical actions that take place in the process.



They cultivate the ability to make decisions, based on economic feasibility, customer demand, product availability, and their own intuitive sense.



They have the ability to accept responsibility for occasional failures that are bound to occur in the course of brewing.



The best craft brewers are keen record-keepers and have analytical minds. They are attentive to any subtle change, and note how these changes have affect beer.



They are into chemistry and physics. Whether observing the efficient breakdown of sugars within the grain, controlling temperature, stimulating the action of yeast, or understanding the limitations of sparging or fermentation, they must have a clear understanding of the sciences.



They have physical strength and persistence. Brewing is hard work.



They have artistry. Their creative minds are constantly developing new flavor combinations that they want to try. Some may be limited by economic resources, but usually brew trial beers in small batches as Specialties or Seasonals. This stimulates broader interest from the community they serve.



They sustain an open mind to new ingredients and processes. With the recent shortage of hops, many have re-designed their recipes to bend with the market flow - e.g., they may use different bittering hops, but use the identical aroma hops they always have, creating a subtle change. They are open to barrel-aging, alternatives in bottling or canning, and creating organic, gluten-free, or vegetable beers.



They have a thirst for research. Through continuing education, they expose themselves to an enormous cache of information that can make them better brewers.



They are attentive to developing their sensory perception. They may attend seminars about sensory evaluation, experiment with chemical kits that display off-flavors, or consult with other brewers to assess how each differs.



They are evaluative, both of themselves and of other brewers.



They have the drive to educate the masses about the taste of beer. They promote moderation, opting for desirable beer/food pairings, vertical tastings of the same beer - different years, cellaring the product, and observing the aroma before experiencing the taste.



They have knowledge of the development of beer throughout the ages. They note the progression of beer from its anthropological beginnings in Babylon to the historical beginnings in the American landscape.



They strive for exposure to beer in other countries – Belgium, Germany, The Czech Republic, Poland, Africa, Japan, Thailand, Australasia, and Argentina. They discover the best of these worlds, and endeavor to infuse exotic qualities and processes into their own working systems.



American Craft Brewers are intelligent. It is common to find, among the ranks, people who have degrees in Nuclear Engineering or Law (but have left these professions to follow their passion); they may be alumni of Harvard, or have experience as rocket scientists, chemists, marketers, and accountants.
One thing is certain. They are passionate about their work.

Cheers!
 
You Should Also Read:
Brewing With Chris LaPierre - An Iron Hill Experience
Expert in Analytical Services - Gary Spedding PhD
Terroir and Beer


Related Articles
Editor's Picks Articles
Top Ten Articles
Previous Features
Site Map





Content copyright © 2021 by Carolyn Smagalski. All rights reserved.
This content was written by Carolyn Smagalski. If you wish to use this content in any manner, you need written permission. Contact Carolyn Smagalski for details.