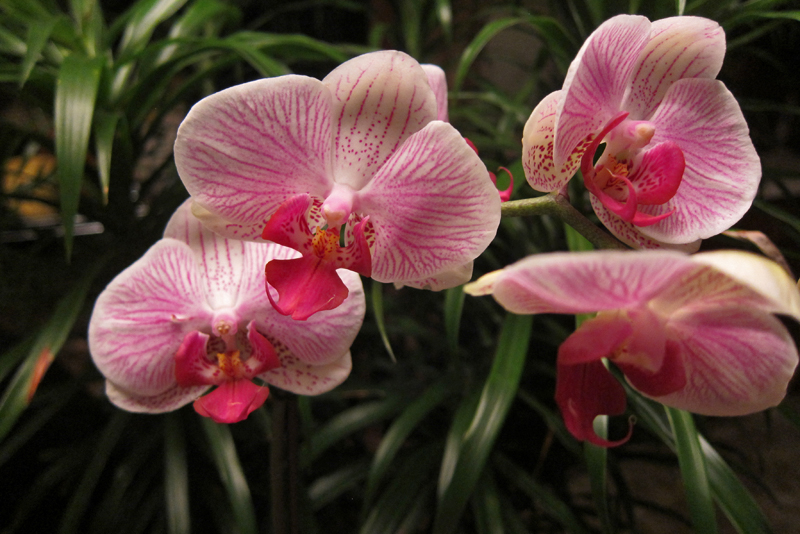 When mounted plants outgrow their mount
If you are growing your mounted plants on cork or tree fern and they have outgrown the mounting platform, take a larger piece of the mount and cut a piece out of the lower portion the same size as the original mount. In effect, you are making a hole to plug the old mount in. Be sure that you make it small enough so that the resulting platform is solid. This allows the plant roots to grow onto the new platform without too much disturbance.

Snails and Slugs
To reduce the number of snails and slugs on outdoor or indoor plants, apply a mixture of 1 part household ammonia to 4 parts water. Spray each plant thoroughly as well as the top of the media.

Be careful of when you water
Especially at this time of year when the temperatures are moderating, you need to be careful of the time when you water and/or mist your orchids. With less heat, the water will evaporate more slowly and therefore the chances of fungus and mold developing is increased. It is also a good idea keep your air circulation going rather than reducing it as this, too, will discourage molds.

Keep new plants in quarantine
I relearned this lesson lately and think it is worth passing it on again. Always put new plants in an area away from your other plants for at least a week, preferably for a month. During that time, spray for insects as well as molds and fungus problems. Watch the plant carefully for other problems. Fall is one of the times when orchid and plant shows encourage us to buy new varieties so don't forget to be careful.

Badly damaged plants
If you have badly damaged plants after Hurricane Ike, make a paste with ground cinnamon and Elmer's Glue and apply to affected parts of the plant. It can also be applied to cuts after the plant has been trimmed back where you do not think you can save parts of the plant. The cinnamon will keep infection out and the glue will seal the wound.

Monitor changing light conditions
One thing that is very easy to miss is the changing light conditions, either indoors or outdoors with the change of seasons. Plants which were happy with summer light might be getting too much or too little with fall exposures. Now is the time to check and see if you need to move your plants around in order to give them optimum light for growth, flowering or overwintering.

You Should Also Read:
Fall Orchid Growing Tips
Beginner Orchid Supplies
Windowsill Growing - Humidity


Related Articles
Editor's Picks Articles
Top Ten Articles
Previous Features
Site Map





Content copyright © 2022 by Susan Taylor. All rights reserved.
This content was written by Susan Taylor. If you wish to use this content in any manner, you need written permission. Contact Anu Dharmani for details.