Cantaloupes in Containers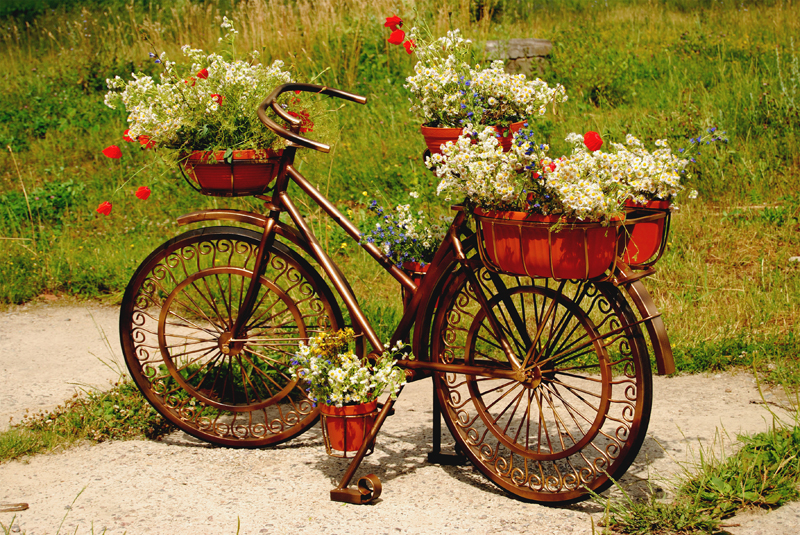 I have grown many types of cantaloupe in many types of containers, and had some great successes and some not so good experiences. Here are tips (taken from my successes) for growing great container cantaloupe – so full of flavor and juicy, with 15, 20, or more cantaloupe from each container!

There are several factors which will lead to your cantaloupe growing success: choice of cantaloupe variety, containers and soil, feeding and fertilizer, and location.

Type of Cantaloupe
Just about any variety of cantaloupe can be grown in a container, as long as the container is large enough and there is enough space for the vines to trail and the fruit to grow. You can even grow some of the jumbo varieties if you have plenty of space. If you are short on space, however, as most of us container gardeners are, you'll want to choose a short vining and small fruited variety. This year I grew 'Sweet n Early Hybrid' from Burpee seeds and had my best success ever. The vines were about 4 feet long and each plant produced 5 to 9 softball-sized sweet and flavorful cantaloupe. I grew three plants in my container and harvested 21 cantaloupe over a several week period. I also had no problems with powdery mildew or pests. It was wonderful!

If you are short on space, choose a cantaloupe variety which has short vines and small fruit. You can train the vines onto a trellis and tie or prop the fruit to the trellis as it develops, as well. Also choose a variety which is resistant to disease, such as powdery mildew. You may also want a variety which produces early if your growing season is short. And be sure to choose one which you think you will enjoy eating!

Containers and Soil
A self-watering container is perfect for growing cantaloupe, as for most vegetables and fruits in your garden. The water reservoir below will give the plants regular moisture without periods of too much or too little water. Also choose a container large enough for the variety of cantaloupe you are growing. Remember that cantaloupe produce best when grown in groups of 3 or 4 plants, so your container should hold 1 1/2 cubic feet of soil at the very minimum.

I grew my cantaloupe in a self-watering container 8" high by 13" wide by 27" long, with a 3" deep water reservoir below. This was perfect for 3 plants. A larger variety of cantaloupe would do well in a 20" or larger round planter, or a container meant for a small tree. ½ wine barrels make excellent containers for cantaloupe – if you can work out a way to make it self-watering it would be perfect.

Use a good-quality potting soil which drains well. Make sure it has some water-retention ingredients, like perlite, vermiculite, or some of the new water-holding gels. Add compost if needed, or mix in some slow-release fertilizer pellets.

Feeding and Fertilizer
Cantaloupe can be heavy feeders, so be sure to give them plenty of food, especially during the heavy growth phase. A good slow-release fertilizer mixed into the soil will be enough for the first 6 weeks or so, but after that, supplement with compost tea or additional slow-release fertilizer.

If you plant your cantaloupe in a self-watering container here is a trick which works very well. Fill your container to the top with good soil, pack down and water in thoroughly. On one long side about 1 inch from the edge, dig a trench about 1 inch deep and wide and fill it with slow release fertilizer – a good balanced 10-10-10 or 12-12-12. Cover the entire container with a plastic 'mulch' or plastic garbage bag (I used red tomato 'mulch') and secure it to the sides with clips (spring metal binder clips work great). Along the side opposite the fertilizer, cut 3 to 4 holes in the plastic and plant your cantaloupe seeds an inch or so from the edge, according to the package directions. You can add a trellis to the container (I made one to fit, with crossbar and vertical spacing of 6 inches). Be sure the reservoir always has plenty of water. As your plants grow, train the vines up the trellis and prop the fruit in the squares as they develop.

Location
Cantaloupe love sun and warmth. Place your container in a warm location that will get at least 8 hours of sun a day. I put mine along a south facing wall that received sun from about 8 a.m. to 4 p.m. every day, and the cantaloupe were very happy – besides the sun, the wall reflected back the light and heat, and also radiated warmth in the evening.

These tips and tricks will also work very well for cucumbers, squash, and even watermelon! For larger fruits and squash, try tying the fruits to the trellis with old pantyhose - cut off a leg, slip over the developing melon or squash, and tie to the support. The hose will stretch with the fruit and when ripe, simply untie from the support.

...............................................................................

CASUAL VISITOR … and just browsing? Why not sign up to the Container Garden newsletter? It won't matter what space or how many pots you have or even how much time you have to spend in your container garden; what will matter is that you get our reminders and good advice and ideas all in one interesting article.

You Should Also Read:
Seedling Tomatoes in Containers
Sweet Peppers in Containers
Herb Tea - Growing and Brewing Your Own


Related Articles
Editor's Picks Articles
Top Ten Articles
Previous Features
Site Map





Content copyright © 2023 by Jessica Carson. All rights reserved.
This content was written by Jessica Carson. If you wish to use this content in any manner, you need written permission. Contact Lestie Mulholland for details.