It is a secret place, a stellar place, where ideas transform into reality. It is not the exclusive domain of men, although some would have us believe that man is created to build, and woman to support. But a woman is a complex creature, with power and grace, strength and compassion, sexuality and wit. Intuitively, she feels the breath of the earth. She responds to the yin and yang that comprises the whole of nature.

Seasonal changes create markers in her life. In the autumn, she detects the earthiness of the forest floor, littered with leaves and moss. The air is rich and musty, and she gulps this air with pleasured delight. Wafts of apples and cider fill the air, mixed with the char of burning wood. This is a moment to be savored, and it launches her complex brain into a whirl of activity – preparing for the winter, for holidays, and for the following spring. She repeats her emotive state in every area of her life – in the romance and sexual heat she feels with her partner, in the order and attention she gives her career, in the nurturing manner as she tends to her family and friends, in caring for her home, and in the discrimination with which she selects the foods that will sustain her.

A growing body of women is discovering that these sustaining foods include the varietal realm of beer. School Counselors fail to mention to young women (or young men, for that matter) that a career in the beer community is an option. Although they may have culinary arts in school, beer does not enter into the equation. Beer belongs in the chemistry lab, it seems, but is so quashed by the lingering "Prohibition attitude" that the skills needed for such a career are lost in the muddle.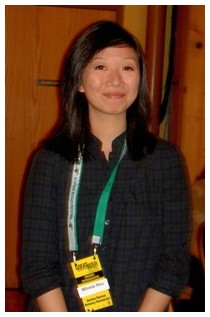 A career in Brewing is considered an honor in many parts of Europe, including Belgium, Germany and the Czech Republic. As a part of the European heritage, the skills of math, chemistry, physics, statistics, and biology (those most needed for brewing) are strong. In the USA, scores in math and science are near the bottom. In the TIMSS (Trends in International Math and Science Study) report of 1999 that evaluated scores from 26 countries, it found that, by grade 8, the USA was in the bottom third; by grade 12, the US students were nearly last in Math (only better than Cyprus and South Africa) and 6th-above-last in Science. Of the 16 countries evaluating the "gifted student population," the USA scored fifteenth in math and last in Science. To add proper perspective, the superior Asian countries were not included in the report. With these stats in mind, it is not surprising that American counselors rarely raise the possibility of brewing sciences; however, if brewing was perceived as a key to science, it may get more attention in the academic world.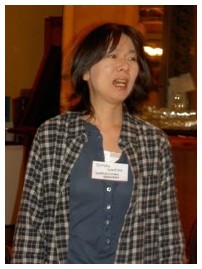 More important is the fact that women are discovering the joys of the beer world in second careers. These are very well educated, well-spoken, accomplished women, and they choose beer. They are coming together as a guild, motivated by the ebullient Teri Fahrendorf of Portland, Oregon, USA, who has formed the Pink Boots Society, an international group of women brewers, lab technicians, quality control and quality assurance experts, brewery owners, packagers, beerwriters, beer distributors, homebrew suppliers, beer educators, and marketers who are passionate about their world of beer. What started as the girls' joke, has taken on a life of its own, rolling like a snowball and gathering heft.

On Saturday, October 11, 2008, the Pink Boots Society held its second meeting at Wynkoop Brewery in Denver, Colorado, USA, sponsored by HopUnion, White Labs and the Siebel Institute. The Pink Boots Society Mission Statement defines their intent to be a powerful voice in the beer industry, be a resource for women brewers, and become an advocate for the education of women. Teri Fahrendorf stated that there is no glass ceiling in the world of brewing…only barriers due to lack of education.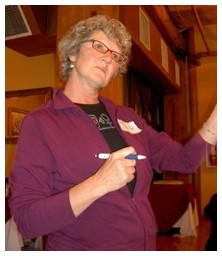 Voices from every segment of the beer community were heard. Sue Smith-Troy, co-founder of Ales for Females at Left Hand Brewing, Longmont, Colorado, spoke of her program, implemented to educate women about craft beer. Ales for Females comes together each month to discuss beer and food pairings, present professional guest speakers, discuss guidelines set-up by the BJCP, provide hand-outs, and encourage discussions about what the women taste and recognize on their palates. The group encompasses women from 21 to 75, and has prompted reactions from the male segment who have requested an Ales for Males Club.

Two women brewers representing the international component were introduced: Winnie Hsu, Head Brewer, Gordon-Biersch, Taipei City, Taiwan - she was trained in Atlanta and Phoenix, and Tomoko Sonoda, Brewmaster and Beer Judge from Harvest Moon Brewing, Maihama, Chiba, Japan. Each spoke about their brewing experiences and education, and expressed their support for this international organization of women.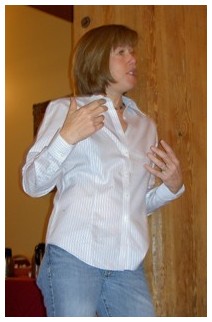 JoAnne Carilli-Stevenson spoke passionately about the role of the Pink Boots Society – that it was not established to exclude men, but to promote women in beer…to encourage more women to get involved in the industry and to stay in. She spoke about the ultimate goal: to promote beer.

The Pink Boots discussed many goals, among them:

Attain Non-profit status


Create a professional website as its own entity


Establish a Pink Boots Award


Schedule the next meeting during the Craft Brewers Conference, to be held from April 21-24, 2009


Named Megan Parisi as next meeting coordinator


Named Michele Lowney to create a network of contacts for technical support 24/7


Create a nationwide movement through educational programs that encourage more women to drink beer


Increase the number of women beer judges throughout the world


Facilitate women to become homebrewers


Establish a mentor/protégé program


Schedule technical speakers


Establish a Pink Boots Festival


Promote Brewing as a Career to young women


Create Career Kits for job fairs/school career days, available at Pink Boots Central


Create a "profile" of how women got involved in beer as a career – most have become involved as a second career – some were musicians, teachers, lawyers, etc.


Promote the Queen of Beer Competition, held by HAZE, Hangtown Association of Zymurgy Enthusiasts, Placerville, California (Note: the Queen of Beer Competition will be held Saturday, October 25, 2008 at 2125 Marden Drive, Rescue, California 95672 For information, call 916-718-0805. Eligibility - From the HAZE website: "The Queen of Beer Women's Homebrew Competition is open to all non-commercial, home brewed beer and meads produced by persons of female gender. Beer produced by or with the assistance of persons of the male gender is not eligible. "Assistance" is defined as: coaching during the brewing process, measuring ingredients, performing chemical reaction and/or timing calculations, racking, bottling or in any other way manipulating wort or fermented product. Lifting of heavy equipment or full brewing vessels, milling of grain and operation of a capper device are permitted.")


Teri Fahrendorf smoothly ran a round of votes in which voting members established a series of very broad goals from the list discussed. For all intents and purposes, the Pink Boots Society has moved onto solid ground.

"This is proof that sometimes great things come from small places."


Pink Boots Brewers Pritchard, Schmidhausler, Cornett and Osborne
Women brewers at the 2nd meeting of the Pink Boots Society (from left to right): Janelle Pritchard, Snoqualmie Falls Brewing, Snoqualmie Falls, Washington; Gretchen Schmidhausler, Basil T's Brewery & Italian Grill, Red Bank, New Jersey; Tonya Cornett, Bend Brewing Company, Bend, Oregon; Melissa Osborne, Four Peaks Brewing Company, Tempe, Arizona



Pink Boots Society Members Erny, Smith-Troy, Wallace, and Jones
Women who educate about beer: (from left to right) Nichole Erny, beer educator/bartender at The Trappist, Oakland, California; Sue Smith-Troy, Ales for Females, Left Hand Brewing, Longmont, Colorado; Cinzia Wallace, Ales for Females, Left Hand Brewing, Longmont, Colorado; Jessica Jones, blogger at the Thirsty Hopster and educator, Firestone Walker events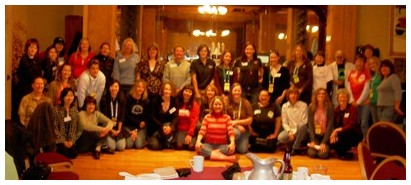 Pink Boots Society Attendees in Denver, Colorado
Attendees at the 2nd meeting of the Pink Boots Society at Wynkoop Brewing in Denver, Colorado. The Pink Boots Society currently (2008 figures) has 150 members in the Data Base.

Cheers!

Other Photos are (from top): Teri Fahrendorf, founder of Pink Boots Society; Winnie Hsu of Gordon Biersch, Taipei City, Taiwan; Tomoko Sonoda of Harvest Moon Brewing, Maihama, Chiba, Japan; Sue Smith-Troy of Ales for Females, Left Hand Brewing; JoAnne Carilli-Stevenson, Denver meeting organizer