Beer Cocktails for Halloween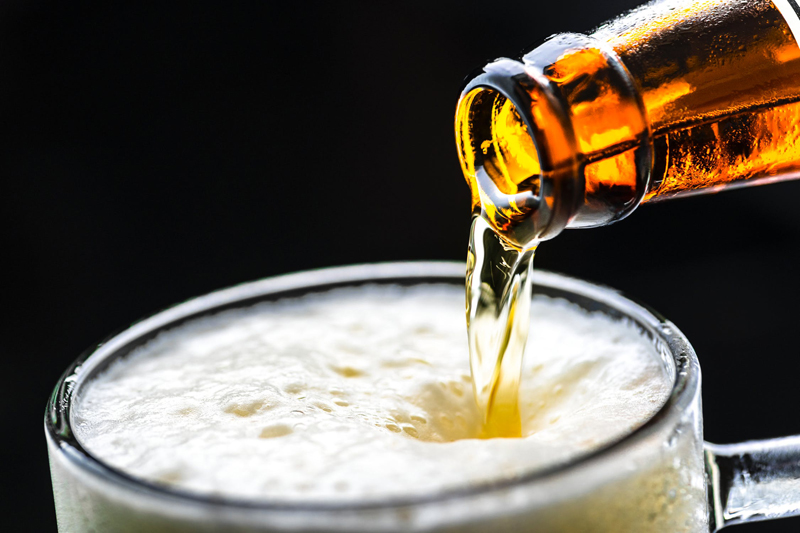 Imagine a countryside of 2000 years ago, where the nighttime hills shine bright with a hundred fires, peppering the air with aromas of musty wood and earthy peat, spiced porridge and succulent lamb. The air might echo with laughter, or may resonate with the roar of an ancient clan preparing for battle, connected in spirit by belief in the supernatural. There would be comfort in the light, the smells of char, the warmth of hot meal.

At once, the fires fall dead and a hush blankets the night. As the wind whistles through the valleys, the hand of death brushes lightly up the neck. Shivers announce a thin line, the muddled crevasse between the living and the afterworld. Celts, all…they wait in silence for their Druid priests to light the bone fire, built of the skeletons of slaughtered animals, and sometimes humans, that would elevate the occult, strengthening the Druid power to predict the future. In the flicker of burning logs, insiders would celebrate the feast of the sun, La Samon or Samhain (say: sow-een' – rhyming the 'sow' with 'cow'), in the ancient lands from Ireland to Northern France. They would celebrate fire, dressed in the animal heads and skins of sacrificed beasts. Eating their fill and slathered in drunkenness, they would pay a stipend for one scoop of the sacred flame to re-ignite their own extinguished fire-pit.

Halga…halig…alholowmesse, meaning All Saints…Hallowmas - the Christian merging of the eve of All Saints, All Saints Day and All Souls Day – moved from the original May celebration to coincide with the seasonal encounter of a barren winter. With plotted purpose, it would overshadow Celtic traditions and provide a connectedness to two Roman festivals – one that celebrated the dead and the other, Pompona, the Roman goddess of fruit and trees, with her symbol: the apple.

In the spirit of ancient tradition, let us celebrate Halloween to honor the past – those lost cultures who respected the chasm between life and death, the thin line that holds us by a moment's breath. Let us dance in merriment and create beer cocktails for our celebration - a sign of the living and symbol of joy.

What makes a beer cocktail so special? Beer must be the primary component from which the ABV is measured. Creativity and imagination helps. Be careful with your enthusiasm. No need to meet thy Maker in the throes of revelry; nor to bend thy knee to the lowly porcelain god.

Beer Cocktails for Halloween

Beer Bloody Mary – Mix Boulevard Unfiltered Wheat Beer and tomato juice in equal portions. Add a dash of Tabasco sauce and a dash of Worcestershire sauce. Garnish with a celery stalk.



Red Eye – Durango Derail Ale with a shot of tomato juice.



Ruddy Mary – Iron Hill Vienna Red Lager, a shot of tomato juice and a splash of Tabasco sauce.



Bee Sting – Snake River OB-1 and orange juice.



True Blood – Hoppin' Frog Bodacious Black & Tan with a splash of strawberry syrup.



Doggelada – Pour Flying Dog Old Scratch Amber Lager into a glass of ice. Add the juice of 1 small lemon, a dash each of soy sauce, Tabasco sauce and Worcestershire sauce, and a pinch of salt and pepper. For authenticity, dash with a shot of Tequila.



Black Cossack – Hoppin'Frog BORIS the Crusher Oatmeal Imperial Stout with a shot of vodka.



Ogre Juice – Henry Weinhard's Blue BoarPale Ale mixed with 2 oz. whiskey. Note: In Ogre Juice, the ingredients are mixed; in a Boilmaker, they are not.



Teacher Creature – Rock Bottom Highland Courage Scottish Ale with Scotch and Drambuie.



Sake Bomb – Hot sake dropped into Hitachino Nest White Ale.



Waldmeister – Sly Fox Berliner Weiss with 2 dashes of woodruff syrup.



Spooky Caribbean Night – Twisted Pine Big Shot Espresso Stout and 1 oz. of coffee-flavored liqueur.



Handy Shandy – Mix equal portions of Rogue Ales Hazelnut Brown Nectar and Mountain Sun Jah'Mon Ginger Beer. Add a splash of lemonade.
Fruit-Spiked Wonders:
Raspberry Spiked Apple Ale – Shorts Smoked Apple Ale with a dash of raspberry liqueur.



Orange Spiked Lager – Leinenkugel's Creamy Dark Lager with 1 oz. of orange liqueur.



Peach Spiked Gluten Free Beer – Lakefront New Grist with 1 oz. peach liqueur.
Cheers!
You Should Also Read:
Halloween Spirits and Dracula's Midnight Feast
Ales and Tales and Halloween Spirits
Hedonism & Midnight Wit at Legacy Brewing


Related Articles
Editor's Picks Articles
Top Ten Articles
Previous Features
Site Map





Content copyright © 2018 by Carolyn Smagalski. All rights reserved.
This content was written by Carolyn Smagalski. If you wish to use this content in any manner, you need written permission. Contact Carolyn Smagalski for details.