Hedonism & Midnight Wit at Legacy Brewing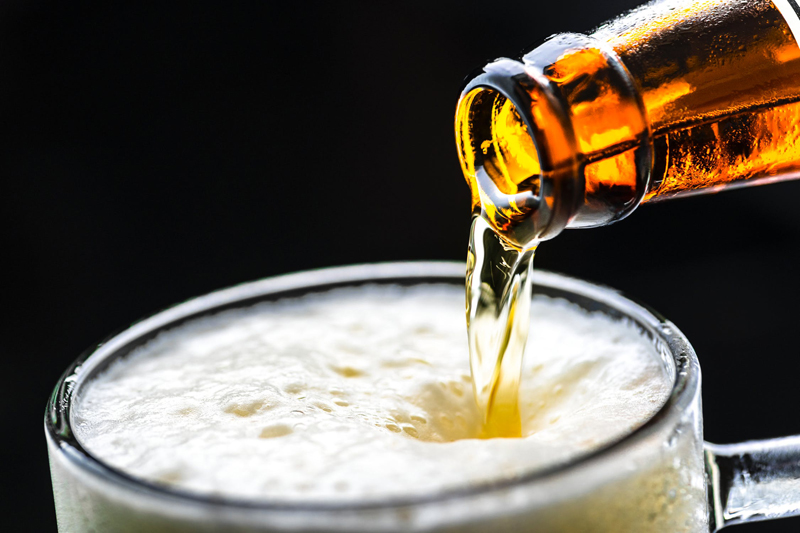 Legacy's motto, "We brew pure pleasure," piqued my curiosity. This bottle of Midnight Wit, the newest temptation in the Legacy Brewing portfolio of beers, had a note attached: "Open at midnight for maximum pleasure."

So I did.


Mystically, scantily clad figures were released from the bottle, along with sounds of coonga drums. Fire sprang forth from the earth, surrounded by stones made of human teeth. A body of sunlit straw joined the tight, creamy head, while curtains of dense fluff clung to the inner surfaces of crystal. Music, steady and melodic, increased in tone, while the figures began pouring Midnight Wit into my mouth. Orange, grapefruit, kiwi, and lemon slipped across my tongue, enhanced by chamomile and exotic spice. Tropical sharpness softened to silk while effervescence danced across my tongue. The magic of Hoegaarden yeast spread stardust across the universe. I surrendered to seduction, a willing captive in an ethereal blanket of titillating pleasure...

Scott Baver, Brewmaster and co-owner of Legacy Brewing on Canal Street in Reading, Pennsylvania, USA, has crafted an event-for-the-palate in Midnight Wit. Such magic does not happen overnight.

Baver had attracted worldwide attention in the late '90's when Mid-Atlantic Brewing News selected Belgian Style Wit, created at his Pretzel City Brewery, as "First in the Nation; Third in the World." Brasserie Val de Sambre, a farmhouse brewery in Southern Belgium, commissioned Baver to brew Blanche de Charleroi for the American market. Privat-Brauerei Bolten near Dusseldorf, Germany, paralleled the Belgian contract by giving Baver hands-on preparation for brewing Boltens Ur Alt, which they intended to introduce to the US in tandem with the Belgian brew.

The contracts fizzled, (that being another story for another time), but Baver re-directed his accumulated experience and, in April of 2003, formed Legacy Brewing with partner Dave Gemmell.

Legacy Brewing began crafting the three most popular styles from past Pretzel City days - Steam Horse Lager, Duke of Ale and Belgian Style Wit – under the Legacy label. As Legacy transformed into its new image, Hedonism was born.

Enthusiastic brewers understand the connection between beer and sustained pleasure. The act of brewing demands scientific knowledge balanced with an artist's sense of creativity. It is in perfect alignment with the arts…and a brewfest is the perfect place for "Live Art."


Baver had the idea that beer and art make steamy partners. Local artist, Deric Hettinger agreed to put Hedonism - described by Baver as "an orgy of ingredients" - on canvas during the Manayunk Beer Festival. While the Legacy brewers poured beer during the fest, Hettinger provided background entertainment by painting his depiction of Hedonism West Coast Red Ale. Before the eyes of a spirited crowd, Hettinger's red background gave way to cartooned figures in bohemian abandon, alive with wild pleasure inside the swirling bottle of red ale. Baver's cutting-edge intuition for marketing gave Legacy's Hedonism the spotlight.

Not all viewed the Hedonism painting as a creative work of art. An NBC affiliate station picked up the grumblings of conservative Lancaster County, Pennsylvania, and Legacy Brewing quickly became top dog on the local news. Within three days, the story hit the AP wire, stirring up enthusiasm and demand for Hedonism across the country.

Slanted toward West Coast extremism, Hedonism swirls from the bottle with a chestnut-copper body and creamy tan head, leaving rivulets of Belgian lace behind. Pungent hops mix with malty caramel to seduce you into its lustful pleasures. Flavors of dark caramel sweep the tongue, as spice and earth paint the back of the throat. This is a complex hop monster, waiting for battle like Godzilla versus the great Hop Devil.

Legacy brewers display a commitment to quality in their selection of ingredients – imported German Pilsner and Munich malts, Canadian wheat, whole hop flowers, Chimay and Hoegaarden yeast, rock candi, and exotic spices – producing World-class beer through a combination of tradition and innovation.

More brews from Legacy Beer

Euphoria – Brewed with Munich malt and Chimay yeast, this Belgian Strong Ale weighs in at 12% ABV. A hazy straw body lies beneath the frothy white head while aromas of peaches, bubblegum and pepper fill the air. Complex flavors are of bready malt, candi sugar, apricot, peach, and banana, with coriander and pepper spiciness. Mouthfeel is fluffy with a semi-dry finish.  Will this magical brew find itself in a blue bottle in the near future?

Reading Pilsner - Noble hops waft into your nose, drifting lazily upward from a crystal, amber body. A crisp, dry breadiness is balanced by the zesty hop presence. This clean and well-balanced German Pilsener has a light feel and brisk finish.

Nor Easter Oatmeal Stout – Smoked oats add to the creamy slickness as a glowing body of red peeks out beneath a generous swath of cream. Smoke, molasses, anise, nuts, vanilla and roasted malt fill the olfactory senses and echo on the tongue. Layers of complexity slide like velvet into your throat.

Brown Aled Girl – (also known as Bear Creek Brown) – This deep brown ale has a distinct nutty aroma and a strong malt profile. Rich and well balanced, Brown Aled Girl blends well in meaty dishes, and complements spicy foods with its strong, malt presence.

Fantasy Ale – As a Christmas warmer, this festive treat is a feast for the eyes – coppery buff-red with voluminous, pink-tinged head and layers of Brussels lace that cling to the glass. One pound of fresh local raspberries is added to each gallon of Euphoria Belgian Strong Ale. Chimay yeast works its magic, presenting a fruity, quenching, sour ale with champagne-like character. Superb!
Hoptimus Prime – Brewed for Union Jack's, this Imperial IPA glows copper beneath a creamy, off-white head. A grainy nose joins the explosion of pine, citrus, and earth, in response to dry-hopping with Simcoe, Tomahawk, and Nugget whole hop flowers. The 10% ABV hides beneath a mask of juicy pleasure.

Cheers!
 
You Should Also Read:
Politically Incorrect Beer Titles - Beer Fox Guide
Victory Brewing Company - Ten Years of Victorious Beers
Beer Theme Movie Classics


Related Articles
Editor's Picks Articles
Top Ten Articles
Previous Features
Site Map





Content copyright © 2022 by Carolyn Smagalski. All rights reserved.
This content was written by Carolyn Smagalski. If you wish to use this content in any manner, you need written permission. Contact Carolyn Smagalski for details.