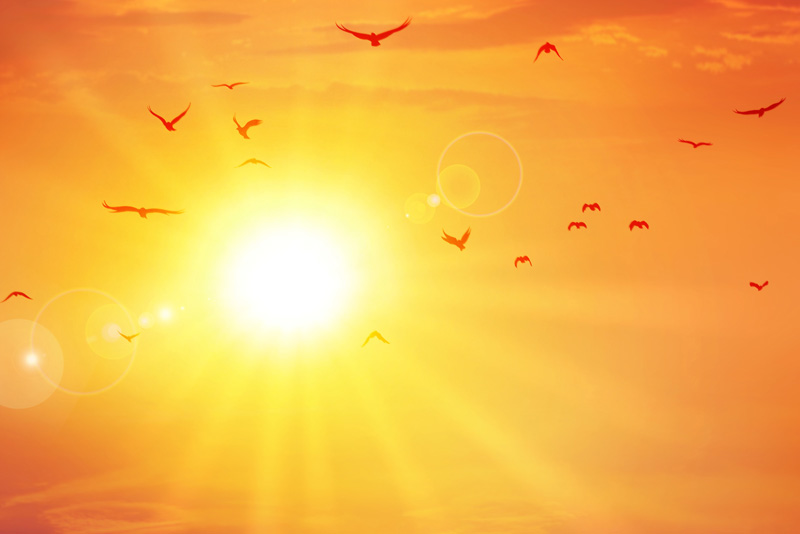 Zipporah, whose name means sparrow or bird, is a woman of the Bible who is often skipped over in light of Moses' important work, but she saved his life. Zipporah was one of the seven daughters of Jethro, a priest of Midian. Jethro, (also called Ruell), was not necessarily a priest of the One True God of the Hebrews. The Midianites were descendents of Abraham's second wife Keturah. Although, as descendants of Abraham, they would have likely retained some of the knowledge of God, they worshiped other gods as well.
Moses had recently arrived in Midian, having fled Egypt to save his life. Zipporah may have fallen in love with him at their first meeting, as many girls are apt to do with heroes. She and her sisters were at the well drawing water for their father's flock when some shepherds came and chased them away. Moses happened to be sitting nearby and came to the rescue by driving off the shepherds. They were no match for the Egyptian trained fighter. He continued his heroic behavior by drawing the water for the flock. It is quite possible that all seven girls would have set their sites on him after such a display.
When Zipporah and her sisters reported these exciting events to their father, he invited Moses into his home. Moses stayed with him and became a shepherd. Some time later, he was given Zipporah as his wife. She bore him two sons, Gershom and Eliezer. Gershom's name means "alien" or "stranger." Moses said, "I have become an alien in a foreign land." Eliezer means "my God is my helper." Moses said, "My father's God was my helper; he saved me from the sword of Pharaoh."
Moses had been in Midian for forty years when God sent him back to Egypt to rescue his people. He asked his father-in-law's permission, gathered his wife and sons and set off for Egypt. On their way, the Lord confronted Moses and was about to kill him for not fulfilling the requirement of circumcising his son. It is thought that Moses may have been very ill for Zipporah took a knife and circumcised their son herself, saving Moses' life. Then she touched the knife to Moses' feet saying, "Surely you are a bridegroom of blood to me."
They had different habits of speech back then so it is difficult to know what she meant by such an odd statement.
There are two theories as to her meaning.
It may have been a derogatory remark if she was opposed to the circumcision. She was not fully aware of covenant of circumcision made between God and Abraham.
She may have seen the circumcision as redemption for her husband's life. Her bridegroom returned to her.
We know that Zipporah went back to her father's home before the great Exodus of the Hebrews. It may have been directly after this episode, Moses would have been more aware of the danger of his mission and that he must keep his attention on God to complete his holy calling.
Later, after Moses had led the Hebrews out of Egypt and into the dessert, the Bible says that his father-in-law, Jethro, heard of his success and went out into the dessert to visit. He took along Zipporah and her sons to reunite the family. That's the last we hear of Zipporah in the Bible. I like to think that she and her sons stayed on and that she spent the rest of her life with her husband.
You Should Also Read:
Pharaoh's Daughter - Mose' Mother
Miriam
Women of the Bible


Related Articles
Editor's Picks Articles
Top Ten Articles
Previous Features
Site Map



Follow @LynneChapman
Tweet





Content copyright © 2022 by Lynne Chapman. All rights reserved.
This content was written by Lynne Chapman. If you wish to use this content in any manner, you need written permission. Contact Lynne Chapman for details.