Plant Bulbs in Winter for Summer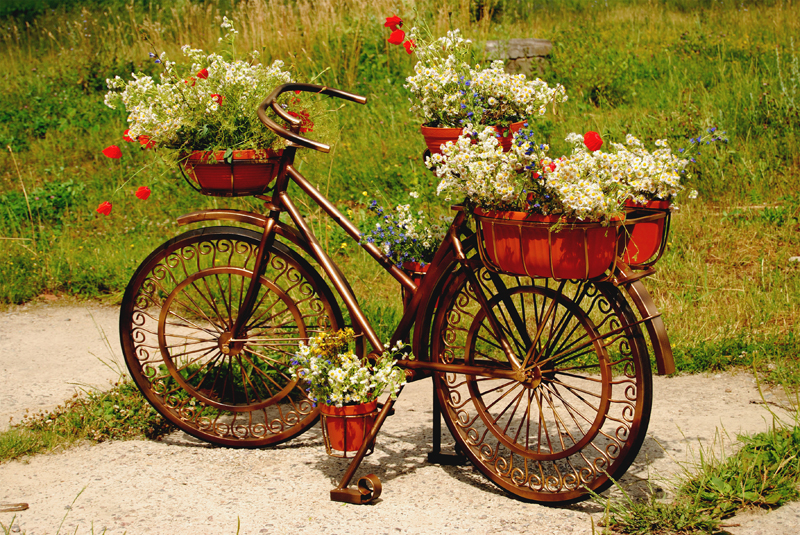 If you live in a cold climate, winter is not the time you normally think of for planting. But for your summer blooming bulbs, now is the perfect time to plant your bulb container garden. You can keep the planted containers cool in a garage or basement and get an early start on your bulb garden.
Tuberous Begonia
These range from upright plants with large (6" or larger) blooms to hanging plants covered with 2" to 3" flowers. Colors range from white to yellow, peach, orange, pink, and red, and flower shapes are from simple single blooms to large frilly, doubles, and tight centers with looser outer petals. Plant 1 to 2" below soil level, one to a smaller container (6" to 8") or two or more in a large container. Locate pot to a shady location once weather warms. Plant prefers humidity or regular misting.
Caladium bicolor
These have beautiful foliage with green leaves splotched with white, pink or red. Grow 2 to 4 foot tall, so they make a great backdrop for your container garden. Require shade and frequent watering during the summer. Plant 2" deep in a 5" or larger container.
Canna
Draft varieties grow from 1 ½ to 3 feet tall, others 6 feet tall or more. Plant tall varieties in a heavy container so they will not tip over when plants reach full height. Place bulbs 5" deep and 10" apart, grouped in large containers. Prefer full sun.
Crocosmia
These are related to freesia and sparaxis. Long, narrow leaves with small flowers in yellow, orange and red. Most range between 2 and 4 feet in height. Plant corms 1" to 2" deep. Locate in sun to partial shade once danger of frost has past.
Cyclamen (florist's type)
These will grow in partial shade to full sun, may lose their leaves and go dormant in hot sun, so plan accordingly. Pretty, heart-shaped leaves with backwards-petaled flowers arching above on long stems. Flowers range from white to pale pink, crimson, purple, and red. Plant at soil surface with top of tuber showing.
Dahlia
Dahlias come in many shapes and sizes. Large, dinner-plate dahlias can be 5' tall or more, miniatures form pretty masses of foliage topped with flowers, 8" to 12" tall. Plant large varieties 3" deep halfway up in a large pot, then fill with more soil as the plants grow. Miniatures can be started from seed or grown from small tubers left over from the previous year. Plant tuber with top 1" below soil level.
Gladiolus
Tall 3' to 5' stems of blooms will probably need to be staked, plant in a large, heavy container to avoid tipping over when plants are in bloom. Plant corms 3" to 4" deep. Available in a wide variety of colors and flower shapes – mix colors in each container, or plant a group of all one color in each container for dramatic effect.
Homeria collina
These pretty yellow, golden or orange flowers do well in sun, but prefer partial shade in very hot areas. Leaves are grass-like, followed by 1 ½' stems with 2"-3_ blooms. Plant corms 1" deep. Will multiply easily, so divide corms every 1-2 years.
Hymenocallis
These unusual flowers range from white to yellow, some with green stripes. Clumps of narrow flat leaves followed by a central bloom stem 2' tall with several fragrant flowers. Blooms resemble daffodils surrounded by six long, spidery petals. Plant bulb with tips 1" deep in a 5" or larger container.
Oriental lily
Large 6" to 9" very fragrant flowers in whites, pinks and reds. Most are tall (2' to 3' or more) though there are several dwarf varieties. Plant one bulb about 1" deep in a 5-6" pot, or for more dramatic effect, plant 5 to 7 bulbs in a 16" container.
Tuberose (Polianthes tuberosa)
Highly fragrant, these prefer sun to partial shade. Tubular flowers cluster on stems 2' to 3' tall. Plant 2" deep and 4 to 5 inches apart. Divide clumps of tubers every 3-4 years.
Mexican Shell Flower (Tigridia pavonia)
3" to 6" flowers with 3 large outer petals and 3 smaller inner petals. Colors can be white, pink, yellow, orange and red, some spotted or splotched. Leaves are 1' to 1 ½' long, ad narrow, with ribs. Plant bulbs 2" to 4" deep, 4" to 8" apart in a large container, or cluster 6 or 7 bulbs in a 9" container. Prefers sun, with afternoon shade in hot areas.
Calla (Zantedeschia)
Set rhizomes 2" deep in a 6" or larger container. Available in a wide range of colors, with new, some very striking, varieties coming out each year. Most are short, 1' to 2' tall at most.
Zephyr flower (Zephyranthes)
Also known as the Fairy Lily, these prefer full sun. They also prefer periods of dry between waterings. Flowers are white, yellow or pink. Plant 1" to 2" deep, 3" apart, or cluster 3-5 bulbs in a 6" or larger container.
You Should Also Read:
Decorative Winter Container Gardens
Autumn Flowers for Containers
A Winter Kitchen Garden


Related Articles
Editor's Picks Articles
Top Ten Articles
Previous Features
Site Map





Content copyright © 2023 by Jessica Carson. All rights reserved.
This content was written by Jessica Carson. If you wish to use this content in any manner, you need written permission. Contact Lestie Mulholland for details.