Philly Beer Geek 2009 Rewards Beer Geeks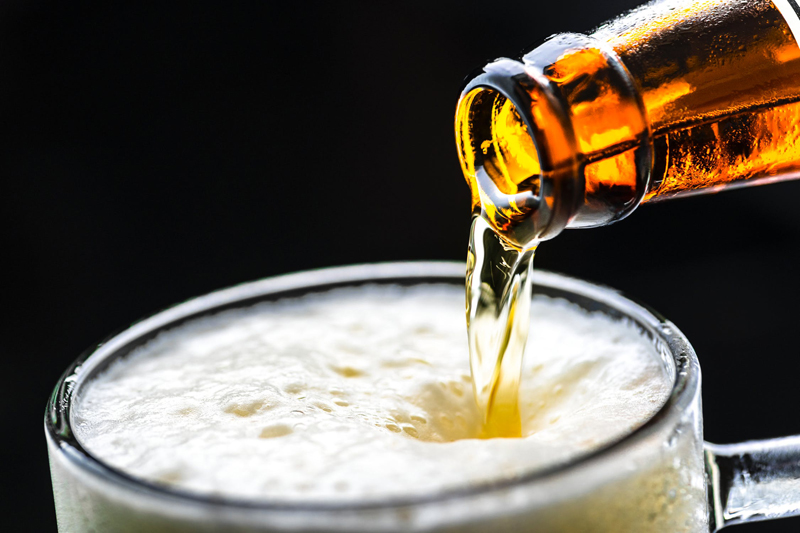 When you hear the phrase Sierra Nevada, do you think of a mountain range located in California, or do you think of beer? Do phrases like Hop Wallop, Man Full of Trouble, and Arrogant Bastard bring forth fond memories of gustatory delight? Does Chocolate malt make you think of malted grain rather than Ovaltine? Then, you might very well be a beer geek. If you live in Philadelphia or the surrounding area, the opportunity to be rewarded for your geekiness has arrived with the end-of-winter celebration of Philly Beer Week.

In its second year, the Philly Beer Geek Competition kicks off in local beer bars, brewpubs, and restaurants in the Philadelphia metro and suburban areas with Preliminary Qualifying Competitions that single-out those most worthy of the title. Winners of Preliminary Rounds will then face-off in the Philly Beer Geek Semi-Finals on Thursday night, March 5, 2009 at Manayunk Brewery & Restaurant, 4120 Main Street, Philadelphia, Pennsylvania, USA. Five illustrious judges will challenge the contestants with beer trivia, beer-to-brewery matching, taste tests, and displays of passion for Philly beer. They will then select 6 Finalists to go on to the Finals Competition during Philly Beer Week on Thursday, March 12 – also at Manayunk Brewery – for the chance to win over $1,000 in prizes, a plaque proclaiming them Philly Beer Geek 2009, and the prestige and honor that goes with the title.

In this tough, winner-take-all contest, competitors need to maintain their courage as they display creativity, beer knowledge, and a sense of humor to beer fans , envious of the enthusiasm and sense of confidence displayed by these mavens of malt.

Philly Beer Geek states its mission, clearly displayed throughout the pages of the Philly Beer Geek website: "The purpose of the Annual Philly Beer Geek Competition is to exalt and honor Philadelphia beer and the people who celebrate,craft, and consume it with enthusiasm and pride. To this end, our illustrious panel of judges will select and reward, as Philly Beer Geek 2009, the individual who exhibits the greatest universal knowledge and passion for Philadelphia Beer." This is serious business, and those participating in the extravaganza understand the weight of their mission.

As of March 2, 2009, the following businesses have become sponsors of the Philly Beer Geek Competition:

Manayunk Brewery & Restaurant, Philadelphia, PA
Keystone Homebrew Supply, Montgomeryville & Bethlehem, PA
The Beer Fox, Harleysville, PA
Origlio Beverage, Philadelphia, PA
The Whip Tavern, Coatesville, PA
Tria, Philadelphia, PA
McCoole's at the Historic Red Lion Inn, Quakertown, PA
The Institute Bar, Philadelphia, PA
Old Dock Street Brewery, Philadelphia, PA
Iron Hill Brewery & Restaurant, North Wales, PA
The Grey Lodge Pub, Philadelphia, PA
Devil's Alley, Philadelphia, PA
Bridgid's Bar & Restaurant, Philadelphia, PA
Spinnerstown Hotel & Tap Room, Spinnerstown, PA
Standard Tap, Philadelphia, PA
Philadelphia Brewing Company, Philadelphia, PA
World Cafe Live, Philadelphia, PA
Isaac Newtons, Newtown, PA

The Illustrious Panel of Semi Finals Judges who will serve on March 5, 2009:

Dr. Joel Armato - Dr. Joel Armato is a Regional Beer Ambassador for New Holland Brewing Company. He shakes his tail across state lines from South Street to South Carolina in an effort to raise awareness about his brewery's Art In Fermented Form. He is the creator and gatekeeper of The Grain Bill Beer Blog, which covers the wide range of beer happenings in his life. He homebrews when he is home long enough for a brew session and absolutely loves Saisons. Good beer and food pairings give him goose bumps. His idea of romance involves hydrometers, muslin bags, and tulip glasses. He is as much a Doctor as you are an Astronaut, but the name has stuck with him for years and he doesn't intend on giving it up anytime soon.

Lew Bryson - Lew Bryson comes to us as the award-winning, beer-drinking, whiskey-sipping, brewery-visiting, cask-tapping, thirst-creating drinks writer. With his sassy wit and infectious laugh, Lew seizes the stage with readers and audiences alike. His books include a series of brewery guidebooks: New Jersey Breweries; Pennsylvania Breweries; Virginia, Maryland and Delaware Breweries; and New York Breweries. Lew rambles on at As Seen through a Glass, where he presents his audacious perspective on whiskey, beer tasting, bar openings and the laws that govern drink. Abolish the PLCB? Ask Lew!

Suzanne Woods - As founder of Philadelphia's women's beer club, In Pursuit of Ale (IPA Club), Suzanne Woods is the established authority on educating women about beer. She follows a constant mission to expand the beer palates of women in the best beer bars in Philly - a difficult task, to say the least. She schedules speakers to present informative sessions to her membership, and has organized homebrew sessions with Home Sweet Homebrew of Center City.

As a familiar face at beer festivals, she fits well in media events, attracting beer journalists with her enthusiasm and pride in her growing sisterhood. You may see her pouring beer for Sly Fox, or serving up a storm at Jose Pistolas. She has been the subject of articles in Philadelphia Weekly, BeerAdvocate.com and the Don Russell's Daily News column, "Joe Sixpack." She has also appeared on Sirius Satellite Beer Radio and Ed Hitzel's radio show from Somers Point, NJ.

Scoats - Scoats is a sagacious genius, esprit savant, and intuitive talent all wrapped up in one - perhaps, the "finest Publican in all of Philadelphia." With 13 as his lucky number, The Grey Lodge Pub will celebrate 13 years in August, 2009. Friday the Firkinteenth is, perhaps, this Lodgemaster's most brilliant invention. Now a registered trademark of The Grey Lodge Pub, Friday the Firkinteenth is a special one-night event celebrating cask-conditioned ales, exclusively held on each Friday the 13th, giving this event "limited-edition" status. Groundhog Day Hawaiian Shirt Beer Breakfast also stands as one of his most popular creations, one in which beer lovers gather at 7am to watch Punxatawney Phil's prognostication and to drink great rare beer. Events in which people stick things into Flying Fish Head Brewer Casey Hughes also seem to be popular.

Larry Horwitz - If you were to research the term "professional brewer," you would find Larry Horwitz, Brewmaster at Iron Hill Brewery in North Wales, Pennsylvania, as the definition. Not only is he a walking, talking encyclopedia of brewing information, but he also understands the magic involved in the creation of great beer. He is well-versed in areas of water chemistry, ions in brewing, malt and adjuncts, mash biochemistry, and the alpha acids and essential oils found in humulus lupus, or hops. In addition to his duties brewing great beer at Iron Hill, he also teaches Beer Judge Certification Classes and breaks a difficult subject down into digestible morsels.

The Illustrious Panel of Finals Judges who will serve on March 12, 2009:

Steve Robson - Steve Robson, Philly Beer Geek 2008 can't believe the year has passed so quickly. His attendance at festivals, beer dinners, homebrew competitions, and milling about the Philly Beer Scene will serve him well in his new role as Illustrious Philly Beer Geek Judge.

Jack Curtin - Seasoned Philadelphia beer journalist Jack Curtin, asserts that Philadelphia has developed a reputation for being the best beer city in the country, and perhaps the world. In the business for longer than William Penn has been standing on City Hall (okay, I may be exaggerating a bit), Jack has proven himself in the business of journalistic excellence. He promotes breaking news at The Beeryard website, Wayne, PA, is the "Eastern Pennsylvania" columnist for Mid-Atlantic Brewing News, and serves as the "Atlantic Ale Trail" columnist for Celebrator Beer News of Berkeley, California. In addition to keeping his blog current, daily, at Liquid Diet - The Blog, he contributes regularly to American Brewer.

Don Russell - Joe Sixpack is Don Russell, winner of the 2006 Brewers Association Beer Journalism Award in Consumer Print, and roving brewsman for over ten years at the Philadelphia Daily News. He is the author of "Joe Sixpack's Philly Beer Guide: A Reporter's Notes on the Best Beer-Drinking City in America", where his caricature stands, inked throughout the book in a dozen humorous settings by Pulitzer Prize-winning cartoonist Signe Wilkinson. His newest book, "Christmas Beer: The Cheeriest, Tastiest, and Most Unusual Holiday Brews," is a must for those who seek out the best in Seasonal Beers. As co-founder of Philly Beer Week, Don proves his status as a major-league player in the Philly beer scene.

Dave Alexander - Dave Alexander, owner of the Brickskeller and RFD in Washington, DC is a legend in his own right, the first American beer bar owner to be inducted into the Knighthood of the Brewers Mastshaff in Belgium. The Brickskeller is the ne plus ultra in the world of beer bars, listed in the Guinness Book of World Records for "the most varieties of beer commercially available [having] added 1,072 to the list since 1983." Since opening in 1957, the Brickskeller has held over 450 Beer Tastings, and served well over 5,000 different beers. Dave plays a kick-ass lead guitar and has played in concert for Tiny Tim in the 70's and Porter Wagoner in the 80's. In 2008, he joined with the Rolling Boil Blues Band onstage at Johnny Brenda's for the Philly Beer Geek Competition Music Venue.

Whitney Thompson - Whitney Thompson is currently a professional brewer with Victory Brewing Company Downingtown, Pennsylvania. She has had the pleasure of discharging her craft at Troegs Brewing Company, Appalachian Brewing Company, Harrisburg Pa, Ernst August Brauhaus Hannover Germany and as aLab Technician fo r Star Hill Crozet Virgina. She is currently Technical Director Master Brewer's Association of the Americas District Philadelphia, and a member of the Institute of Brewing and Distilling, London England. Whitney has a B.S. In Biology with a focus in Microbiology from Bridgewater College and is a proud member of the Pink Boots Society.

Chris Firey - Chris Firey began his brewing career in a college dorm room 15 years ago. Notwithstanding some lackluster results, he began managing a successful homebrew supply shop in The Mall of America in Minneapolis, and ultimately opened his own shop, Southern Maryland Homebrew, in Benedict, Maryland. Upon successful sale of SMH, Chris graduated at the top of his class, from the last Residential Class at the American Brewers Guild, in Woodland, California . He took an apprenticeship under Bill Madden at Capitol City Brewing Company in Baltimore and gained several years experience as an assistant brewer. Chris then moved to Pennsylvania to work for Victory Brewing Company where he participated in a vast expansion from 8,000 to almost 40,000 barrels/yr over a four year period. He now resides with Manayunk Brewing Company where he has implemented many upgrades and manages production of over 2,000-bbls/year, sold both in-house and to off-site accounts.

The Manayunk Blues All Stars featuring Cat and Jack Faulkner bring entertainment to the next level for the Finals Competition. Cat and Jack also bring a bevy of special guests for the best in beer-centricity.

Emcees and Co-Founders of Philly Beer Geek are:

Jason Harris of Keystone Homebrew
Carolyn Smagalski, The Beer Fox

But the real show of these power packed evenings are the Philly Beer Geeks:

Superb, enthusiastic Beer Geeks who have won Preliminary Rounds on the local level, and have already proven themselves to be worthy of the honor of Philly Beer Geek 2009.

Are YOU one of our celebrated Beer Geeks?

Cheers! 
You Should Also Read:
Beer Trivia for Master Geeks
Do You Know Your Beer Styles?
Ask the Beer Fox - What Are Noble Hops ?


Related Articles
Editor's Picks Articles
Top Ten Articles
Previous Features
Site Map





Content copyright © 2022 by Carolyn Smagalski. All rights reserved.
This content was written by Carolyn Smagalski. If you wish to use this content in any manner, you need written permission. Contact Carolyn Smagalski for details.