Joe Sixpack's Best of the Brews Awards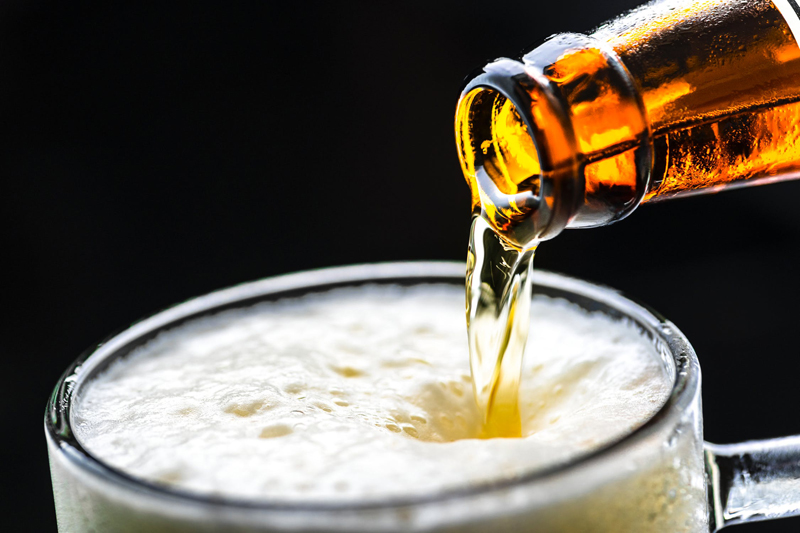 Don Russell, more widely known as author, reporter, and radio personality Joe Sixpack, took the stage on Opening Tap night at the Comcast Center to announce the Best of the Brews Awards, Philly style. In a city known for its cynical perspective, these brewers awards were in-line with the city's sense of humor.

In his own gracious style, Don Russell handed over his list of winning Brewers and Brewhouses for your viewing pleasure:

Best Place to Throw One Back with the President – Bethlehem Brew Works, Allentown and Bethlehem, PA, Brewer: Beau Baden

When Barack Obama visited Pennsylvania during his bid for the presidential election, the only brewery he visited in Pennsylvania was the Brew Works.

U-Haul Award – Dock Street Beer, West Philly, Rosemarie Certo

Since 1988, people have been drinking Bohemian Pilsner from the original 18th Street location, in Utica, New York, Washington, DC, the Reading terminal, and on Network TV's Thirty Something. Now it has found a home in an old firehouse in West Philadelphia.

MVP – Most Valuable Press – Dogfish Head Craft Brewery, Milton, Delaware, Brewer: Sam Calagione

With a gazillion appearances on TV, Radio, and film (Reno 911), and his latest coup – a 10-page spread in the New Yorker magazine – Sam has the ability to charm the top publications and spread his gospel of extreme beer and the craft beer industry around the world. (They are charmed by his gorgeous face, too!)

Best Yeast Award – Earth, Bread + Brewery, Mount Airy section of Philadelphia, Brewer: Tom Baker

Longtime Brewer and Renaissance man Tom Baker took his last name to heart and handcrafted his own oven at the city's newest brewpub. He uses his yeast strains on both flatbread pizza and award-winning beer.


Best Buzz Award – Imperial Espresso Stout, Flying Fish Brewing, Cherry Hill, New Jersey, Brewer: Casey "Fish" Hughes

A one-off from 2008, this hugely-flavored jolt of java is now a regular seasonal from the pride of Jersey. We don't recommend pouring a cup for breakfast…unless you've been hanging out all night with Casey.

Best Use of a $20 Bill – 275th Anniversary Ale (English Barleywine), General Lafayette Inn and Brewery, Lafayette Hill, Pennsylvania, Brewer: Chris Leonard

To commemorate the 275th anniversary of the General Lafayette Inn, this hand-bottled, Barleywine-style ale was brewed with imported English ingredients and is served in a 22oz bottle topped with bronze wax. Price: $20 Value: Priceless!

Beer Goggles Award – 3-D Triple Bock, Iron Hill Brewery & Restaurant, locations in Wilmington and Newark in Delaware, West Chester, Lancaster, Media, North Wales, and Phoenixville in Pennsylvania, Brewer: Tim Stumpf (Phoenixville)

Put on the funky glasses that are packaged with this bottle to read the 3-D label…or just drink it straight from the bottle and you won't need the specs. (and NO, the goggles do not work to make the opposite sex look more attractive.)

Best Beer to Get an Amish Girl Drunk With – Shoo-Fly Porter, Lancaster Brewing, Lancaster, Pennsylvania, Brewer: Christian Heim

Get her off the farm with this delicious molasses brew. Strong beliefs exist within the beer community that legendary brewer Bill Moeller must have been behind the design of this one.

Best College Beer – Lionshead, The Lion Brewery, Wilkes-Barre, Pennsylvania, Brewer: Bob Klinetob

Why is it the best beer? It meets all the needs of a sophomore: a great basic lager and it's dirt cheap!

Best Beer Name – Schuylkill Punch, Manayunk Brewery & Restaurant, Manayunk section of Philadelphia, Pennsylvania, Brewer: Chris Firey

Philly cynics love the idea of the crystal purity of the Schuylkill River. The Philadelphia Water Department should hire Firey to tune-up its taps. On second thought, just head to Manayunk for a glass of this raspberry ale.

Best Place to Hook up with a Nun – McKenzie's Brew House, Frazier and Glen Mills, Pennsylvania, Brewer: Ryan Michaels

Located adjacent to Immaculata University campus, founded by the Sisters, Servants of the Immaculate Heart of Mary, McKenzie's makes a Unicorn Amber Ale that is sure to turn the heads of any co-ed before she decides to take her vows.

Anti-Social Brewer Award – Brewer Gordon "Gordo" Grubb, Nodding Head Brewery & Restaurant, Philadelphia, Pennsylvania

Gordo makes the best beer, but hates the limelight, although we did finally see him crack a smile when he won a Silver Medal ath the Great American Beer Festival for his Saison. (and we have pictures to prove it!)

Welcome Wagon – Pennsylvania Brewing, Pittsburgh, Pennsylvania

Now that Penn Brewing, one of the state's original craft breweries, has lost its lease in downtown Pittsburgh, it has been brewing its world-class lagers at Wilkes-Barre's Lion Brewery. Although this may not be for long, Penn Brewing is always welcome in this part of the neighborhood.

Best Tap Handle – Walt Wit, Philadelphia Brewing Company, Kensington section of Philadelphia, Pennsylvania, Nancy and Bill Barton

Their new tap handles are drawing as much notice as their creative Philly themed beers. Our favorite is a giant pencil with a real eraser that Camden's favorite son could have used to erase spelling errors he made while quaffing a few.

Most Improved Award – River Horse Brewing, Lambertville, New Jersey, Brewer: Christian Ryan

Although this New Jersey brewery has been around for years, it was not until after it was sold in 2008 that the beers took a giant leap forward, over state lines to Pennsylvania. River Horse Belgian Double White is a "must have" in either state.

Best Beer to Drink While You Shop – Rock Bottom Restaurant & Brewery, King of Prussia Mall, King of Prussia, Pennsylvania, Brewer: Brian McConnell

Brian's powerful, barrel-aged barleywine is great for loosening purse-strings before heading into Nieman Marcus. This is a fine way to stimulate the economy.


Rookie of the Year – Roy-Pitz Brewing Company, Chambersburg, Pennsylvania, Brewers: Jesse Rotz and Ryan Richards

These two young brewers are one of the biggest assets to come out of Siebel Institute. Roy-Pitz turns out traditional beers, turned up a notch with a creative edge. Must haves are smoky Ludwig's Revenge and Lovits Watermelon Lager.

Best Tailgating Beer – Pikeland Pils, Sly Fox Brewery, Phoenixville and Royersford, Pennsylvania, Brewer: Brian O'Reilly

Even when the Eagles blow the game, we can still toast-to-go on the asphalt. Pikeland Pils is the first craft beer in a can to win a gold medal at the Great American Beer Festival.

Best Beer You Can't Get in PA – Stewart's Brewing, Bear, Delaware, Brewer: Ric Hoffman

Although this little brewpub in Delaware crafts some of the tastiest beer in the Northeast USA, you can only get it in Bear (where?) Local brewers still consider Ric Hoffman an honorary "Philly Boy" and look forward to drinking his beer at Opening Tap.

Best Beer By-Product – Eddie's Breads, Stoudt's Brewing, Adamstown, Pennsylvania, Baker: Eddie Stoudt

Beer, Multigrain, Sourdough, Sauerkraut, or Harvest Dark, Eddie's breads are a must-buy when visiting Adamstown…and, of course, don't miss the beer

Biggest Cause of the Worldwide Hops Shortage – Nugget Nectar, Troegs Brewing, Harrisburg, Pennsylvania

Most brews spotlight one or two hop varieties, but Troegs Nugget Nectar adds five varieties to this much anticipated cult brew. Maybe they should leave some for the other brewers in the state…

Best Ice Beer – Twin Lakes Brewing, Greenville, Delaware, Brewer: Jay Wick

Located on 252 acres of verdant beauty with wildlife, a waterfall, and – in the winter – a frozen pond, lace up your skates and hit the ice with Greenville Pale Ale.

Best Use of the Federal Bailout Bill – The Growler Filler, Victory Brewing, Downingtown, Pennsylvania, Bill Covaleski

Nobody leaves the Downingtown Brewpub without a growler of beer. When Victory renovated their restaurant in 2008, they installed a state-of-the-art mechanized growler-filler. Just watching this contraption in action restores one's faith in American technology.

Best Farmer – Don Weirback's Hop Farm, Weyerbacher Brewing, Easton, Pennsylvania

When you can't depend on Bavaria to send you those bitter buds, grow your own. That is exactly what Don did in 2008 in a move that had locals talking about reviving the region's long-lost hops crops.

Best Beer to Wash Down a Cheesecake With – Philly Pale Ale, Yards Brewing, Northern Liberties, Philadelphia, Tom Kehoe

Simcoe hops and cheese-whiz – a match made in beer-drinking heaven!

Best Lager – Yuengling Traditional Lager, D. G. Yuengling &Son, Pottsville, Pennsylvania, Dick Yuengling

There are at least 30 different styles of lager, but around Philly, there's really only one. Ask for a "lager" at any local bar, and Vitamin Y from this 180 year old brewery, America's oldest, is what you'll get.

Most Missed Brewer – Jay Misson, Triumph Brewing Company, Old City section of Philadelphia and New Hope, Pennsylvania, and Princeton, New Jersey

When Jay Misson suddenly passed away last year, he left his family, a huge cache of friends, and a void in the local beer scene. We, in Philadelphia, will remember him every time we raise a glass of his meticulously designed lagers.

That wraps it up!

Cheers!
 
You Should Also Read:
Opening Tap - Philly Beer Week 2009
Philly Beer Geek 2009 Rewards Beer Geeks
Judging Beer Aroma and Flavor


Related Articles
Editor's Picks Articles
Top Ten Articles
Previous Features
Site Map





Content copyright © 2022 by Carolyn Smagalski. All rights reserved.
This content was written by Carolyn Smagalski. If you wish to use this content in any manner, you need written permission. Contact Carolyn Smagalski for details.