Opening Tap - Philly Beer Week 2009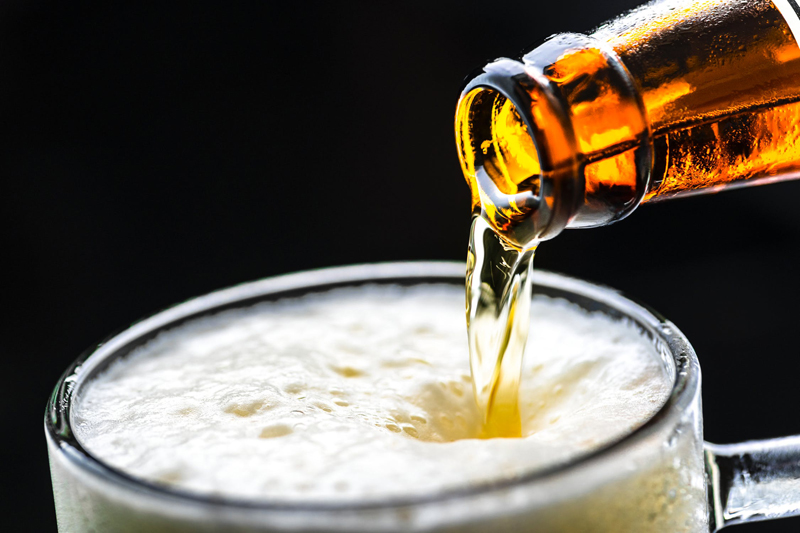 It is a celebration of joy, this Philly Beer Week that comes but once a year. For those unschooled in the Science of Beer Wisdom, let me explain that a Beer Week lasts 10 days, not the typical 7 that was established by Emperor Constantine in 321 CE. For those who would be tempted to reject the idea of a ten-day week, anthropological records evidence many instances in the history of both ancient and modern-day man, when a week was counted on a different cycle than the one we currently use.* So, let us have our way.

In 2009, Philly Beer Week runs from March 6th until March 15th. Comcast Center, 1701 John F. Kennedy Boulevard in Philadelphia, Pennsylvania, USA, serves as an appropriate venue for the ceremonial launch of the gala week. A glass, state-of-the-art marvel that opened less than a year ago in June 2008, the Comcast Center is a sustainable building design that gleams at night like a gold and glass memory stick. Huge figures, seemingly holographic in nature, dance on a high def video wall that extends 25 feet high and 83 feet wide in the lobby. Floors emit warmth with radiant heat, urinals are waterless, and the building is stabilized with the largest Tuned Liquid Column Damper (TLCD) in the world.


With ample room for a welcoming band and stage set, Opening Tap launched in the lobby of the Comcast Center with the ceremonial tapping of the "First Keg" by Mayor Michael Nutter. The real treat was seeing the Mayor's face break out in an unrehearsed grin as Ben Franklin arrived onstage to present him with the Hammer of Glory. The hammer is a symbol of Philly Beer Week that has been carried, Olympic-style, throughout Philly neighborhoods, with Opening Tap at the Comcast Center as its final destination. It sports a huge hammerhead atop an axe handle, and has an imposing and diabolical heft that could crush the hand of anyone who got in its way. When Mayor Nutter realized he was to swing the Hammer of Glory to tap the "first keg" of Yards ESA, while Yard's owner Tom Kehoe held the tap in place, he joked that any slip of the wrist would likely be cleanly caught on record by the bevy of photographers and reporters that swarmed the stage.

With the first hit, Kehoe jerked his hand away as the numbing blow momentarily caught him by surprise, but returned his hand to assist the Mayor's second hit, which cleanly impaled the tap in position. The Mayor raised The Hammer as a sign of victory, while an ecstatic crowd cheered with charismatic energy. In a country wading through a weakened economy, Mayor Nutter asserted, "There is enough doom and gloom around. We should still be able to go out and enjoy ourselves."


Don Russell, more widely known as author, reporter, and radio personality Joe Sixpack, took the stage to announce the "Best of the Brews Awards," Philly style. In a city known for its cynical perspective, these brewers awards were in-line with the city's sense of humor.

Afterward, the sold-out session of 600 people milled about in the upper and lower levels of the Comcast Center, where 30 Brewers set up displays touting their individual creativity and pouring suds that ranged in variety from classic Pilsner to Finnish Sahti and English Mild. Exciting newcomers were on the scene, including Roy-Pitz from Chambersburg, PA, Earth Bread + Brewery, from Mount Airy, and Twin Lakes Brewing in Greenville, Delaware, welcomed by the more seasoned brewers of Dock Street, Dogfish Head Craft Brewery, Iron Hill, Sly Fox, and two dozen more. One of the most delightful festivals, euphoria did its dance among the music, high quality beer, and breathing room afforded by the sold-out, but limited, ticket sales, making for a thoroughly pleasant launch for Philly Beer Week 2009.

Cheers!
*In ancient times, the Celts used a 9-night week, while the Etruscans and Romans used an 8-day cycle. The Aztecs and Mayans used a 13-day cycle. Even today, the Javanese people of Indonesia use a 5-day week and the Soviet Union fluctuated between 5 and 6-day weeks until 1940.
 
You Should Also Read:
Joe Sixpack's Best of the Brews Awards
Philly Beer Geek 2009 Rewards Beer Geeks
Ask the Beer Fox - What Are Noble Hops ?


Related Articles
Editor's Picks Articles
Top Ten Articles
Previous Features
Site Map





Content copyright © 2023 by Carolyn Smagalski. All rights reserved.
This content was written by Carolyn Smagalski. If you wish to use this content in any manner, you need written permission. Contact Carolyn Smagalski for details.