Lammsbraeu Barley Based Gluten Free Beer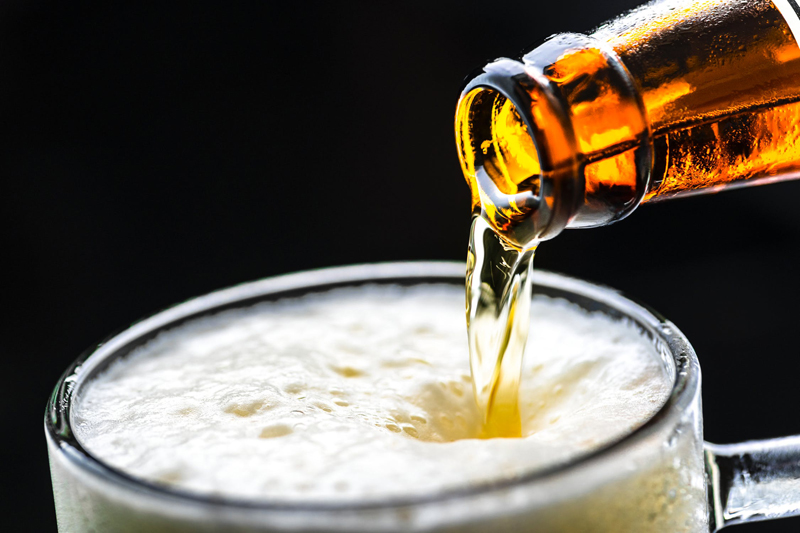 As a strong proponent of Gluten Free Beer, I find it exciting to watch this genre as it unfolds in the brewing world. In seeking flavors that will both satisfy and satiate those diagnosed with Celiac Disease, the brewing community has stumbled upon discoveries of alternate grains, processes and cultural flavors unlike anything they have previously known. German traditions of Reinheitsgebot that use only barley, water, hops and yeast are dangerous for Celiacs.

Celiac Disease affects over 3 million Americans and is among the world's most common genetically initiated diseases. Those with Celiac Disease suffer damage to the small intestines due to their body's intolerance for gluten, a protein found in the grains of barley, wheat, rye, spelt, oats (by cross-contamination), kamut, triticale and other closely-related grains. Although the recommended diet for a Celiac is rich in fruits, vegetables, meat, fish and seafood, the embellishments that make our typical American diet "American" are off-limits. These embellishments include bread, pizza, pasta, anything on a bun, Hot Pockets, pies, cookies, cakes, chocolate containing malt, soy sauce, many yogurts, nuts that are processed on a floured belt, breaded products, malted milk, many ice cream products, and beer.

But many styles of beer – African Mbege and Sorghum Beer, Italian Chestnut Beer, South American Chicha, Nepalese Chhang, or the Jaand made in the Kathmandu Valley – are new to American brewers. Research uncovers new yeast strains, brewing processes, and ingredients that add exotic flavor to beer and yield greater experimentation within the Style Guidelines set by the BJCP and Brewers Association.

Some would protest, proclaiming that using alternate ingredients makes this an alcoholic beverage, but something that is not truly beer. For those who suffer from Gluten Intolerance, a beverage that comes close to the mark truly is beer.

In the not-so-distant future, it is entirely feasible to envision the category of Gluten Free Beer being sub-divided into styles of Belgian, Sorghum, Millet, Fruit, and Nut-Based. But for now, the newest sub-category on the market is barley-based.

Barley-based Gluten Free Beer?

The German consumer magazine Öko-Test reports that Neumarkter Lammsbraeu Organic Beer now makes Neumarkter Lammsbraeu Gluten Free Beer, a German Pilsner-style beer crafted with barley. The recipe uses the identical ingredients used to craft Neumarkter Lammsbraeu Organic Pilsner, EdelPils; however, a new innovative procedure allows them to extract harmful proteins from the barley after finishing and before bottling, rendering it harmless to the Celiac population.

The company asserts that other Gluten Free beers that are crafted using millet, corn, or wheat do not correspond to the flavors associated with satisfying German-style beer that uses barley malt as the base grain and fall short of having the ability to truly sate the Celiac beer drinker.

Initially, the company uses the official procedure of the Sandwich ELISA method with R5 antibody to detect gluten. It is then subjet to the Competitive ELISA Analytical method. In both procedures, glutens are below the detection limit. These are analyzed in an external accredited lab to ensure that no prejudicial preconceptions influence the outcome.

Two types of ELISA R5 methods are used to quantify glutens: the ELISA Sandwich R5 and the Competitive ELISA R5. The Competitive ELISA R5 is the only reliable testing method for the detection of the repetitive pentapeptide glutamine-glutamineproline-phenylalanine-proline (QQPFP) epitope in hordeins, gliadins, and secalins (and thus barley, wheat, and rye glutens) in beer. Prior to the development of this procedure, analysis of foods and beverages that had been processed using enzymatic procedures rendered glutens difficult to detect. Due to processing, hydrolyzed gluten is under-measured using other methods of gluten detection.

The ELISA Sandwich R5 method uses two recognizable epitopes within the peptide fragment, but when these glutens are hydrolyzed during the brewing process, they will often contain only one antibody-binding epitope. Although unrecognized by other testing methods, these glutens remain toxic to Celiacs. By using the Competitive ELISA R5, gluten levels in beer can be detected to 3 ppm.

Neumarkter Lammsbraeu Gluten Free Beer is hazy gold with a lean white layer of white that persists. It has aromas of sweet honey and light malt, with minimal hops and 4.7% ABV. On the tongue, light flavors of pale malt mingle with gentle grassiness and a floral note. Crafted as a thirst-quenching beer, it satisfies as a light European Lager.

Cheers!
 
You Should Also Read:
Celiacs Guide to Gluten Free Beer
Gluten Free Chestnut Beer - Trails End Chestnut Brew
Gluten Free Sprecher Shakparo - Fire Brewed & African Style


Related Articles
Editor's Picks Articles
Top Ten Articles
Previous Features
Site Map





Content copyright © 2023 by Carolyn Smagalski. All rights reserved.
This content was written by Carolyn Smagalski. If you wish to use this content in any manner, you need written permission. Contact Carolyn Smagalski for details.