Gluten Free Chestnut Beer - Trails End Chestnut Brew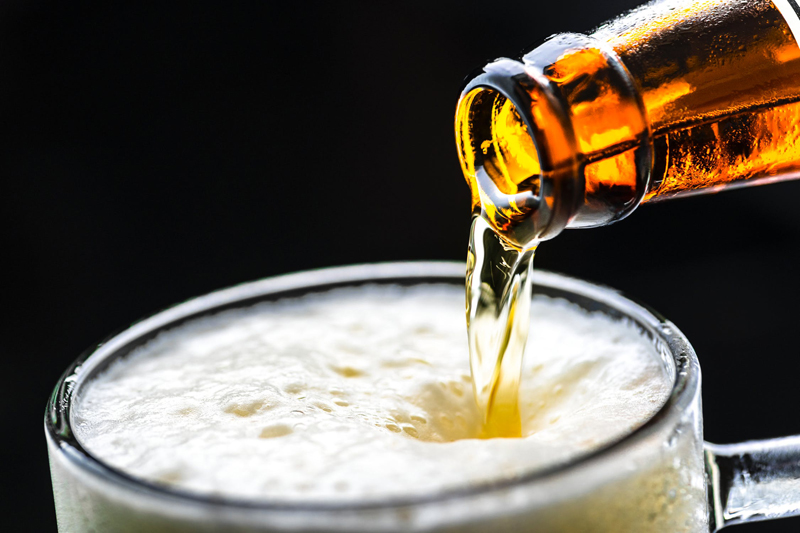 Nuts are a natural when it comes to beer, whether they are split from the shell with a nutcracker and pick, candied and roasted in brown sugar and caramel, or used as descriptive language in defining the many flavor characteristics found in roastier styles of beer. Walnuts, pecans, pistachios, macadamias, and hazelnuts are common flavors released by roasted malts in sweet stouts and seasonal ales. Although chestnuts are common to native America, most beer tasters do not think of them at all when they describe unique flavor profiles.

Lee Williams of Moses Lake, Washington, wants to change the way you think about the revered chestnut and its connection to beer. Williams, a veterinarian employed by the Washington Department of Agriculture, has been forging ahead in his quest to propagate the chestnut tree on his Trails End Ranch in the Northwest quadrant of the United States. Over the past thirteen years, he has started over 5 acres of "Desert Chestnuts" grown from seedlings that promise to be standing 100 years from now, to the benefit of his grandchildren and their children's children.

These chestnuts are considered a delicacy that is a rarity in the U.S. A common ingredient in Asian foods, chestnuts are also used throughout Europe where they are sliced onto pastries, or eaten as an accompaniment to other dishes, either candied or pickled. In America, the chestnut blight between 1904 and 1940 thinned out the huge population of chestnut trees, leaving the country with a scarcity of the previously abundant nut.

Health-wise, chestnuts rock the charts with beneficial characteristics. Containing only 5 percent fat, they are full of starch and carbohydrate, making them an ideal source of energy. They are a perishable item, so Williams puts them on drying racks, after which they can be ground up to produce sweet chestnut flour, or milled to produce chestnut chips the size of malted barley that has been cracked. Said Williams, "These two items are ideal for Celiacs, those folks with an intolerance to gluten, [a protein found in the various grains of barley, wheat, rye, oats, spelt, kamut and triticale]."

Along with his brewing nephew, Williams has developed recipes for creating gluten-free beer from chestnut chips. The chips can be used unroasted to produce a lighter beer, lightly roasted to yield a medium bodied beer with a more bulky flavor, or heartily roasted, to impart rich, burnt flavors to your most creative brew.

Beer produced with these chips is deserving of praise. In a recent Brewers Association competition, this chestnut beer won Reserve Champion status, although it presented a challenge concerning category placement.

To roast the chips, Dr. Williams recommends the following: To produce 5 gallons of Dark Chestnut Brew, you will need approximately 10.5 pounds of chestnut chips. Using 9" x 14" pyrex cake pans, pour about 2 pounds of chips into each pan. Place pans in a 350-400 degree oven, stirring 2 to 3 times until the browning starts. This should take 20 to 30 minutes. You may wish to just brown lightly, or go for the gusto with heavier roasting.

Trails End Chestnut Brew is a deep chestnut brown with a tight, tawny head that slowly reduces to a Belgian veil, leaving shards of lace scattered like a web across the surface of the glass. Aromas are of coffee and sweet chocolate chip cookies – brown sugar, molasses, dough, and nuts – mixed with raisins and dates. The flavor profile is not as sweet as the aroma suggests. Tastes of roasted nuts greet your lips, blended with deep espresso notes. A satisfying bitterness touches the back of the tongue, like an imported, gourmet coffee on a cold morning.

To begin the brewing process, Williams recommends putting the chestnut chips in a woven bag of nylon mesh and boiling them for about 30 minutes for maximum sugar extraction. This will give you a higher brix reading on your brix/sugar refractometer. Note that the chestnut chips will not clump into a big, gooey mess like grains, because chestnuts are gluten free.

Although Lee Williams does not provide a recipe for his Gluten Free Brew, he gives guidelines for experienced brewers who may already have developed their own brewing techniques. The following guide will yield a five-gallon batch of Nutty Hopped Mead.

Lee's Nutty Hopped Mead

10.5 lbs. roasted chestnuts from Lee Williams Trails End Ranch
- Held at 160 Degrees F for 1 hour (Note: The chestnuts were not malted; therefore, the iodine test would not always show the presence of starch)
- Flushed with 190 degree F water
- Wort tested at 2% alcohol / 4% brix
Add 6 C. honey (or approximately 4.5 lbs.) – Note: corn sugar can be used for faster fermentation
- Wort tested at 4.5% alcohol / 9% brix
- Boil for 1 hour
Add 2 oz. Perle hops at end of boil
Use activated Safale S-04 yeast – Note: liquid yeasts are grown on barley based worts in the packaging; therefore, they contain gluten. DCL dried yeasts are all gluten free. You may use SafeAle or Safbrew.

If using honey, you will need to age the beer for about 4 months for peak taste.

For the best in fresh, USA grown chestnuts, chestnut chips or gluten-free chestnut flour, contact Lee Williams at the Trails End Ranch website:
https://www.chestnuttrails.com
For questions, you can email him at techestnuts@scml.us

Cheers!

 
You Should Also Read:
Gluten Free Beer for Celiacs is REAL BEER !
Hybrid Beer for Celiacs - Gluten Free Beer Recipe
Gluten Free Beer & Party Food for Celiacs


Editor's Picks Articles
Top Ten Articles
Previous Features
Site Map





Content copyright © 2023 by Carolyn Smagalski. All rights reserved.
This content was written by Carolyn Smagalski. If you wish to use this content in any manner, you need written permission. Contact Carolyn Smagalski for details.