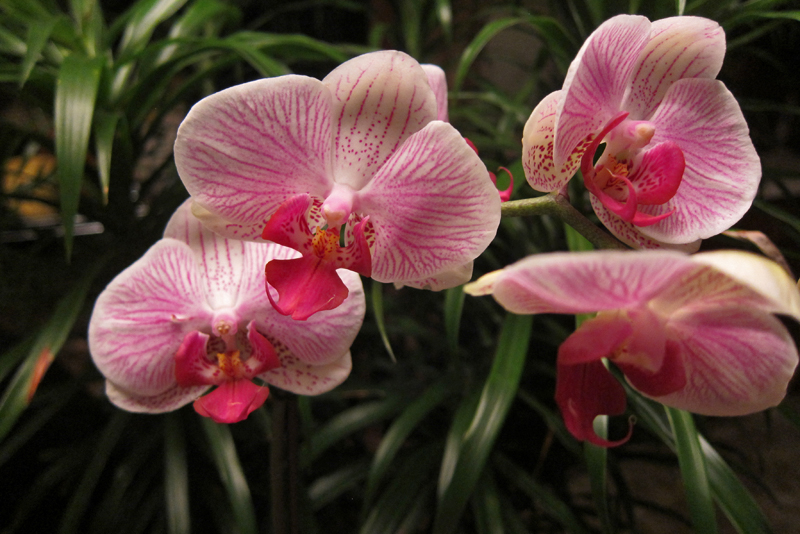 Mist properly
When misting your plants, be sure to direct spray to the underside of the leaves as well as the top so that the evaporation takes more time and will give your plants more moisture. Misting will increase the humidity directly around your plants as the water evaporates and helps your plants grow in a healthy environment. Try to mist early in the morning so that the plants do no sit with damp leaves overnight.

Use clay saucers under your pots
During hot weather use clay saucers under your pots in a greenhouse to hold a little bit of water during the day so that the humidity around the plant will be increased and the air will be a little bit cooler. If you use this for a number of your plants, your humidity will increase quite a bit and your plants will be happier. Dendrobiums do not seem to like this, so just use it on your Catts and Phals. Don't let water sit in the saucer overnight as the roots will get too wet and rot.

Remove weeds from your greenhouse
Remove any weeds that invade your greenhouse, especially Oxalis or wood sorrel (Shamrocks are a wood sorrel). Weeds can attract many pests which attack orchids or can provide a good hiding place for certain phases of these insects. It is better to keep them from growing in an enclosed space thus eliminating any chance of problem insects. It is better to hand eliminate these pests rather than spraying since you can also kill your orchids if you spray in their environment.

Use clear plastic lidded jars to organize your growing supplies
I use clear plastic lidded jars to hold clips, plant labels and smaller wire rhizome clips. They are kept neat and tidy and it is easy to see what is in the jars as you look for a specific item.

Write down your fertilizer mix if you make it yourself
Part of growing orchids is coming up with your own mixture of fertilizer that works for you. I keep a small write-on board in the greenhouse with the amounts of each part of my own mixture in the amounts that I mix it each week. Thus if you are making a gallon you'd use one teaspoon, if you make two gallons you'd use two teaspoons. That way you don't have to refigure each time you make it. This will also apply to mixtures of pesticides and/or fungicides in the bottles that you use.

You Should Also Read:
Spring Orchid Growing Tips
Name Tags in Orchids
Orchid Growing Tips


Related Articles
Editor's Picks Articles
Top Ten Articles
Previous Features
Site Map





Content copyright © 2022 by Susan Taylor. All rights reserved.
This content was written by Susan Taylor. If you wish to use this content in any manner, you need written permission. Contact Anu Dharmani for details.