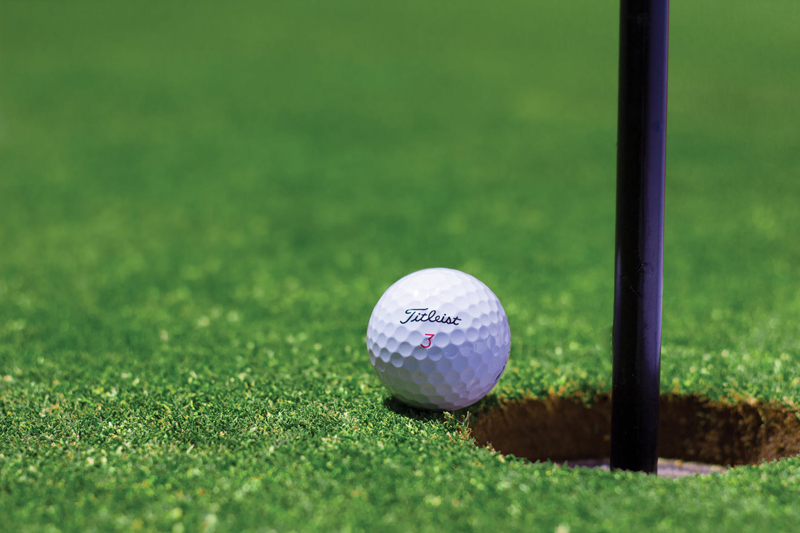 I was invited by my grandson Travis Fell to spend time with him and his wife Koby and daughter Makayla over Memorial Day weekend. They live in Cedar Park, Texas and I was glad to be invited as my other grandson Tyler Fell lives in Pflugerville, Texas and we would be playing golf at Crystal Falls Golf Club on Monday. I checked out the course on the internet as Crystal Falls Golf Club is a municipal facility but could not find the year it was opened they are located at Leander, Texas. The area around there is pure Hill Country with great views and rugged terrain. The pictures on the internet were intriguing so was anxious to get to play this course.
I left on Sunday afternoon in the rain and talked to Koby and she said it was clear at Cedar Park so the driving was not too bad as it was just a 45 minutes drive. It was great seeing them again and Makayla is eight months old and a real charmer.
On Monday morning we were greeted with bright blue skies and we arrived at Crystal Falls Golf Club which was only 20 minutes from where Travis lives. We were greeted by Tyler who had driven over for our tee time at 9:40 a.m. We were met by a friendly member of the Crystal Fall staff as we checked in and paid our green fees.
Checking on line I found their rates for Monday through Friday are $35.00 and $27.50 for seniors, Friday fees are $37.00 and $32.50 for seniors, Saturday, Sunday and Holidays are $45.00 with $37.50 for seniors. Checking their other membership options for full single is $1200.00 yearly, weekend single is $900.00. Full Family membership is $2000.00 and weekend only is $1200.00. These include cart fees so the rates are reasonable and they have an interesting course.
We had some time before tee off so decided to warm up on the driving range. This course uses only gas golf carts and you must take a cart as walking is prohibited on Friday, Saturday and Sunday. They would allow walking on weekdays based on occupancy. I don't see why anyone would want to walk that course there are many straight up and down holes. The views are wonderful but would take a hearty soul to walk and carry their golf clubs too.
Our tee time was called and we started on the first hole which a par 5 and goes fairly straight up a hill. It is best to aim at the pole yard markers in the middle of the fairway as you could find trouble on either side. We all three scored a six, now the boys were hitting from the blues and I was hitting from the Red or so called Ladies Tees. They did have some gold tees but did not understand if they were for the Junior or older seniors, so I stayed with the reds. I could be considered an older senior since I will be 84 next week but don't consider myself older just a wiser healthy lady who loves golf.
The picture above is of the Par 3 second hole taken from the white tee box, all I could see were the gold tees so I hit from there and put my ball on the green. My two grandsons did not make the green, they both were in trouble and took 5's to my par. From then on we stayed fairly close to pars until #7 which was another par 5 it got me and I took an eight. Our scores after nine were presentable not fabulous.
Starting on the back nine was a narrow fairway but the strangest green that had a hump in the middle it caused me to take a 6 on a par 4. On the following picture is another par 3 and you could not see where the green was from the blue tees, the red tees were down a sharp drop so I could see the green from there and put my shot just off the green close to the pin and proceeded to putt it into the hole for a birdie.
I thought maybe this was going to be a good round as coming up to #13 I was off to the side of the green in three and putted it into the hole again for a par. That was the end of my magic as everything went down hill or up hill on #14 it was a steep fairway where you could not see the green. My tee shot went array but got it back into the open area but took several more to make the hill so ended up with a nine.
From this picture you will see the ending golf hole of Crystal Falls Golf Club #18 and the chasm that surprises you when you think you hit a great shot to the green. All I could see was the tip of the flag from where my next shot was and what a shock to see where the earth divided and ate my golf ball. There must be a ton of balls in that ravine. Tyler was the only one of us that made the green.
Crystal Falls is an interesting golf course rugged, scenic and challenging we saw a wild turkey and deer. On one hole we spotted the deer off to the side and it was looking our way as Tyler was getting ready to tee off. Once he hit the ball the deer shot across the fairway as if he had waited until he hit. Amazing, we all had a great day on a challenging golf course with some good scores and some to forget.
You Should Also Read:
golf course


Related Articles
Editor's Picks Articles
Top Ten Articles
Previous Features
Site Map





Content copyright © 2022 by Letta Meinen. All rights reserved.
This content was written by Letta Meinen. If you wish to use this content in any manner, you need written permission. Contact Sandy Eggers for details.