Naming beer is as easy or as complex as you care to make it. Homebrewers have great latitude when bestowing a name to their beer. The bureaus of liquor enforcement and local religious right does not typically ban their product, or make them cover it with brown paper – mainly because it resides in their cool, dark beer cellars where no one except the brewer and his privileged cohorts can see it. But when it comes to shelf time, the old laws of political correctness come into play. Will it be in beer distributor garages, or in grocery and convenience stores? And is the name obscure enough to be just beyond the understanding of the young and innocent segment of the population? And does that really matter?


Cultural attitude varies by country. Manneken Pis Belgian White, for example, was named in honor of the famous Brussels landmark, Manneken Pis. The bronze figure has been a part of Belgian history since 1619, and has numerous legends associated with its centuries-old existence. In the late 1990s, Manneken Pis was banned from import into Pennsylvania and Ohio due to, what lawmakers interpreted, it being lewd and improper – never mind its significance as a revered icon in Belgium. When the beer name was changed to Blanche De Bruxelles, it was suddenly approved (even with the image of the peeing boy still on the label).

Imports live under greater scrutiny regarding naming-conventions and label-images than those crafted by domestic brewers in the United States. Shelton Brothers, importers centered in Belchertown, Massachusetts, has fought the law over images of Liberty Leading the People - a painting by Delacroix on display at the Louvre – that decorates the label of Les Sans Culottes French blonde ale, and over a commissioned watercolor of a nude woman on the bottle of Rose de Gambrinus by Cantillon. Both were renowned works of art deemed improper by the Bureau of Liquor Enforcement in Maine. We can be grateful the Bureau is not involved as museum curator. They would probably shut down the Smithsonian Institution in Washington D.C.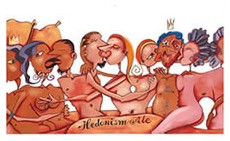 Legacy Brewing in Reading, Pennsylvania took a mountain of heat over their artistic label for Hedonism American Red Ale. When the conservatives of Lancaster County grumbled, an NBC affiliate station covered the story and Legacy gained enormous national attention within 3 days, thanks to the Associated Press.

I asked my Facebook Friends for a list of the funniest beer names they have ever encountered. They provided a healthy list – some from breweries now defunct – and it made me laugh to think that the creativity in the kettle spills out to creativity in the name. Larger breweries often use the Marketing Team to arrive at an acceptable name, but this list is obvious proof that naming the baby is often the privilege of the creator.

Monkey Knife Fight – Herbed / Spiced Beer, Nodding Head, Philadelphia, Pennsylvania

Polygamy Porter – American Porter, Wasatch Brewing Company, Park City, Utah

Old Bongwater Hemp Porter – American Porter, Kettlehouse Brewing Company, Missoula, Montana

Broke Dick Bitter – English Bitter, Haine's Brewing Company, now defunct (Not associated with Haines Brewing Company, Haines, Alaska)

Sour Prick – Belgian Style Sour Ale, Bitter End Bistro & Brewery, Austin, Texas

Donkey Punch – American Barleywine, Sweetwater Brewing Company, Atlanta, Georgia

Sucker-Punch IPA – American Double IPA, John Harvard's Brew House, USA

Big Vic's Short-Order Porter – American Porter, The Original Basil T's, Red Bank, New Jersey

Pecker Wrecker – American Double Imperial Pilsner, Rahr & Sons Brewing Company, Fort Worth, Texas

Rejewvenator – Doppelbock Belgian Style Dubbel, Schmaltz Brewing Company, San Francisco, California

Wailing Wench - American Strong Ale, Middle Ages Brewing Company, Syracuse, New York

Catch Her in the Rye – Rye Beer, Old Auburn Ale House, Auburn, Alabama

VooDooVator – Doppelbock, Atwater Block Brewery, Detroit, Michigan

Dies Irea (Day of Wrath) – Belgian Dark Ale, New Holland Brewing Company, Holland, Michigan (obviously, this is pronounced much differently in the Latin than it would be in American English)

PENNdemonium – Maibock / Helles Bock, Pennsylvania Brewing Company, Pittsburgh, Pennsylvania

Who wouldn't be salivating at the chance to drink Puppy's Breath Porter, an American Porter brewed by Cigar City Brewing in Tampa, Florida? Cigar City Brewing, started by Joey Redner in the Summer of 2007, is on the horizon as one of the rising stars of Tampa. Among his portfolio of well-crafted beers is the Humidor Series, an ever-changing menu of beers aged on cedar. In contrast to those aged on oak, cedar beers are infused with a subtle, more earthy character, creating distinctive flavors that a true connoisseur of beer can appreciate.

Cheers!