MBeer Contest - Concours MBière 2009 in Montreal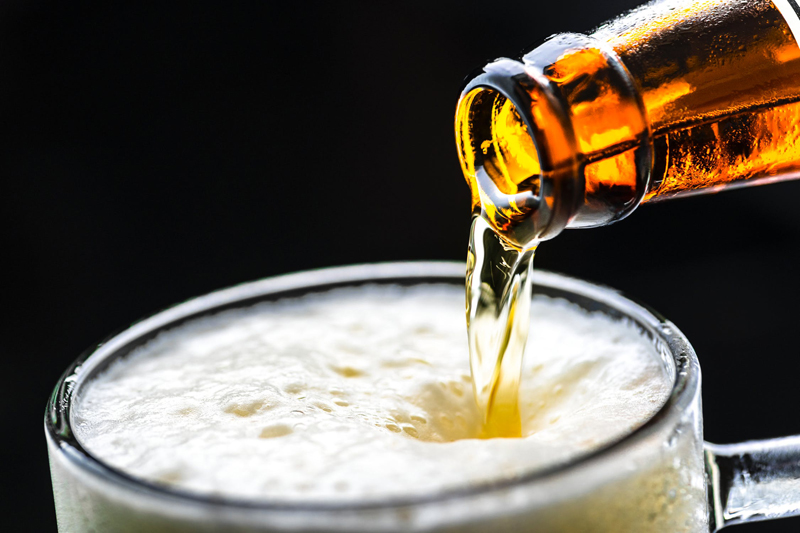 Designed by Mario D'Eer, the MBeer Contest/Concours MBière at the Mondial de la Bière in Montreal, Quebec distinguishes itself as the crème de la crème of sensory beer competitions across the globe. In its fourth edition in 2009, this professional competition, open to registered commercial brewers throughout the international stage, focuses entirely on overall gustatory sensation and satiation. In blind tasting sessions on June 3rd and 4th, a distinguished panel of beer authorities assessed entries based on their acquired beer knowledge and sensory perception, with no preconceived idea of the styles being tasted.

A Platinum Medal was awarded for the Beer of Highest Distinction to Le Saint Bock Brasserie Artisanale, Montreal, Quebec, Canada for R.I.P. Russian Imperial Porter. Dark and malty, layer upon layer of black currants, figs and raisins merge with bittersweet espresso and spices in a firm onyx body with mahogany highlights.

Ten Gold Medals were also awarded for beers obtaining the highest points during the contest. Gold medal winners were:

ReAle Extra – Birra del Borgo, Borgorose, Italy – qualities merging malty, yeasty, spicy characteristics of a Saison with the underlying floral hoppiness of an IPA – 6.4% ABV

Paienne – Brasserie Dieu du Ciel!, Montreal, Quebec, Canada – American Pale Ale with a biscuit profile, light mouthfeel and balance between malts and hops – 5% ABV


Sainte-Source Stout – Brasseurs de la Mauricie, Shawinigan, Quebec , Canada– an English Stout with black body, full flavor, and 5.5% ABV

Elixir de Belphégor – Broadway Pub, Shawinigan, Quebec, Canada – Barleywine style with extremely complex flavors of caramel, apples, oak woodiness, vanilla, and warming alcohol in the throat – 10.5% ABV

Saison de Repos – Hopfenstark, L'Assomption, Quebec, Canada – a mastery of Farmhouse Ale is displayed in a spicy, refreshing Saison body - 6% ABV

La Buteuse Brassin Spécial – Microbrasserie La Trou du Diable, Shawinigan, Quebec, Canada – Belgian Strong Ale with aromas of apple, brandy, floral hops, Brett funkiness and warming alcohol – 10% ABV

10W30 Brown Ale – Neustadt Springs Brewery, Neustadt, Ontario, Canada – Firm roasted maltiness with hints of nuts and bittersweet chocolate in a clean base – 5.5% ABV

Imperial Red – Rogue Ales, Newport, Oregon, USA – Complexity abounds in a profile of brown bread, caramel, orange peel, earthiness, and warmth – 9.0% ABV

Éphémère aux Pommes – Sleeman, Unibroue, Chambly, Quebec, Canada – Tartness of Granny Smith apples with sparkling effervescence, honey and spice – 5.5% ABV

Weizgripp Doppelweizenbock - Microbrasserie La Trou du Diable, Shawinigan, Quebec – An impressive blending of styles with the complexity of wheat, molasses, anise, bubblegum, caramel and gentle sweetness, with great balance – 7.6% ABV


Judges were presented with three beers per flight in spotlessly clean glasses, with a maximum of 12 beers in each of 4 sessions. The beer could be draft or from bottles, but this factor was concealed from the judges. There was no discussion permitted between judges. In addition, judges assessing the same flight of beers were seated at different tables to eliminate any possibility of prejudicial alignment based on the reputation of another judge. The differences between the beers in each flight could be clearly obvious by color (black vs. reddish-amber vs. straw-gold , for example), or delicately subtle (all in shades of yellow), unclear until evaluated for aroma and flavor. Each judge was to assess the attributes based on the style he/she felt it most clearly reflected; then complete a Judge Form, noting quality, aroma, taste and overall gustatory pleasure. Appearance was not a part of the evaluation.

This is in broad contrast to most beer competitions. Is a working knowledge of beer style necessary to judge beer in this manner? Absolutely. Is beer assessed by style, according to the understanding of each beer judge? Somewhat. This is where the competition strays emphatically from all other competitions in which this Beer Fox has had the privilege of participating. Although it is easier to organize and evaluate beer by categorizing it using Style Guidelines, an esoteric evaluation of beer in the international community makes sense when judging from a global perspective.

A quick review of beer style guidelines for world competitions reveals that each country has styles unique to its own terroir. Review the guidelines for the Great American Beer Festival, Champion Beer of Britain, Brewery Quality Performance Awards, Beer Judge Certification Program, the Brewers Association World Beer Cup, European Beer Star and the Australian International Beer Awards. From one to another, many styles may be cross-referenced, while others are totally absent from the list. Styles may develop based on the availability of ingredients; brewers may substitute herbs for hops, chestnuts for barley, or Brettanomyces for Saccharomyces cerevisiae. The result may become so accepted in a particular country that it becomes a staple: West coast hops in the United States, Ringwood yeast in the United Kingdom, chestnuts in Italy, and wild fermentation in Belgium, for example.


The late Beer Hunter Michael Jackson had often expressed concern over the tendency of competition judges to assess according to strict style guidelines. He repeatedly entered professional disagreements with judges who were willing to disqualify an excellent beer because it strayed slightly from the strictest parameters of the specified style – color, alcohol content, hops used, etc. His objection was that a beer, judged strictly by style guidelines, could receive a gold medal because it was "least flawed" rather than "exceptional and complex." Mario D'Eer's contemplative design of the MBeer Contest/Concours MBière reflects this attitude. A review of the Medal Winners demonstrates that qualities of excellence found in World Class Beer are clearly distinctive, regardless of alcohol content, level of malt or hops, presence of fruit, or style of beer.

Guy Levesque presided over the competition and directed volunteers Jean Claude Babiena, Pierre Luc Dubois, and his assistant, Joelle Antoine throughout all phases of organization, beer service, and calculation of winners. Judges were: Jury Chair Metterino (Teo) Musso, Owner of Birrificio Baladin Brewery, Piozzo, Italy; Lew Bryson, Beer Author and Columnist from Philadelphia, Pennsylvania, USA; Pierre Gangloff, Beer Distribution Expert from Alsace, France; Jörgen Hasselqvist, CEO of the House of Ale, Stockholm, Sweden; Carl Kins, Beerwriter and Brewer from Vuurkruiserslaan, Belgium; Glenn Payne, Proprietor of Beer2Love, Consultant, and Importer from London, England, United Kingdom; Eigo Sato, Owner and Brewer of Shiga Kogen Brewery of Nagano, Japan; Carolyn Smagalski, Beer Fox, Beer Journalist/Author and Editor of Beer and Brewing at BellaOnline, from Philadelphia, Pennsylvania, USA; and Deborah Wood, Beer Writer and Brewmaster from Quebec, Canada.

Cheers!

Photos are (from top): Mario D'Eer, designer of the MBeer Contest; Medal Winners of the 2009 Competition - (from left) Le Trou du Diable; Fred Courmier of Hopfenstark, Stephane Ostiguy of Brasserie Dieu du Ciel!; Platinum Medal Winner Le Saint-Bock; Brasseurs de la Mauricie; Neustadt Springs Brewery; President of the Monddial de la Biere Jeannine Marois; Broadway Pub; Le Trou du Diable; (front) Jury Chair Teo Musso of Baladin (not pictured: Birra del Borgo; Rogue Ales; Unibroue); Judges (from left - back row) Teo Musso, Eigo Sato, Jörgen Hasselqvist,Lew Bryson, Carl Kins, Pierre Gangloff, and Glenn Payne (front row) Carolyn Smagalski, Deborah Wood; MBeer Contest volunteer administrators: (from left) Claude Babiena, Pierre Luc Dubois, Joelle Antoine, Guy Levesque

You Should Also Read:
Mondial de la Biere 2009 - Taste of Japan
Mondial de la Bière Celebrates 15th Anniversary
GABF ProAm Competition 2006 - Beer Nirvana


Related Articles
Editor's Picks Articles
Top Ten Articles
Previous Features
Site Map





Content copyright © 2023 by Carolyn Smagalski. All rights reserved.
This content was written by Carolyn Smagalski. If you wish to use this content in any manner, you need written permission. Contact Carolyn Smagalski for details.