Mondial de la Bière Celebrates 15th Anniversary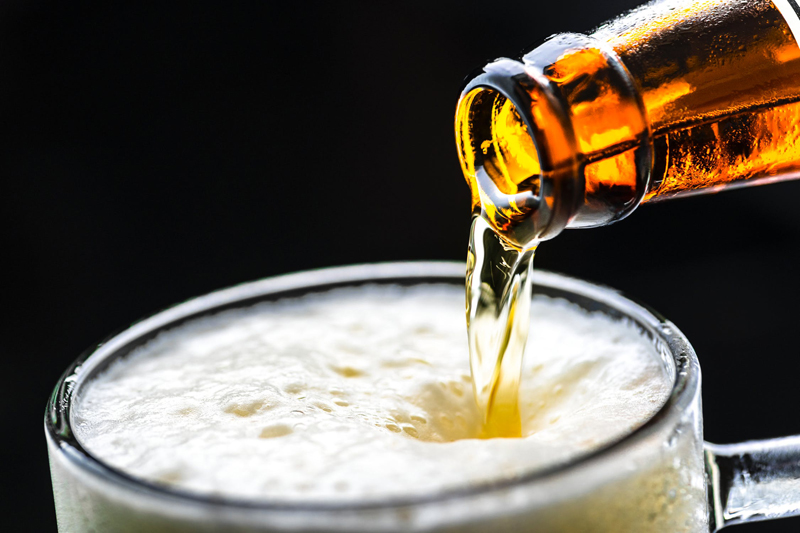 Vous désirez Quelque Chose, Monsieur?

Quelque Chose from Unibroue, that is. This deep garnet aperitif, rich with aromas of tart cherries, seduces you into her hands as she balances herself, paired with the hazelnut flavors of a firm Emmental or the smooth and supple texture of Friulano Canadian cheeses.

Vous n'êtes pas satisfait?

Nous avons Corne du diable, India Pale Ale- originales anglaises - de Microbrasserie Dieu du Ciel! a St.-Jerome, Quebec?

Wait a minute. Where am I? May I answer in English?

Yes, I would love one - Horn of the Devil, a classic English India Pale Ale, from Brewery Dieu du Ciel! in Quebec. Her body is hazy bronze, resplendent with a rich, creamy tan head. Aromas of grapefruit and mint blend with her toasted caramel character. Although inspired by the hop-growing regions of the Pacific Northwest of the United States, Dieu du Ciel! softens gently to present a satiating balance, while maintaining the integrity of an English IPA. What else might I taste?

In 2008, the Mondial de la Bière celebrates its 15th Anniversary from May 28 to June 1st at Windsor Station and Courtyard, also known as, Gare et la Cour Windsor, 1160 de la Gauchetière West in Montreal, Quebec, Canada. Montreal, one of the oldest cities in North America, stands as a fertile center for the arts, commerce, industry, service segment, and world affairs. Originally named Ville Marie by the French in 1642, the city became more closely associated with the hills of Mont Royal, and was soon known by its French name, Montreal. Officially a French-speaking city, Montreal has been named by Forbes Magazine (2007) as the 10th cleanest city in the world. It occupies about one-third of Montreal Island in the Hochelaga Archipelago at the confluence of the Ottawa and St. Lawrence Rivers.


Blending with the English-speaking minority of residents and visitors, Montreal maintains an air of international flair, and is the ideal location for the Mondial de la Bière, one of the largest International Beer Festivals in North America. Présidente Jeannine Marois and Coordonnatrice Générale Marie-Josée Lefebvre have designed a festival with a bounty of original events that elevate this festival to one that educates and enamors beer enthusiasts worldwide.

The festival, which has no admission fee, (attendees purchase tickets to trade for beer) features beer from Canada, the USA, France, Italy, Germany, Belgium, Japan, Mexico, the Czech Republic, Denmark, England, Scotland, Australia, and Latvia. Attendees will also find maple wines, ciders, cream de cassis, and malt beverages, which they may accompany with pâté treats, creamy chocolate, choucroute, cheeses, sandwiches, and more. On the Cheese Terrace, André Piché presents local Quebec cheeses with professional recommendations on how to marry them with beer for sumptuous results. An international team of beer experts including Tony Forder, Lucy Saunders, Guy Lévesque, Steve Parkes, and Gregg Glaser cover topics from imported beer to the wonders of saké.

For 2008, Mondial de la Bière introduces the Institute of Beerology, or École de Biérologie MBière – a selection of six symposiums of 45 minutes each, presented by such world-class experts as Mario D'Eer, Tony Forder, Guy Lévesque, Claude Boivin, and Serge Noël.

On Friday Evening, May 30, two-hundred guests are privy to a luxurious reception of gastronomic excellence, featuring Sam Calagione and Marnie Old, as they present ten beers, five wines and one cider in their lively "He Said Beer She Said Wine" challenge.

This year also features a French pavilion, introducing several fine French beers to the Quebec community. In addition, fifteen breweries celebrate the 15th anniversary of the fest with the introduction of anniversary craft beers that have been designed specifically for the event.

Another series of seminars, the Conference of the Mondial de la Bière, entertains beer enthusiasts with sessions presented by Sam Calagione, Lorenzo Dabove, Hans-Peter Drexler, Suzanne Hetch, Warren Monteiro, Marnie Old, Rob Tod, and Éric Trossat on such topics as aging beer in the barrel, beer and food pairing, Italy and the micro-brew market, and a variety of other topics.

Several contests light up the stage. A Cartoon Beer Contest, with Oleg Dergachov serving as Jury President, will seek to choose gold, silver and bronze medalists for the best cartoon submissions, with a beer-centric theme. Festival goers participate in choosing their favorite beers in a "people's choice" style contest. Winners will receive gold, silver and bronze medals. An additional medal will be presented for the best received of the 15th Anniversary beers at the conclusion of the festival.

The crème de la crème will be chosen in the Concours MBière, or MBeer Contest. Steve Parkes, Brewmaster of Otter Creek Brewing Company/Wolavers Organic Beers, serves as the Jury Chair. Judges are Adam Avery, Lorenzo Dabove, Hans-Peter Drexler, Ian Guenard, Marc Gratton, Warren Montiero, Luc Smekens, and Éric Trossat. In this blind tasting competition, categorization of beers by style are cast aside, in order to focus on the qualities that emerge as outstanding characteristics of world-class quality in a beer. Judges assess the beer, perform their own identification of style, and evaluate the beer for the subtleties and nuances that emerge in the process. The Best of Show receives the Platinum Medal, and a maximum of 10 Gold Medals are awarded on Friday, May 30th at 11:15 a.m.

Did I say there was music? Oui?

And that this "Festival of all Beer Festivals" is run by a woman, Jeannine Marois, President of the Mondial de la Bière?

C'est parfait.

For more information: https://www.festivalmondialbiere.qc.ca/

Cheers!

Photos courtesy of Mondial de la Bière (top to bottom): Bottles at Mondial de la Bière festival; Jeannine Marois, President of Mondial de la Bière
 
You Should Also Read:
Delicate Pairings of Beer and Cheese
The Grand Embellishment of Food with Beer
Real Cider and Perry


Related Articles
Editor's Picks Articles
Top Ten Articles
Previous Features
Site Map





Content copyright © 2022 by Carolyn Smagalski. All rights reserved.
This content was written by Carolyn Smagalski. If you wish to use this content in any manner, you need written permission. Contact Carolyn Smagalski for details.