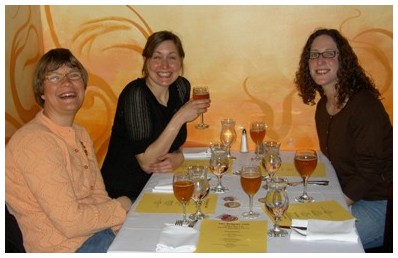 Old wives tale: Never have beer before noon – that is a true sign that you have developed a drinking problem.

Who are these old wives and where did they accumulate their higher education? That attitude may have held some credence in the days before the world expanded – the days before iphones and the Web, before women with tattoos were considered attractive, and before domestic and international travel could be arranged in moments. In our world, we realize that we need to list our country-of-origin in webcasts and our time zone when scheduling conference calls. Time and space have become virtual entities, as has beer before noon. After all, it is always noon somewhere in the world, and the portfolio of beer styles has so expanded that many beers are refreshing accompaniments to the morning meal.

Beer with cereal is a stretch. I would be hard pressed to recommend Rogue Ales Old Crustacean Barleywine with Cap'n Crunch & Crunchberries, although it may appeal to some. But yes, it's a stretch. There are, however, many breakfast beers that create divine pairings with food. Match the delicate with the delicate. Compliment the sweet with the bitter or with the dry. Contrast fats and spices with calming hops. (Hops don't just belong in a slumber-pillow.)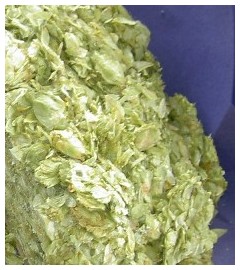 If you are not practiced in choosing breakfast beer, you may wish for a bit of guidance so you can take this a step beyond the basics. Beer styles are associated with certain flavors.

American Wheat beer can range from lightly sweet to dry and aggressively-hopped. It may have tartness in the finish, but will be absent of the banana, clove and phenols typical in its Bavarian counterpart, the Hefeweizen. Both American wheat beer and Bavarian Wheat Beer find compatibility in many of the same foods. A cheese omelette, eggs Benedict, sausages, weisswurst (pale veal sausage), home fries, goat cheese, or greens with fruity vinaigrette dressing all pair well with these styles. Fruit and yogurt are generally musical with German Hefeweizen, but may fall back a bit if the American version uses hops with a pine or resin character. Pacific Northwest styles with grapefruit or citrus profiles will make fruit and yogurt sing. Adding Hefeweizen to pancake batter creates a light fluffy texture that melts in the mouth.

Belgian Witbier is delicate in profile, with moderate honey sweetness in a spicy wheat backbone, and feathery nuances of coriander, Curacao orange rind, and pepper. It may have a touch of lactic character, and a refreshing tartness. Other spices may be used to enhance complexity, including cumin, Grains of Paradise, chamomile, and cinnamon. On a sunny deck, Belgian weissbier adds elegance to the ambiance. Breakfast fare of goat cheese omelettes, croque monsieur, grilled salmon and Gouda, rocket and cheese Panini, Belgian waffles, bacon, sausages, and salad greens with mandarin orange and vinaigrette dressing are superb matchings.

The sourness of a Berliner Weiss adds a muted touch of bon appétit to the early morning air. You may wish to use a bit of sweet syrup in Berliner Weiss to cut the tartness. With a drop of lemon, a harmonic setting emerges with eggs, whether poached, soft boiled or lightly turned. Raspberry Syrup adds a sweetness that pairs elegantly with sunrise dishes made with cherries or raspberries. If you prefer chocolate torte or a morning mousse, they will also create a luscious depth of flavor in concert with each other.

English Mild may weigh-in on the malty side, with yeast based flavors of caramel, toasted nuttiness, chocolate, coffee, plums, raisins, licorice, and molasses. It may be sweet or dry, but should be low in gravity, with ABV (alcohol by volume) levels of 3.1 to 3.8%. Pair with eggs and steak for a robust start to the day. Add Stilton cheese to the steak, and you have a winner with staying power. On the lighter side, a fine marriage of Mild with sheep or cow's milk cheese will add harmony to the crisp air.



Stouts are often considered breakfast beers, due to their great versatility with food. They go well with oysters, and would pair equally well with salmon, bagels, and cream cheese. Styles vary from Dry, to Sweet (Milk), to Oatmeal, to American, to Export and Imperial. Flavor profiles may include bittersweet chocolate and espresso character, and range from dry-and-bitter to grainy, lactic, fruity, and port-like. They pair well with salted pickled herring with onions and sour cream, prosciutto di Parma, Serrano ham, or steak and eggs. On the sweet side, they are equally adept at merging with chocolate soufflé, a chocolate torte, raspberry, cherry, or strawberry tarts, fruit Danish, or a caramel flan.

India Pale Ales are typically citrusy, floral, resinous, and fruity, with a clean, crisp profile, even in the presence of maltiness. Pair them with bacon, sausages, scrapple, home fries, and pork roll. The dry profile cuts through the fats, while lively carbonation leaves a clean freshness in the mouth. If you love omelettes with hot peppers, onions, mushrooms, spiced ham, tomatoes, pepper cheese and chili sauce, IPA will cut the spiciness in a flash.

Belgian Pale Ale has a biscuit character, with orange-pearlike fruitiness and moderate maltiness. Florals and spices add to the finish, while a hop presence can add dryness. Mushroom and cheese omelettes come alive under the spell of Belgian Pale Ale. Smoked salmon, ham, crusty bread, or scones merge well with the fruit-and-spice profile.

Saisons serve as food ambassadors with their high level of citrus flavors. Spiced with pepper and effervescence, they possess a moderate sourness and earthy character that adds to their versatile nature. The dry, quenching acidity make it an ideal breakfast beer. If you crave a bit more malty sweetness and woodsy flavors, delve into the Biere de Garde style - well-lagered and slightly higher in ABV. Eggs with a dash of Habernaro Sauce, fruit compote, smoked salmon, pancakes with fruit or syrup, sesame bagels, fruit sorbet, Canadian bacon, sausage, eggs Benedict, or Waldorf salad make marvelous couplings with either style.

Lambic and Gueuze also pair swimmingly with lighter morning fare. Acidic, winey aromas, blended with horse-blanket, goat, earth, hay, oak, and citrus flavors and aromas, provide great latitude for morning dishes with cheese, crusty breads, quiche, Belgian Waffles with fruit sauce, and cheese Danish.

Cheers!

Eggs for breakfast? Serve them with style:
Kuchenprofi 0750828202 2-Piece Egg Cup with Oval Base, 3.5 by 3-Inch, White Porcelain



Breakfast on the run:
Hamilton Beach 25475 Breakfast Sandwich Maker, Gray