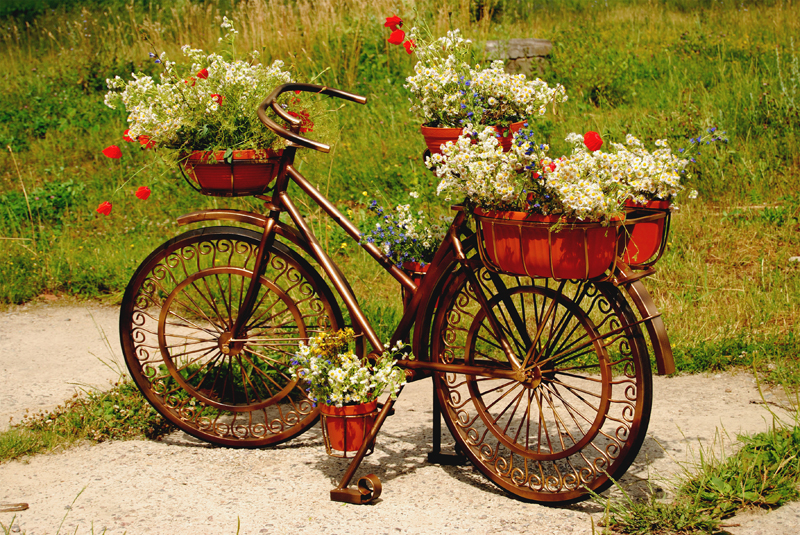 A classic sign of overwatering container plants is the development of Fungus gnats Although Fungus gnats can occur indoors and out, they're usually a bigger problem for indoor container plants, which don't lose as much moisture as outdoor container plants will. There are several insecticides that control the problem, both organic and inorganic, but the infested plant will have to be treated every few days for several weeks because of the insects overlapping breeding cycle. The best preventative for Fungus gnats is to reduce the amount of water to plants.

Fungus gnats look like tiny mosquitoes, although they're not great flyers so they won't stray far from the plant they're infesting. The flying adults can live up to ten days, during which time the females are continually laying eggs in the soil. The eggs hatch in about a week, and the larvae will feed on fungus and the plants root hairs for another week before becoming flying adults – and starting the whole cycle all over again!

Any insecticide will kill the adult flying Fungus gnats on contact, but few will impact the larvae in the soil. In a few days, the new flying adult Fungus gnats will appear and the plant will have to be treated again. If a plant develops Fungus gnats, you can expect to spray the plant with the insecticide at least every other day for two to three weeks in order to completely kill off the insects in their various life stages.

I used an organic insecticide containing pyrethrin. Pyrethrin is a biodegradable mix of organic compounds derived from the Chrysanthemum and can be purchased in any nursery or garden center. Biodegradable means it doesn't linger in the soil for long periods of time. It's safe for humans and mammal's, however, most pyrethrins are considered toxic to fish and birds, so use it carefully if you have these critters in the house.

Other organic solutions include beneficial nematodes, insecticidal soaps and horticulture oils. These types of controls are usually more expensive and have to be purchased at nurseries that specialize in organics. When using insecticidal soaps or horticulture oils, you can expect to treat the plant every other day for several weeks as well.

Nematodes, commonly called roundworms, naturally occur in all soil – a handful of any type of soil will contain hundreds of thousands of nematodes. They are microscopic organisms that live beneath the soil surface and they are all parasites. Beneficial nematodes are those organisms that will hunt and kill the insects that pester humans. Usually, water is added to the nematodes and then delivered to the plant's soil. The nematodes will not kill the flying adults, but will do a very good job of eating the Fungus gnat larvae in the soil, preventing them from developing into adults.

When a plant develops Fungus gnats it's usually an indicator that the plant is overwatered. Although the Fungus gnats are easily controlled, if the plant continues to be overwatered it's just a matter of time before a new infestation occurs. Reevaluate the amount of water you're giving a plant that has developed Fungus gnats, using a water meter to determine just how much water the plant needs.

................................................................................

CASUAL VISITOR … and just browsing? Why not sign up to the Container Garden newsletter? It won't matter what space or how many pots you have or even how much time you have to spend in your container garden; what will matter is that you get our reminders and good advice and ideas all in one interesting article.



You Should Also Read:
Potting Soil Pests
Glossary of Terms 1
Pests and Friends - BASIL


Related Articles
Editor's Picks Articles
Top Ten Articles
Previous Features
Site Map





Content copyright © 2022 by Kay Boeger. All rights reserved.
This content was written by Kay Boeger. If you wish to use this content in any manner, you need written permission. Contact Lestie Mulholland for details.