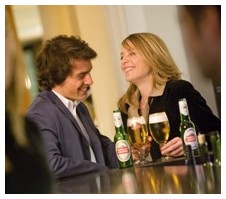 Our rooftop venue adopts the tone of a Viennese coffee houseEjoie de vivre, Bohemian kitsch. Elegant, hedonistic, lively, not unlike the Private Roof Club & Garden at the Gramercy Hotel, its space opens up in the heat above New York's sizzling nightlife. The occasion requires beer chic.

Reveling in the art of summer refreshment, my lust for seasonal beer is matched by an equal proclivity for artful presentation. Whether motivated by primal desire or technical functionality, those who appreciate fine beer deserve bon vivant pleasure. The crème de la crème lies in the Spiegelau collection - sand and fire, luxury and grace.

Upholding eleven generations of artisanal glassmaking, Maximilian Reidel, CEO of Spiegelau U.S.A., understands a beer connoisseur's desire for superior quality. Spiegelau's Classics specific to beer include pilsner, lager and weissbier forms, but a champagne flute or grappa functions well with lambic, Biere Brut, or gose, while a tulip-shaped cocktail serves as the most versatile across all styles of Summer restoratives.

Belgian Chic


The most pleasurable of Summer beer styles hail from Belgium: Belgian-style Pilsner, gueuze, saison, witbier, Biere Brut, Trappist, Biere de Garde, and Abbey-style, all with the ability to satiate the body and the spirit. Stella Artois, Hoegaarden and DeuS stand out as superior examples of this ample selection. For those who love oysters, Stouterik from Brasserie de la Senne in Sint-Pieters-Leeuw will add a light Belgian effervescence and rich flavors of coffee, unsweetened chocolate and assertive hops to the delicate profile of these select victuals.

Stella Artois from Leuven, Belgium, was first brewed as a winter holiday beer in 1926. Seizing immediate attention, it glistened with such twinkling brilliance that fans proclaimed it "StellaE the Latin word for star. My sensory intuition reaches for the Spiegelau Congress collection. The Pilsner glass highlights Stella's golden body and allows the pristine, snow-white head to release volatiles of honey and citrus. A crisp bite of noble Saaz hops merges with citrus and light malt to provide ultimate refreshment at 5.9% ABV. A star in its own rite, Studio Artois upholds a long-standing support of the film arts, and serves as a major sponsor at the Cannes Film Festival in France and Sundance Film Festival in Utah, USA.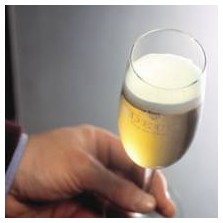 Hoegaarden (4.9% ABV), known as Hoegaarden Citrons (3% ABV) in France, emerges as a top-fermented Belgian Witbier, re-fermented in the bottle to develop a delicate quenching character. The cloudy, unfiltered, straw body and delicate spices of Curacao orange and coriander awaken when paired with a goat-cheese omelette, sushi, or smoked salmon. Serve in stemless glassware, perhaps an Authentis Casual Wine goblet, by Spiegelau.

DeuS, Brut des Flandres deserves its own special treatment at a summer soiree. Spiegelau's Grand Palais Exquisit Collection shows off the glistening body and voluminous, creamy head of DeuS in the choice champagne flute or grappa stemmed glassware. DeuS might be called a multi-national drink, created in both Belgium and France. At $30 a bottle, it is a reasonable price for a high-end beer, keeping in mind that a wine of this caliber would cost far more.


DeuS, Brut des Flandres begins its life at Brouwerij Bosteels in Belgium, using summer barley and a feather-light infusion of hops to produce a beer with ethereal lightness and crystalline golden clarity. After its initial fermentation, it is dosed with priming sugar and a specially selected yeast strain that is capable of tolerating higher levels of alcohol, such as those achieved in wine fermentation. During this process, the beer is transported to Rheims, in the Champagne region of France. It is bottled with fermentable sugars, infused again with specially selected yeast, and aged for a period of a year at cellar temperatures. It then undergoes three to four weeks of "riddlingEEa process in which the bottles are placed in racks with the neck tilted downward. The bottles are turned daily, while the downward tilt is increased until they are totally inverted. The bottles go through a process of remuage and dégorgement in which the yeast plug is frozen and pushed out due to the pressure built up within the bottle. Each bottle is then re-dosed to compensate for what is lost in the removal of the yeast plug, corked, then dressed with wire cage and foil.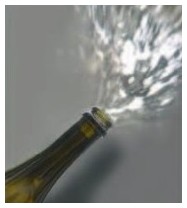 This process produces a beer with the delicate aromatics of flowers, honey, and quenching apple, with a very dry finish and alcohol by volume of 11.5%.

While you have the champagne flutes ready, I would recommend serving Cantillon Blåbær Lambik, a rose-colored lambic with 5.5% ABV and creamy pink head. Aromas are of blueberry, earth, barnyard funkiness, and leather. On the tongue, it is tart and acidic, with a wild earthiness that continues into a quenching finish.

Bear in mind, Belgian breweries do not design a beer without designing a glass appropriate to the style. Each of the aforementioned beers does have a glass recommended by the brewer. The Spiegelau collection, however, is so extraordinary in design, processing, and function that it makes a fitting presentation for your most important occasions.

Cheers!
Photos are: Top 2 photos are Courtesy of Anheuser-Busch InBev: Enjoying StellaArtois; Stella Artois in Classic footed Pilsner Glass; Lower 3 photos are Courtesy of Brewery Bosteels: DeuS, Brut des Flandres in Deus stemmed glassware; Riddling process of SeuS; Release of yeast plug on DeuS, Brut des Flandres



You may wish to add a bit of class when serving beer. This classic set is a great starting point. You may also wish to seek out Stemmed Pilsners or Wheat Beer Glasses before expanding to Champagne Flutes or Digestive Glasses.
Spiegelau Barrel Beer Classics Lager Glass, Set of 6 in Barrel Gift Tube

Spiegelau Beer Classics Ultimate Beer Glass Set 6-pc.