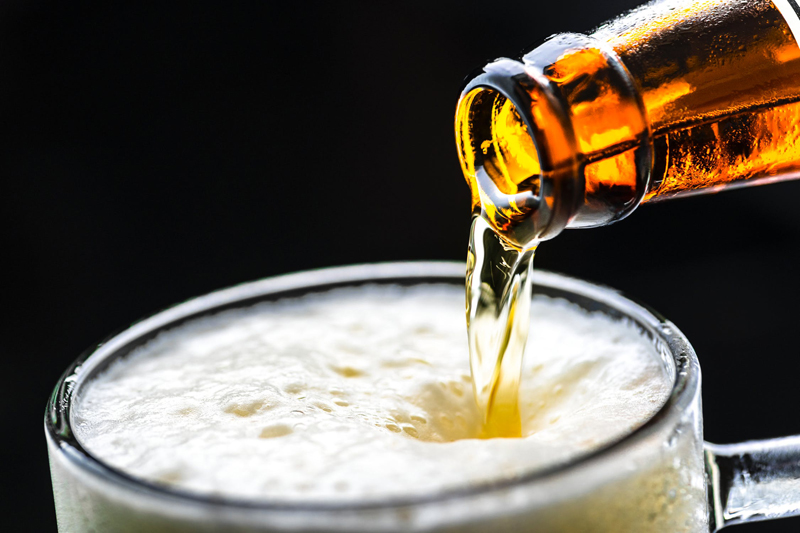 Imagine the scene:


"This evening's Beer Tasting will be a formal affair…ladies must be drenched in diamonds and dressed in formal ball gown with beguiling décolletage; gentlemen, in white-tie full dress, complete with Rolex and Medals of Honor. Dignitaries from several countries will be in attendance. This members-only venue will be held at the Musikverein in Vienna, Austria where the world's most expensive beers will be presented, in conjunction with the captivating background music of 20-year old piano prodigy Yuja Wang. Ms. Wang will, of course, be engaging the audience on the famous "Alma-Tadema" Steinway, brought in from the USA for this exclusive event..."

Perhaps this fantasy is not so far away.

Beer has leaped into the world of the wealthy. Largely due to the late Michael Jackson's tireless work across the globe, the beer community throughout the world has developed a commitment to creating distinctive styles – some for quaffing, others for aging. Still others as aperitifs, and digestifs, and winter warmers that must be consumed hot and steaming, from a sipping mug.

Amsterdam brewer Carlsberg has announced the release of the most expensive beer in the world. Vintage No. 1 was introduced to the Nordic market on January 25, 2008, designed and crafted at the Jacobsen Home Brewery, the microbrewery division of Carlsberg A/S. The Jacobsen division opened June 1, 2005 on the oldest original part of the Carlsberg Brewery in Valby, where Brewmaster Jens Eiken has been overseeing the design of an impressive portfolio of upmarket beers.

With the introduction of Vintage No. 1, Mr. Eiken, past Innovation Chief of Carlsberg International, has led Carlsberg into the market of the gastronomic elite. Vintage No. 1 (served from a 0.8 pint bottle) will be available at only three high-end restaurants in Copenhagen, with a sticker price of 2008 kroner ($396.47 USD) to celebrate the year of its debut. This makes it THE most pricy beer in the world to date. Plans are underway for two subsequent releases – one in 2009 for 2009 kroner, and one in 2010 for 2010 kroner.

Such a find is a welcome initiate in the sparse field of true luxury beers. Is it worth the price? Mr. Eiken says the development of this elitist beer cost far more than the asking price. Acclaimed as "probably the best beer in the world," this little gem is an able contender in the market of luxury gourmet gastronomy.

Vintage No. 1 glistens in hues of chestnut brown, with a veil of foam that graces the top. Flavors of rich, caramel malt and dark, succulent fruits form the base. It is aged in French and Swedish wooden casks which impart flavors of vanilla and a subtle oak woodiness to the background. ABV is 10.5%. A Cicerone would recommend it be served with Nordic cheeses and sumptuous desserts.

Current plans for export have not been drafted, although the word in elite circles alludes to the possibility of some bottles being offered for sale on the website during the introductory week of January 27, 2008. This 2008 edition is limited to 600 bottles, each 37.5 centiliters, an equivalent of approximately 0.8 US pint per bottle.

Where can you dine to partake of this luxury elixir of the gods?

Although there are three elite havens, Noma at Strandgade 93, 1401 Copenhagen K, (Tel: +45 3296 3297) is the only location that has currently been revealed to serve this perfectly-aged wonder. In S. Pellegrino World's 50 Best Restaurants, Noma is listed in the 15th position among world-class restaurants for 2007. Noma states, "although others use wine in sauces and soups, we make a systematic use of beers, ales, fruit juices and fruit-based vinegars for imparting a lively freshness and 'edge' to ours."

If you doubt whether Vintage No. 1 is the world's most expensive, here is the short list, calculated to price per centiliter:
Vintage No. 1 – Carlsberg A/S, Copenhagen, Denmark - $396.47 for 37.5 cl = $10.57/cl
Sam Adams Utopias – Boston Beer Company, Boston, Massachusetts, USA - $100 for 72 cl = $1.39/cl
Vielle Bon Secours – brewed by Brasserie Caulier, Peruwelz, Belgium – only available at Bierdrome, London, England, UK - $1260 for 15 liter bottle = $0.84/cl
Bush Prestige – Brasserie Dubuisson Freres sprl, Leuze-Pipaix, Belgium - $50 for 750 ml = $0.66/cl
Baladin Xyauyu - Birrificio Le Baladin, Piozzo, Italy - $43.05 for 750 ml = $0.57/cl
DeuS Brut Flanders – Brouwerij Bosteels, Buggenhout, Belgium - $32.00 for 750 ml = $.42/cl
Cantillon St. Lamvinus, Brasserie Cantillon, Brussels (Anderlecht), Belgium - $30.70 for 750 ml = $0.41/cl
To add to your knowledge base, Denmark has 16 billionaires. Forbes statistics set the total number of billionaires worldwide at 946.

Cheers!


You may wish to add a bit of class when serving beer. This classic set is a great starting point. You may also wish to seek out Stemmed Pilsners or Wheat Beer Glasses before expanding to Champagne Flutes or Digestive Glasses.
Spiegelau Barrel Beer Classics Lager Glass, Set of 6 in Barrel Gift Tube
Spiegelau Beer Classics Ultimate Beer Glass Set 6-pc.
You Should Also Read:
Beer Wrapped in Tissue - A Sign of Luxury
Beer for Women - Belgian Bière Babes
Winter Warmers - 20 Must Haves for the Beer Cellar


Related Articles
Editor's Picks Articles
Top Ten Articles
Previous Features
Site Map





Content copyright © 2023 by Carolyn Smagalski. All rights reserved.
This content was written by Carolyn Smagalski. If you wish to use this content in any manner, you need written permission. Contact Carolyn Smagalski for details.