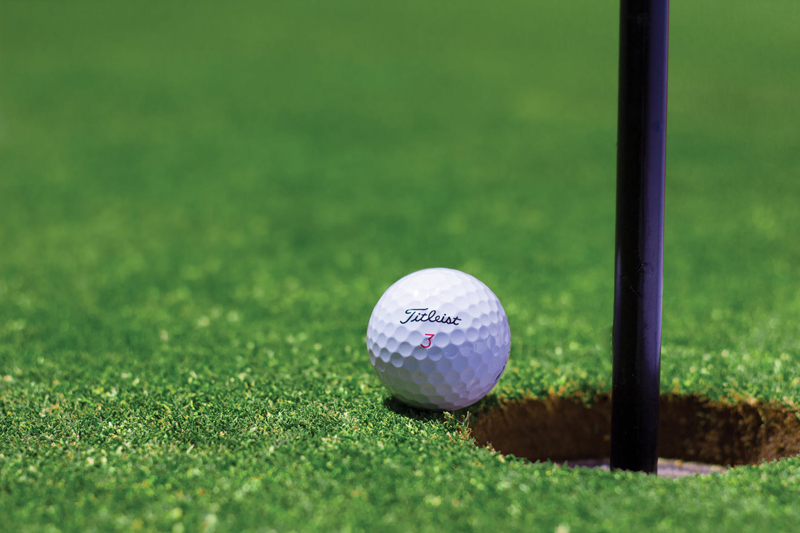 In the summer of 2009 Mill Creek has had some unusual events. In early spring I had decided we needed to update our golf course markers with plants. I asked our Director of Golf is it was alright to plant some of our markers with three plants to see if others wanted to also update our golf course with these plantings. I received some good response that they thought it would help improve our markers. I had planted three Heavenly Bamboo plants which would grow tall and surround the back site of each marker.
Three fully grown Heavenly Bamboo like this would surround each marker
All went well and ended up with plantings around 12 of the markers. Then some unusual things started to happen, as three of the plants on one hole were pulled up and gone. This made me very upset as we had been having vandalism done to some of our marker and I had thought the plantings may stop this as we tried to improve things. I was wrong as several more times more plants disappeared and I kept replanting.
This went on until the summer as the disappearing plant stopped but the 100 degree heat and winds of summer took its toll on many of the rest of the plantings. They were dying and there was nothing we could do about that. We decided to wait until September or October to replant when the rain and cool weather came back.
It is now September and after a summer of drought our Director of Golf and Course Management had worked hard to keep the golf course in good shape. This was right up until the rain started and after several days of down pouring rain the floods came. Flooding is not unusual for Mill Creek we have a very rocky soil which is common in the hill country of Texas. When the heavy rains started on Wednesday it kept it up through the weekend. We knew we were getting lots of rain but areas around us had 10 inches of rain and the run off hit Mill Creek.
This is a view of our low one way bridge on the Mill Course.
All the bridges are out with debris, fallen trees and whatever the raging water can pick up roars on down through Mill Creek creating damage. The clean up will take weeks and only if they can get one of our 27 holes cleaned up and ready to play will the course be open. Saturday afternoon I drove around and took pictures as it was still raining but had to have an umbrella to keep my camera dry. I have included some of the devastation of the golf course and what raging water looks like.
This bridge completely wiped out to Mill #4 green.
It is amazing the power these raging rivers have at flood stage. We are used to this happening so for those of us who live here respect this creek. It was so low this summer you could have walked across it over the limestone bottom. Our main street bridge did not make it this time without damage. Since the time I have been coming to Salado had never seen this bridge out of service.
Texas Highway Crew is here in force checking on damage and possible repair
You Should Also Read:
Mill Creek Golf Club


Related Articles
Editor's Picks Articles
Top Ten Articles
Previous Features
Site Map





Content copyright © 2022 by Letta Meinen. All rights reserved.
This content was written by Letta Meinen. If you wish to use this content in any manner, you need written permission. Contact Sandy Eggers for details.