The Vermonster Fights a Monster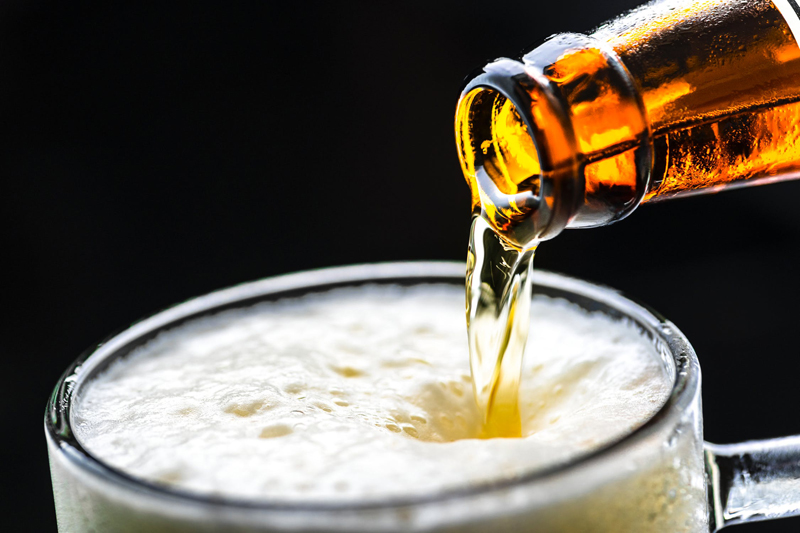 Tiny Vermont is only a passing thought by most people in the United States. When prompted to name all 50 states, many would forget the little state that sits in the far northeast corner of the lower forty-eight. At the very least, many cannot recall the capital of Vermont, the smallest capital city in the country - that weird little French word, Montpelier. It is in small places such as Vermont that huge conglomerates chip away at independent artisans, grabbing market share from those who can fight them the least…the David versus Goliath story.

According to the Brewers Association, "an American craft brewer is small, independent and traditional." To further define this, the BA defines its position: "Annual production of beer [is] less than 2 million barrels…Flavored malt beverages are not considered beer for purposes of this definition…Less than 25% of the craft brewery is owned or controlled by an alcoholic beverage industry member who is not themselves a craft brewer…A brewer who has either an all malt flagship or has at least 50% of its volume in either all malt beers or in beers which use adjuncts to enhance rather than lighten flavor."

This places the American craft brewer in a singular position in the community. Historical style is the foundation upon which innovation and imagination expands. He is involved with the local area through philanthropy, sponsorship and more. In a world where franchises and big business do their best to capture market share, the craft brewer seems to be a dying breed. When big business wields the sword, few have the resources to fight it.

Morrisville, Vermont is the perfect demographic for such nasty action by a large conglomerate. Beginning in 1997, Matt Nadeau and his wife Renee started a tiny brewing operation in the basement of their home in Johnson, Vermont. By 2001, they outgrew these humble beginnings and moved to the current location in Morrisville where, according to the United States Census Bureau, the population was 2,009 residents in the last census of 2000. Currently distributing in only 6 states, Rock Art Brewery has become well known for creatively well-crafted beers with names such as Magnumus Ete Tomahawkus ESB³, Ridge Runner, Whitetail Golden Ale, and The Vermonster.


The Vermonster is where the struggle begins. On September 14, 2009, Hansen Naturals of California, parent company of Monster Energy Drinks, delivered a cease and desist order to Rock Art Brewery, claiming trademark infringement for Nadeau's beer, THE VERMONSTER, which he trademarked in the state of Vermont in 2006. According to Manta.com, Hansen's annual estimated sales are $1,033,780,000.

Requesting feedback from trademark attorneys in five different states, Nadeau has been advised that there is likely no trademark infringement issue. The logo for The Vermonster is totally different from the three claw slash of Monster Energy Drinks. The Vermonster title was selected as a play on the Vermont theme, based on pride in Nadeau's home state.

Offering to stay out of the energy drink market with The Vermonster, Nadeau was stunned when Diane M. Reed, counsel for Monster, negated any concern that Rock Art would move into the energy drink market, but asserted that Monster now wants to get into the beer market.

Will this small brewery have the funds to fight the legal battle against such a formidable conglomerate? Nadeau is told that fighting the suit could cost more than $50,000, depending on court decisions and the appeals system. In fact, other sources indicate it could bankrupt him. Hansen only needs to keep at it until Rock Art runs out of money and resources. Nadeau expresses his frustration with "I don't remember pledging allegiance saying 'and justice for all with the deepest pockets.'"

As a sign of support for Rock Art Brewery, Beverage Warehouse (with annual sales estimated at $5 to 10 million) in Winooski, VT, stopped carrying all Hansen beverages, including Monster Energy drink, its best-selling energy beverage.

It seems bizarre to imagine that a brewer who only distributes in Vermont, Arizona, Massachusetts, Pennsylvania, Connecticut and New Jersey could possibly snag the attention of corporate America. In a show of monster muscle, it is only a matter of time before Hansen comes after Cairngorm Brewery Company in Aviemore, Scotland for Nessie's Monster Mash, Brooklyn Brewery in Brooklyn, New York for Brooklyn Monster Ale, Ballast Point Brewery in San Diego, California for Sea Monster, Deschutes Brewery in Bend, Oregon for Green Monster, Red Lodge Ales in Red Lodge, Montana for Monster Maibock, and all the other small brewing companies in the United States and abroad who use monster in the name of their beer. You would think Hansen invented the word.

Cheers!
 
You Should Also Read:
Radler Fights for Its Life in New Zealand
Lammsbraeu Barley Based Gluten Free Beer
Pink Boots Society - Women in Brewing


Related Articles
Editor's Picks Articles
Top Ten Articles
Previous Features
Site Map





Content copyright © 2023 by Carolyn Smagalski. All rights reserved.
This content was written by Carolyn Smagalski. If you wish to use this content in any manner, you need written permission. Contact Carolyn Smagalski for details.