Rich Wagner - Beer Historian Brews Colonial Ale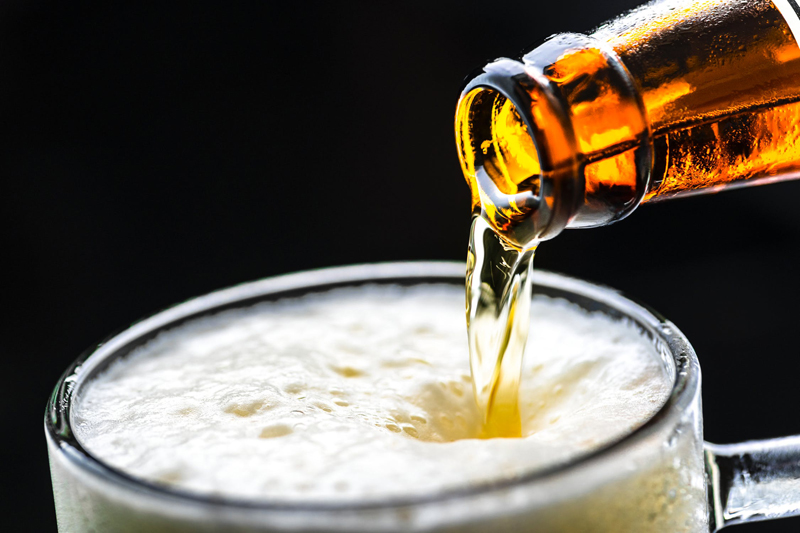 His beer rolled across my tongue with a full, rounded feel. In my mind, it took me back in time, to colonial Philadelphia - Penn's Woods, surrounded on the outskirts by fields of wheat, barley and corn, orchards of apples, and vines of pumpkin and acorn squash. Artisans of the day filled these city streets, fashioning items of copper, silver, and iron…baking bread and pulling taffy…molding barrels, weaving fabric, printing early almanacs – all items to impart civility and order into the average household.

And crafting beer. Let us not forget the beer.

Beer Historian, Rich Wagner, was the brewer of this particular beer. He brought it as an unexpected surprise to share with us at Monk's Café, during the Left Hand/Terrapin Dinner on October 29, 2009. It had an old-world flavor, one that spoke of simple ingredients and the earthiness of hand-craftsmanship. It was a Pumpkin Ale, brewed on October 10th at the Peter Wentz Farmstead, an 18th century property that served as headquarters for General George Washington in the fall of 1777. This site continues to act as a working farmstead for historical demos, and Wagner is well skilled at re-enacting past brewing history.


With his solid build and silver-gray hair flowing halfway down his back, Wagner looks the part during his demos, costumed in the 18th century clothes of the Brewmaster. He stays as close as possible to ingredients and methods of the day and brews without the sophisticated instrumentation available to today's brewers, be they professionals or homebrewers. Rumor has it that he doesn't even wear a watch, but estimates time by the movement of the sun. His brewpot is heated over a roaring outdoor fire that imparts some smokiness to the beer, without the use of chocolate or smoked malts. For this beer, he used two small pumpkins, un-roasted. They were simply cut up and added to the mash. Intrigued by his method, I asked for his recipe. The simplicity was astounding:

• 25 lbs. pale malt
• 2 small pumpkins
• Mash temperature: unknown
• Mash time: approximately 1 hour
• Lauter: approximately 2 hours
• Boil: approximately 1 ½ hours
• Fermented with ale yeast
• OG: unknown
• FG: unknown
Yield: 12 gallons


Notice that he uses no spices typical of the pumpkin ales of today. His ale was malty and rounded, the pumpkin standing in the background with a subtle squash-like, earthy presence. The finish was dry with hints of smoke. Wagner hints that, although he parallels these recipes as closely as possible to the past, he still uses modern-day yeast. These early settlers had no real knowledge of yeast as an organism. Yeast was scooped from one batch and added to another, and fermentation occurred because "God is good."

Wagner's historical research on beer spans a timeframe of 29 years, and he has been presenting brewing history to the public since 1990, when he conducted the first brewing at Pennsbury Manor since the late 1600s. Inspired by this old-world technique, he contacted an industrial arts teacher and coopering hobbyist, David Miller, and with his help and guidance, began fashioning his own brewing equipment. A friend bought him a copper kettle, and Miller created a stand for it using old wagon wheel iron. By 1993, Beer Historian Wagner did demos on brewing history at the Oregon Brewer's Festival. This was the same year the Oregon Trail was celebrating its 150th anniversary. With wagon trailing behind them, Wagner, his wife and 8-year-old son stopped at three locations along the Trail to do more brewing demonstrations and talk of the history of beer in America.


He regularly presents demos on beer history at venues across southeastern Pennsylvania and New Jersey – in Fairmount Park, at Yards Brewing Company and the Cliveden Winter Beer Festival, and at scheduled Brewery Tours throughout Philadelphia - and has done brewing demos at such locations as the Goshenhoppen Festival, Pomona Hall Mansion (for the Camden County Historical Society), Pennsbury Manor, and the Mercer and Fonthill Museums. He is available for private and public events, More information on Wagner's fascinating beer history can be found at:
https://pabreweryhistorians.tripod.com/

Photos are (from top): Rich Wagner's Pumpkin Ale and description sheet with recipe; Beer Historian Rich Wagner shares Pumpkin Ale with Dustin Watts of Terrapin Beer Company of Athens, Georgia; Dustin Watts of Terrapin with Beer Historian Rich Wagner; Beer Fox Carolyn Smagalski shows off Left Hand Brewing swag with Beer Historian Rich Wagner

Cheers!
 
You Should Also Read:
Beer Commemorates Ben Franklin's 300th Birthday
Porter - History of Beer and Imagination
Ask the Beer Fox - History of Molasses in Beer


Related Articles
Editor's Picks Articles
Top Ten Articles
Previous Features
Site Map





Content copyright © 2021 by Carolyn Smagalski. All rights reserved.
This content was written by Carolyn Smagalski. If you wish to use this content in any manner, you need written permission. Contact Carolyn Smagalski for details.