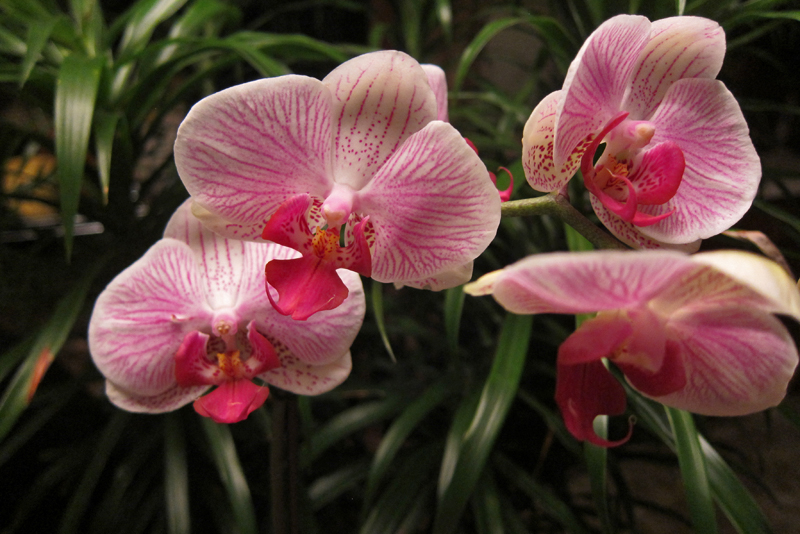 Orchid growing is somewhat like any other gardening – January and February are very slow months! Unlike outside gardeners in temperate climates, though, we are constrained by the problems of cold weather shipping and delivery rather than the growth of most of the plants we grow. During the coldest months, many growers will take orders for later delivery, but hesitate to ship even with cold packs during the coldest months.

So now is the time for us to look through those catalogs, review what plants we already have and how they're growing and look seriously at what we might want to grow for the coming year. Each of us has slightly different conditions and some plants grow better than others under those conditions.

What is really doing well for you? If you like them, consider growing more of those kinds of plants. Look through the catalogs and see if you can find similar crosses and the chances are that they will also do well under your conditions.

What is really not doing well? If this is something that you really love and want to grow, then look at your conditions and see if you can change them slightly so that the plants will do better. Until you figure that out, it's probably better not to buy any more of them.

Is there something new that you want to grow and see if it will do for you? Develop an "Orchid Wish List" to take with you to orchid shows. If they are displayed there, talk to the owner and find out what kind of conditions he or she has to get some idea how that particular orchid likes to grow. Check out pricing from online vendors before you go so that you will have an idea of what you should be willing to pay for a plant. Many times it is less expensive to buy at a show because you're not paying extra for shipping.

Take some time to clean up your growing area and your plants. Stake new growth and clean up old dry growth. Wipe down leaves to remove residue and dust and allow the plant to better absorb the available light. This will also help remove any pests that have moved into your plants. Make a list of the plants that you are going to need to repot in the spring and make sure that you have the supplies necessary to do so. Buying supplies at this time of year is a good investment. There are generally sales from the vendors who cannot ship plants during the cold months.

You Should Also Read:
Spring Orchid Growing Tips
Growing Orchids Under Lights
Buying on the Internet


Related Articles
Editor's Picks Articles
Top Ten Articles
Previous Features
Site Map





Content copyright © 2023 by Susan Taylor. All rights reserved.
This content was written by Susan Taylor. If you wish to use this content in any manner, you need written permission. Contact Anu Dharmani for details.