Football and Beer Drenched in Leather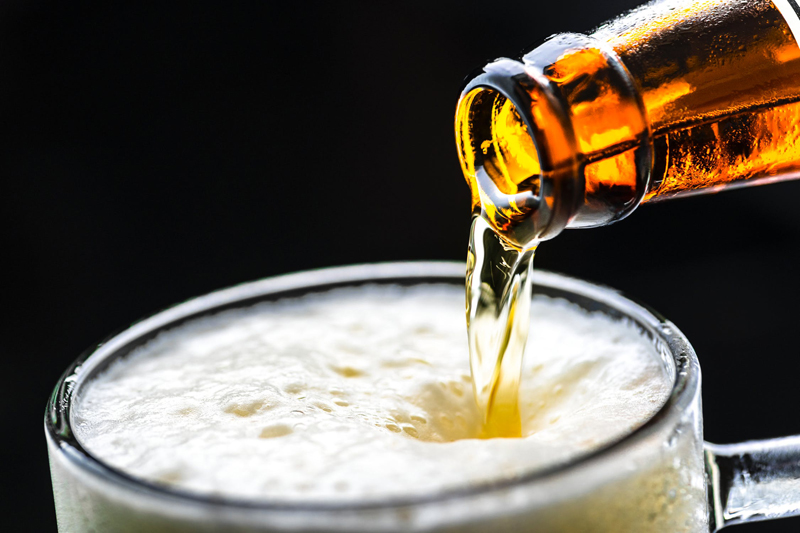 To women who love beer and football, nothing is quite as seductive as sweat and leather. Grunts and groans combine in a heated swell as brawn collides with brawn. We salivate at those plays that showcase crowning agility – a spectacular pass or leap brought to completion as gargantuan competitors attempt to thwart such efforts. I ask you, Beer Girls, what could be hotter than that?

For 2010, the AFC-NFC Pro Bowl will be held on January 31st, followed by Super Bowl XLIV on February 7th, both scheduled for play at Dolphins Stadium in Miami, Florida, USA. Although the Pro Bowl has been alive since January 15, 1939, this is the first time in its history that the Pro Bowl will be held before the championship game. Two huge events, back-to-back … time to bring out the leather.


Leather connects to our senses to reach the primitive circuitry in our brains. The smell of leather – that rich aroma associated with a football, your horse's saddle at the riding club, an oversized couch at a favorite brandy bar, or the interior of a new Mercedes - may also be associated with styles of beer that signal something special. Although found in Winter Warmers, American Strong Ale, and Russian Imperial Stout, leather character is most often experienced in beers that have been fermented with Brettanomyces lambicus, a wild yeast strain with its roots in the Belgian countryside. Since sensory interpretation differs among us, one from another, it is not always described as simply "leather," but may be called horsey, earthy, barnyard, horse blanket, wet dog, musty, rustic, or boot leather.

Among brewhouses, Brett can be as feared as a National League linebacker. It is a ravenous feeder, with the ability to ferment through almost any sugar. In the beer-rich Zenne Valley of Belgium, a diverse zoo of this microflora lives in the air. For those who ferment in cool ships – shallow, open fermentation vats beneath the cobweb-laden rafters of the best lambic breweries in the world – this Brett is naturally occurring. Beer is transferred to wooden barrels for refermentation, aging and blending. Within these barrels, Brett has the ability to eat through the caramelized wood sugars that have permeated porous surfaces. This is good news for those of us who seek out this unmatched character … and great news for those who want to experience the all-encompassing sensory overload of viewing Super Bowl action while being immersed in the aromas and flavors of leather.

Saddle up to your leather recliner and seek out these beers for an overall complex flavor-explosion:

Goudenband – Brouwerij Leifmans, Oudenaard, Belgium – Founded in 1625, this classic brewery moved brewing operations to Dentergem in 1991, but continues aging and fermentation at its facility in Oudenaarde in East Flanders.
Style: Oud Bruin ABV: 8.0%
Appearance: Deep russet brown, with orange-crimson edges and substantial tawny head
Flavor and aroma notes: sweet caramel, sweet and tart cherries, oak, leather, earth, dark fruit

BridgePort Ebenezer Ale – BridgePort Brewing Company, Portland, Oregon, USA – Originally founded as Columbia River Brewery, BridgePort Brewing is the oldest craft brewery in the city of Portland.
Style: Winter Warmer ABV: 6.4%
Appearance: Luminous earth with orange and mahogany lighting the inner depths, a hazy yeast presence, and sticky ecru head with staying power
Flavor and aroma notes: caramel, vinous, leather, chocolate, perfumy florals, cherries, earth

Rasputin – Brouwerij DeMolen, Bodegraven, Netherlands – Located in an old historic mill, "De Arkduif", that was built in 1697, this "Brewery The Mill" is in the middle of the Green Heart, a beautiful rural section of western Netherlands.
Style: Russian Imperial Stout ABV: 10.7%
Appearance: Intense inky-ebony, lit with maroon, with a thin tan head and swaths of lacing
Flavor and aroma notes: Toffee, caramel, heat, chocolate, leather, figs, booze, rustic

Anchor Bock Beer – Anchor Brewing Company, San Francisco, California, USA – With roots penetrating the history of America back in the days of the Gold Rush, the waning Anchor Brewing was brought back to vigorous life by Fritz Maytag in 1965. Anchor Brewing is most famous for Steam Beer, but has a list of other special beers, including the famously distributed Old Foghorn Barleywine, Liberty Ale, and an impressive range of "Our Special Holiday Ales," released as a different vintage recipe each December.
Style: Bock ABV: 5.5%
Appearance: Glowing deep amber, with a head slathered with tanned mocha
Flavor and aroma notes: caramel, melanoidin, vanilla, molasses, leather, dark brown sugar


Temptation – Russian River Brewing Company, Santa Rosa, California, USA – Started in 1997 by Korbel Champagne Cellars in Guerneville, and bought by the remarkable Vinnie and Natalie Cirluzo in 2002, Russian River Brewing focuses on creating a host of award-winning, aggressively hopped Pacific-style, barrel aged, and Brett infused beers.
Style: American Wild Ale ABV: 7.25%
Appearance: The body is reminiscent of a hazy, amber-orange sunrise, with a thick head of snowy marble
Flavor and aroma Notes: Barely-ripened pear, peaches, apples, oak, cloves, earth, leather, minerally, horseblanket, white grape

Firestone 13 Anniversary Ale – Firestone Walker Brewing Company, Paso Robles, California, USA – One of the most award-winning breweries in the United States, Firestone Walker is all about the artisans who create fine brews – the brewers, sensory technicians, lab team, and bottlers. Brewmaster Matt Brynildson admits that he cannot be lured by the mega brewing companies and says, "Let's face it. Dynamite comes in small packages."
Style: American Strong Ale ABV: 12%
Appearance: Deep mahogany brown with dark-tan head, spotty lacing and long legs
Flavor and aroma notes: Brown sugar, pecans, nougat, vanilla, earth, booziness, leather, wood, caramel, bourbon, chocolate, raisins, dark fruit

Kick back, relax, and enjoy the leather!

Cheers!

Photos are: (from top): Natalie Cirluzo of Russian River Brewing Company; Matt Brynildson of Firestone Walker Breing Company
 
You Should Also Read:
Football & Beer Mini-Camp at Sprecher Brewing
Art of the Toast - Customs and Best Phrases for Toasting
Good Beer Head


Related Articles
Editor's Picks Articles
Top Ten Articles
Previous Features
Site Map





Content copyright © 2019 by Carolyn Smagalski. All rights reserved.
This content was written by Carolyn Smagalski. If you wish to use this content in any manner, you need written permission. Contact Carolyn Smagalski for details.