Ron, my kid brother, wanted me to be cool. He was only 8 at the time, but understood that football was an unspoken religion in the eyes of most men. At the very least, he already revered those gargantuan idols who matched their steely muscles against each other in pursuit of the Super Bowl Trophy. At 17, the most I could applaud were the vibrantly colored uniforms. Ron set off on a mission to teach me the names of all the professional teams in the National and American Football Conferences, and to recognize their associated helmets. He figured it was a start.

I had my favorites…the 49ers, Vikings, Dolphins, Eagles and Packers…and those I loved to hate…particularly, the Pittsburgh Steelers, who my brother dubbed the greatest team in the history of football. It was fun goading him, but I liked our trivia game of running through the team names and eventually, the players and stats – Joe Theisman, Terry Bradshaw, Joe Namath, Larry Csonka. All I needed was to discover good beer, and I would be the ultimate fox.

That was then, and this is now. Although women stayed behind the fence when the subject of football and beer leaked into the conversation, they have now discovered how much fun it is to talk intelligently about both topics. Sprecher Brewing in Glendale Wisconsin (Packers territory) has declared the opening of pre-season mini-camp. They call it Football and Sprecher Beer: Share the Passion - a group of classes focused on the appreciation of football, beer, and tailgate food. Anne Sprecher is the genius behind this training camp, a series designed with women in mind, but open to men, as well.

Enthusiasts could register for the entire mini-camp, or enroll in individual sessions. Running parallel with the Green Bay Packers Training Camp, classes began on July 17th, 2008, with subsequent classes on July 24 and 31, and August 7, 2008. August 1st was reserved as a bonus field trip to the retro-refurbished Lambeau Field to check out the Packers in the flesh, while experiencing food and beer on location.

Sprecher Brewing is no slouch when it comes to spreading knowledge. Their practice of bringing in the best and the brightest to teach each segment adds luster to an already brilliant package. In Session I, Lucy Saunders, popular beercook and author of Grilling with Beer, laid out the basics of beer styles, and how to create successful pairings between beer and those juicy grilled steaks and burgers, whether hibachi-style in the parking lot or state-of-the-art style over a hot truck engine. (a mere jest on my part, of course.) Coach Dave Keel, trainer of Homestead Highlanders, one of the most successful High School football teams in Wisconsin, merged his expertise about football, to present a superb foundation for Class #2.

On July 24th, award-winning sportswriter Jason Wilde washed the evening with tales of victory and defeat, while mini-campers sampled an array of beer styles. By the end of the session, they had even learned the basics of presenting beer tastings to their friends.

Session III focused on Football Strategies and Pairing Beer with Cheese. Culinary Director Sara Hill of the Wisconsin Milk Marketing Board reviewed the most important strategy for matching beer with cheese, while Coach Arnie Garber of the Milwaukee Marauders talked the strategy of offense, defense, and a winning attitude in football.

August 7th promises to be spectacular. Bill Carollo, entering season #20 as a referee for the National Football Conference, gives the scoop on hand signals and ref stories. Top the evening with tailgate recipes and great beer, and you have a winner.

As for me…I think I need help with these hand signals. Since I didn't have time to consult with Bill, I took a wild stab at them. If you attend the mini-camp, let me know how close I came.




"No more beer, bartender. I've had my limit."




"Have I had too much to drink? I can't feel my head anymore."




"It's time for a yoga break."



"No way, pretty boy. I heard you were married."




"Bartender! Over here!"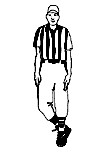 "I should've worn my kilt, 'cause baby, I'm DANCIN'!"


You might want to squeeze into the last class. For information, contact Anne Sprecher at Sprecher Brewing Company, 701 W. Glendale Avenue, Glendale, Wisconsin, USA Phone: 414-964-7837 x 252.

Cheers!

Drawings are © 2002, First Base Sports, Inc. and are courtesy of First Base Sports at
http://www.firstbasesports.com