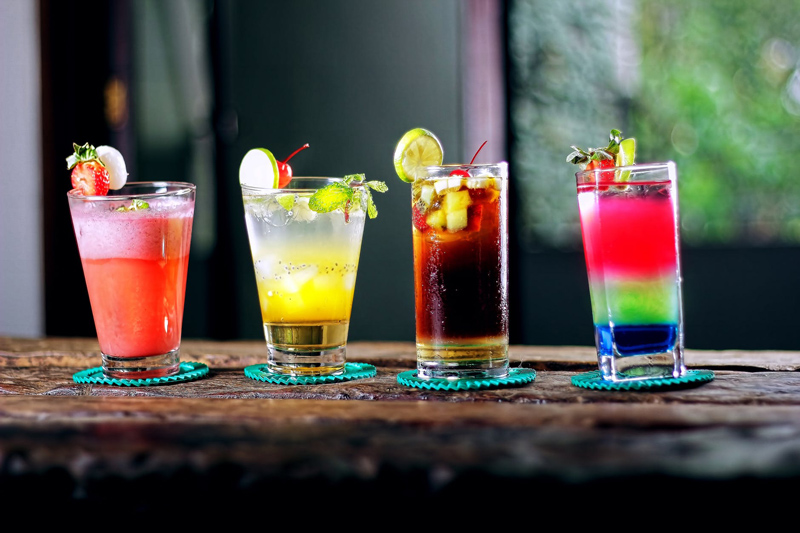 Going out for a night on the town is always lots of fun but so is hosting a party at home. Whether you're drinking out or in, command of a few basic bar terms can take the confusion out of the ordering or the serving.

Floating - The act of drizzling a small amount of liquor (usually of very high proof) over the top of a mixed drink before serving it. To finish a Harvey Wallbanger, for example, float about a teaspoon of Galliano liqueur over the top of the beverage (vodka and orange juice over ice) just before adding the straw.

Frappes - More slushy than frozen, these refreshing cocktails are made in a blender but with less ice than a frozen drink.

Frozen Drink - A cocktail created in a blender filled with ice. The beverage is blended until the drink is quite thick and cold.

Garnish - All the fun stuff added to a finished drink to make it attractive and tasty. Common bar garnishes include cherries, olives, lemon and lime slices or wedges, and even those cute little paper umbrellas.

Highball - Any simple mixed drink made from one liquor and one mixer served over ice in a tall glass.

Jigger - A unit of measure equal to 1.5 fluid ounces. The jigger, or shot, is the standard measure for mixing drinks to order.

Mixed drink - Any finished beverage made from a combination of hard liquor or wine that's been flavored with other liquor(s) and/or non-alcoholic mixers. Same as cocktail.

Mixers - Non-alcoholic beverages used as flavoring agents for mixed drinks. Some of the most popular mixers are colas, lemon-lime flavored soft drinks, ginger ale, tonic water, club soda, and fruit juices such as grapefruit, orange, pineapple, and tomato.

Neat - The very simplest cocktail possible. Just pour a shot of liquor out of the bottle and into a glass. No ice. No stirring. No fuss. Neat.

Pony - A short shot, just 1 fluid ounce. Smaller than a jigger.

Proof - Tells us how potent a liquor is. Proof is a number that is twice as high as the pure alcohol content of the spirit. Liquor sold as 100 proof must contain 50% pure alcohol.

Shot - The standard unit of measure used to mix cocktails. A shot, or jigger, is 1.5 fluid ounces.

Stirred versus Shaken - Some drinks are best finished with a quick stir; these are usually highballs and other mixed drinks served over ice. Many stirred drinks are finished with a carbonated mixer. Shaken drinks represent cocktails such as the Martini, prepared with ice in a shaker cup from which the beverage is strained to remove the ice before serving. Shaken drinks never contain carbonated beverages because the agitation from the shaking will cause the carbonated beverage to explode, leaving a sticky mess all over your lovely party guests.

Mixology comes with a language all its own. These few terms here are great for getting started but someone truly interested in learning more about the lingo of liquors will find more and more terms defined as these posts continue. Please come back for another round or two.



Related Articles
Editor's Picks Articles
Top Ten Articles
Previous Features
Site Map



Follow @drinkandbemerry
Tweet



Content copyright © 2023 by Sandy Hemphill. All rights reserved.
This content was written by Sandy Hemphill. If you wish to use this content in any manner, you need written permission. Contact Sandy Hemphill for details.