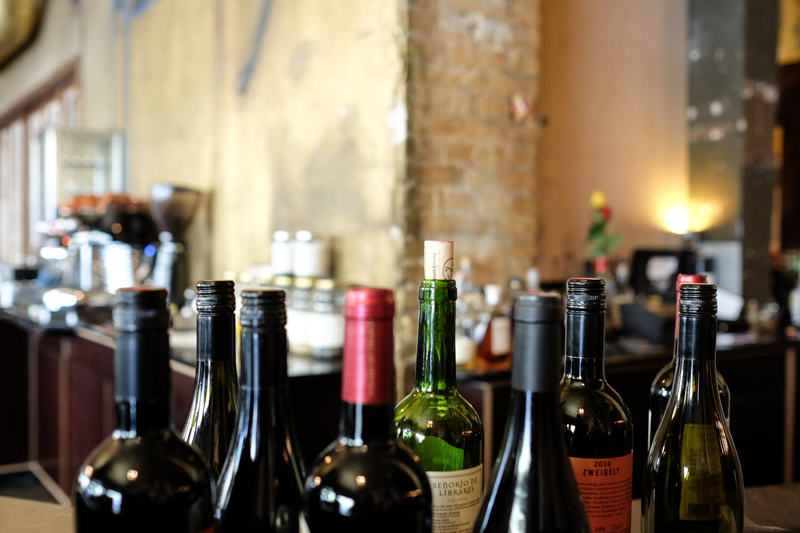 It's not too late to begin planning for a little fizzy on December 31st; or planning for any of the seven great celebration times. I have always thought that it is such a shame to wait for New Years Eve just to have some good fizzy. Fizzy, also known as sparkling, is meant to be enjoyed at least seven times every year; your birthday, your significant other's birthday, your anniversary (work, wedding, graduation or whatever anniversary you want. If you don't have an anniversary, make one up!), December 31st, and three other "Oh, what the heck! Let's have some fizzy!!" days.
We enjoyed Heidsiech & Co Monopole Blue Top Champagne Brut on Thanksgiving. It was the
Official Champagne of the Titanic
. My father-in-law was terminally ill and I thought it might be the last time he would be able to enjoy Champagne so I bought four bottles for Thanksgiving. He never made it. He died on November 19th. But we all raised our glasses to him and his life and gave thanks for all of the blessings we did have.
The Heidsiech was very enjoyable. I had not had Champagne since our 35th wedding anniversary back in July 2008 and I was able to get the Heidsiech on sale, so that also put a smile on my face. This December 31st, we are going to enjoy some fizzy. Fizzy is what I call sparkling. So many people think sparkling is champagne. It is not.
While I am not sure of which fizzy I will purchase, I have limited the lineup to four. It will be very scientific and will come down to which one I can get for the least out of pocket expense. Since my wine cellar stock has been depleted after the holidays and since I no longer have any fizzy on hand, I will be looking at getting a case.
The first sparkling I will be looking for will be
Cristalino CAVA Brut
. I have had it before and it was so good when I tried it that I went back for a case. I cannot say that about any other sparkling wines. There are some very good ones but this is the only case of sparkling I have ever purchased. It could have been because it was value priced at just under $7 a bottle. This is a good sparkling selection and I never had a bad bottle.
The next one I will be looking for is
Domaine Ste. Michelle
. As you can see from the picture, this one is the Cuvée Brut. I liked it for two reasons; it was value priced under $10 and also because it has a middle of the road taste. Not dry and not sweet. It will go with a lot of foods that are served on December 31st. As I recall, we had it last on a Sunday afternoon, with fresh, warm bagels, lox and cream cheese. It has some apple and citrus tones and goes well with spicy foods, if that is what you are looking for. If you are looking for something a little drier, go with the Blanc De Blancs. The Domaine Ste. Michelle Frizzante (also known as Fizzy) is more on the sweet side.
The third one I will be looking for is
Piper Sonoma Brut
. This one is priced between $10 and $15 and when I got it last time, it was $13.99. It too has an apple and citrus notes. It is a little late, but you could get it at
BevMo
for $9.99 a bottle. A better idea would be to print off the BevMo page on a color printer and take it to your retailer and ask, "Do you have any Piper Sonoma Brut like this, at this price for a case? It might not work, but what if it does?
The last one on my list that I will be looking for will be
Zardetto Prosecco
. You will have to look around for this one to get it for under $10. It is easily found in a lot of places for between $10 and $15, but if you are willing to spend a little $$ on gasoline, you can find it for around $8.99 to $9.99. This is an Italian sparkler made from the Prosecco grape and is 95% Prosecco and 5% Chardonnay. If you are in New York, you can check out PJ Wines at 4898 Broadway between 204 and 207th Streets or call them at (212) 567-5500.
Say, How's your Italian? I will be reviewing an Italian in the near future.
Let me know how things are going with you, O.K.?
Jim Fortune, The BellaOnline Wine Guy
Looking for a special wine? Try the Wine Searcher search engine!


Related Articles
Editor's Picks Articles
Top Ten Articles
Previous Features
Site Map





Content copyright © 2022 by Jim Fortune. All rights reserved.
This content was written by Jim Fortune. If you wish to use this content in any manner, you need written permission. Contact Peter F May for details.