Gluten Free Framboise Marinated Pot Roast Recipe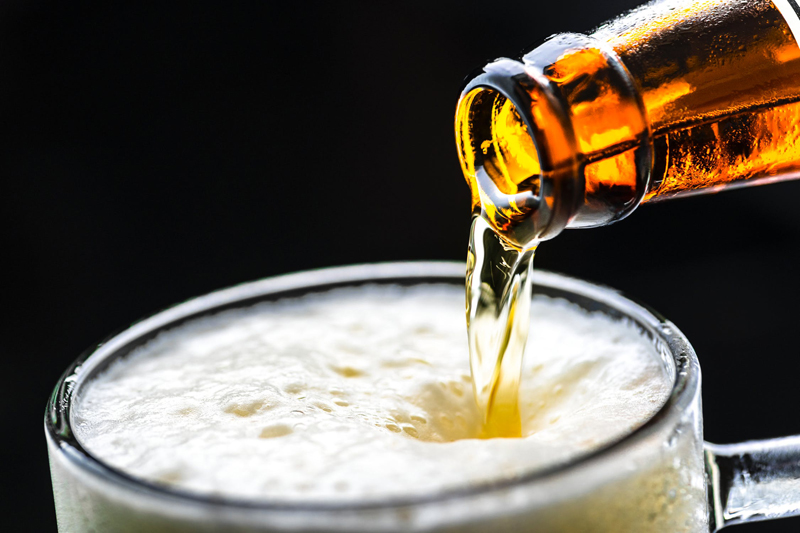 For those with Intolerance to Gluten, beer marinated meats are a challenge. The solution is to choose beer that is free of barley, wheat, oats, rye, spelt, kamut, triticale, and their related grain-cousins. In the United States, these beers are usually crafted with sorghum, quinua, rice, corn, or a combination of these grains or malts.


When these Gluten Free beers first entered the market, the target was to create flavors similar to premium lager and honey beer. Unfortunately, most are made with sorghum and rice, which have different flavor profiles than beers crafted with barley or wheat. This made them unsatisfying to those seeking their good ole' stand-by macro-lager. For those who were beer connoisseurs, Gluten Free beers often lacked the depth or complexity of other styles, such as Belgian Ales, Winter Warmers, or Porters. As more brewers move into the challenge of producing beer for this segment of the population, Gluten Free beer is branching off into distinctive styles that can compete with beers made with barley and wheat.

The Alchemist Pub & Brewery in Waterbury, Vermont produces superb Gluten Free beer: Celia Belgian Framboise, Celia IPA and Celia Saison. Being a small brewpub, they do not bottle, but are an inspiration for those who wonder whether Gluten Free beer can satisfy those who must stay "gluten free."

Cuisine a la biere – that is, cooking with beer – is not just the domain of classically-trained French and Belgian chefs. With the development of superb Gluten Free beer, this method of cooking is open to Celiacs and their families to enjoy, whether served family-style or for a white-tablecloth event.

Gluten Free Framboise Marinated Pot Roast Recipe

Ingredients:

• 2-1/2 to 3 pound beef roast – use rump, chuck, eye of round or shoulder
• 3 cloves garlic, roasted
• Extra virgin olive oil
• 1/2 cup balsamic vinegar
• 1/2 cup Alchemist Celia Framboise*
• 1 tablespoon fresh rosemary, chopped
• 1 tablespoon fresh basil, chopped
• 2 onions, sliced into discs
• 4 carrots, julienned
• Fleur de Sel Gourmet Sea Salt, to taste
• Freshly ground Tellicherry peppercorns
• 1 - 28-ounce can whole tomatoes, chopped – reserve juices

12-24 hours before final preparation:

Using a paring knife, make three small incisions in beef roast. Insert roasted garlic into each pocket.

Blend balsamic vinegar, Alchemist Celia Framboise, rosemary and basil. Pour into a large zip-lock bag with roast beef. Seal bag and turn roast to coat. Marinate overnight in refrigerator.

Heat oven to 350° F.

Spread sliced onions on the bottom of a small roasting or lasagna pan. Place meat atop sliced onions and julienned carrots; then, pour marinade over all. Season marinated meat with Fleur de Sel gourmet sea salt and freshly ground Tellicherry peppercorns. Add tomatoes and reserved juices. Cover with lid or aluminum foil. Roast until beef is tender when pierced and juices run clear – approximately 3 to 3-1/2 hours.

Remove roast from oven and allow a resting period of 10 minutes before carving. Pour pan juices into a fat or gravy separator to degrease. Serve au jus with the pan vegetables.

Tips:

To roast garlic, cut off the top of a whole garlic bulb, exposing cloves. Center bulb, with exposed cloves facing up, on a square sheet of aluminum foil. Drizzle top of the bulb with extra virgin olive oil. Fold foil closed and seal tightly. Roast in 350° F oven for 45 minutes or until garlic is tender.

*Recommended Gluten Free beer substitutions – Lakefront New Grist, New France La Messegère, Green's Quest Tripel Blonde, Sprecher Shakparo. You may use Bard's The Original Sorghum Malt Beer or Anheuser-Busch Redbridge (available in most parts of the USA).

Cheers!
 
You Should Also Read:
Bards Beer at Gluten Free Cooking Spree
Gluten Free Sprecher Shakparo - Fire Brewed & African Style
No Barley - Gluten Free Beer of Lakefront Brewery


Related Articles
Editor's Picks Articles
Top Ten Articles
Previous Features
Site Map





Content copyright © 2023 by Carolyn Smagalski. All rights reserved.
This content was written by Carolyn Smagalski. If you wish to use this content in any manner, you need written permission. Contact Carolyn Smagalski for details.