Philly Beer Geek 2009 Nugget Nate Gefvert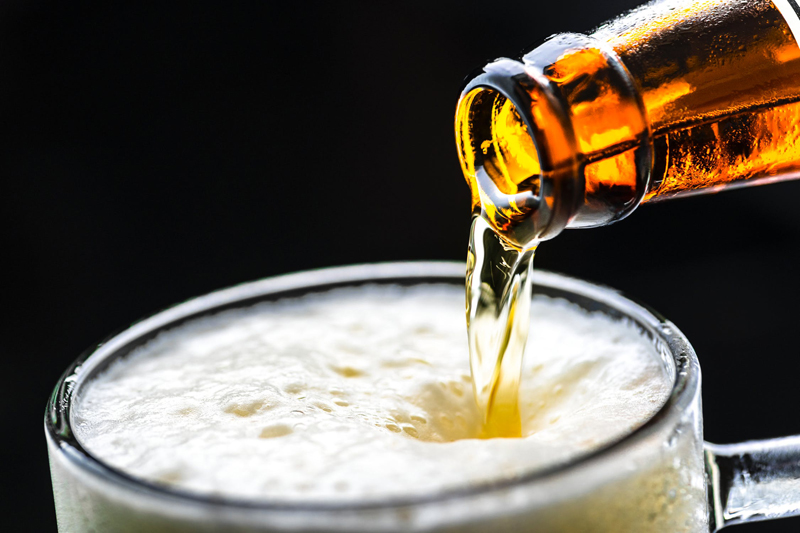 On March 12, 2009, a confident Nate Gefvert reigned supreme as Philly Beer Geek 2009, winner of the 2nd Annual Philly Beer Geek Finals Competition. Gefvert gave a masterful performance throughout two grueling showdowns that included the Semi-Finals and the Finals competitions, held one week apart at Manayunk Pub & Brewery in the Manayunk section of Philadelphia, PA. Nugget Nate, (Gefvert's Beer-Geek name, chosen to honor the hop varietal, "Nugget"), trekked home with a truckload of prizes worth more than $1,000, including gift certificates for homebrew supplies and dinners, brewery hats, gift baskets packed full of vintage and specialty beers, beer glasses, Trappist Ale, beer apparel, nearly a dozen books on beer and brewing, and growlers and cases of specialty beer. He also received a plaque proclaiming him as Philly Beer Geek 2009, along with the honor of carrying the title for 1 year and 3 months, an unexpected bonus that came with the Philly Beer Week move from March to its newly established schedule in June 2010.

Gefvert was sponsored by Spinnerstown Hotel & Tap Room in Spinnerstown, PA, 40 miles northwest of Philadelphia. John Dale, Owner of Spinnerstown Hotel, was on hand to receive the official plaque proclaiming his establishment as "Home of Philly Beer Geek 2009," presented by Chris Firey, Brewmaster at Manayunk Brewery.

A journey of ten-thousand miles begins with a single step – especially when it comes to Beer Geeks. Becoming a Beer Geek starts with that first step and develops over time through seeds of encouragement, whether conscious or unconscious, planted by those around us. Although Nugget Nate appeared as a veteran competitor at the 2009 competition, he nearly dropped out of the competition before it began. I had the opportunity to talk with our 2009 Philly Beer Geek and heard, firsthand, what the life of a champion beer geek is all about:


Tell me about Spinnerstown Hotel & Taproom. Why is Spinnerstown your home beer bar? What makes them so good? Is it Owner John Dale?

As for John Dale and his staff ... They honestly had to talk me into trying out this year. Last year [2008], I was so nervous up on stage that I could not speak, even though I had a great deal of material prepared for the competition. This year, they built up my confidence and told me that I knew a ton of info about beer.

I am really glad they talked me into it, because it is a huge passion in my life, and the chance to get up on stage with others who love beer just as much, in front of many more like-minded individuals, is great. I could not speak more highly of John Dale. He has always been a great friend, and has a ton of confidence in me going into the semifinals, as well as the finals.

He and his staff at the Spinnerstown really do eat, sleep and breathe beer. Their food menu, cellar, and conversation are proof of that. I cannot think of anything more fun than being able to bring back the Philly Beer Geek plaque to the Spinnerstown. They may be the farthest from the city out of all the participating beer locations, but they have the beer spirit that you think of when they say "Brussels on the Schuylkill"... and the cellar to prove it!


How did you become associated with the "geeky side" of beer?

As I said in some of my material up on stage, I got to experience great beer early on. I really did not like beer at all due to some of the samples I had tried at an unmentionably young age. I started my foodie journey with fine Scotch and Bourbon.

Due to those passions, I read a lot of articles by Michael Jackson, and he was the gateway to better beer. Having only had Corona, Yuengling, and the usual macros, I decided to take a leap of faith; so I picked up one of his beer books.

Then I went to my (at the time) best local beer distributor, Link Beverage in Coopersburg. I was going to school at DeSales in nearby Center Valley. J.J., the manager there, would always talk to me about beer, let me try samples, and they have a very good selection of imports and craft beer. Then I began visiting local bottle shops, beer bars, etc. Now I am at the point where I will not hesitate to drive 3 hours to go on a brewery tour.

When I go to New Hampshire for work, I immediately hit up the Strange Brew tavern. Coincidentally, last time I was there I stumbled upon the first release of Victory Beer in the state, and the only t-shirt I had brought with me was a Victory one. Needless to say, I had tons of distributors asking me about their product line, thinking I worked for the company.

Do you homebrew?

About 2 and a half years ago, while at the Spinnerstown, Hal (the bar manager) suggested that my friends and I should start homebrewing. My friends who were with me never took the hint, but one trip to Keystone Homebrew and I was hooked. I slowly increased my brewing knowledge, skills, equipment, and technique.

Now I brew 12-gallon batches at home and have a cellar full of homebrew. I never would have thought of doing abnormal beers when I began, but now I have an oak-aged Brett beer and a lambic, as well as a bunch of meads.


Do you maintain a beer library? Tell me about some of your beer books.

Along with the brewing came the reading. Since I went to school for history, I have amassed a good library of classical literature and historical secondary sources. But my beer-book collection is quickly growing to match these.

I believe you were the one who donated the book basket to the prizes. While the beers were a great prize, a beer can be savored over the course of an hour or two, but the books can be savored for days, weeks, or months, and can be re-experienced whenever desired. The CAMRA book, 300 Beers to Try Before You Die, is one of the best "Greatest # Beers in the World" books I have read in a while, and the fact that there are spots for tasting notes in the book prove that those who put it together care a great deal about beer. They also seem to have more information on how each beer is produced than your average beer reviewing book. I have never seen it in the US before receiving it in the basket.

Your pamphlet was also a great read - I still want to try the taste bud count. I just have to track down a magnifying glass!

Other books I've recently added to my collection:

Eyewitness Companions: Beer by Michael Jackson - I have his other books, but this has some updated material, along with a nice, concise, and compact format.

Sam Calagione seems to be sweeping the literary beer scene. He Said Beer, She Said Wine by Sam Calagione and Marnie Old is a very interesting read. I do not have as much knowledge about wine as I do about beer. I have made it in the past and probably know more than the average non-wine critic, but this book provides great information about beer, wine, food pairings for both, and does so in a back-and-forth 'argument' that really showcases both fermented beverages in their best light.

The Beer Book by many authors is great … the ones that stand out to me being Sam Calgione and Stan Hieronymous (I love Hieronymous's book on brewing Belgian ale). Hieronymous has an extensive approach, yet remains humble about it the entire time - he does not profess to know more about Belgian Beer than those making it. Seeing him included in the author's list was the reason I gave this book a glance in the store, and the format of the book is great.

Photos are (from top): Nate Gefvert is ready for Victory; Nate Gefvert enjoys beer with his support team, aka, uncle; Nugget Nate Gefvert has the floor; Nugget Nate shows the judges his beer tool

Cheers!
You Should Also Read:
Philly Beer Geek 2009 - Finals Competition
Philly Beer Geek 2009 Rewards Beer Geeks
Beer Trivia for Beer Geeks


Related Articles
Editor's Picks Articles
Top Ten Articles
Previous Features
Site Map





Content copyright © 2023 by Carolyn Smagalski. All rights reserved.
This content was written by Carolyn Smagalski. If you wish to use this content in any manner, you need written permission. Contact Carolyn Smagalski for details.