Softball Defensive Stations using Paddles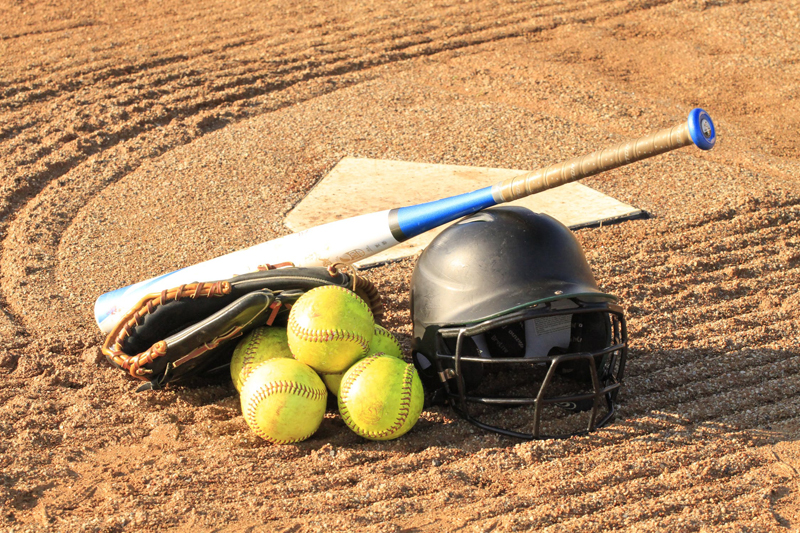 Wooden paddles are great tools for teaching and reinforcing good fielding and catching fundamentals, and should be part of any team's practice equipment inventory (see the related article below for step-by-step instructions for making your own paddles). I have used them for all my teams (8U and older) to reinforce the use of two hands to catch a ball. Having multiple paddles allows a manager to set up various different defensive stations and have their players rotate through.
The paddles are best used for drills where one-handed catches do not have to be made. They are inappropriate for, say, working on backhanding grounders because all the ball will do is hit the paddle and bounce off. In the beginning of the season, I use paddle stations a lot and in fact usually have at least two stations up at once. For a rec team's first few practices, I will use foam softballs until the players all are comfortable with the paddles and using both hands to catch. After that, I use regular softballs. As the season progresses, I eventually phase out the paddles as a regular practice stations, but will include them in practices sporadically as a refresher on proper catching mechanics.
There are various ways that paddles can be used. Personally, I will use the paddles if I join my players warming up before practice. Though I bring my own glove to my fast pitch team's practice, sometimes one of my players will forget their glove and so I will loan them mine, leaving me to use paddles anytime I demonstrate a defensive skill. In addition to coaching, I also play softball with a co-ed slow pitch team, and using the paddles keeps my catching and hand-eye coordination sharp.
Perhaps the simplest defensive station for which I use the paddles is just having two players throw the ball back and forth. This is a surprisingly effective drill. The player catching gets to work on her mechanics and her hand-eye coordination. The player who throws has to focus on making an accurate throw so that her partner can actually catch the ball with two hands. Killing two birds with one stone is definitely the sign of a good drill!
Frequently the drill we use is our grounder drill, where players roll the ball to each other and work on proper grounder fielding technique. Early in the season, the catching player is stationary and focuses on keeping her head, hands and butt down with her hands in front of herself to catch grounders. After a few practices using this technique, we transition to fielding balls where the player must move her feet to field the ball (either to the side or charging the ball in front of her). With this advanced variant of the paddle grounder drill, the emphasis is less on glovework than on proper footwork, but using the paddles instead of gloves keeps the player from being lazy and backhanding or forehanding the ball when she shouldn't.
Likewise, we use the paddles for learning how to catch fly balls properly, going through a similar transition through the season as the paddle grounder drill. With the pop-fly drill, I may continue using foam softballs a bit longer into the season until I am sure all players can confidently catch a pop fly with the paddles. Safety first!
My favorite drill using the paddles is our short-hop drill. With a short-hop drill, one player throws the ball 10 or 15 feet in the air toward her partner, who tries to catch the ball as close to the ground where the ball bounces as possible. Not only does this drill reinforce good fielding techniques for grounders (head down, butt down, glove down!), it also teaches players how to judge a fly ball – even though they are catching the ball on the short-hop, they have to judge where to position themselves just as they would if they were catching the ball in the air. Also, players become more comfortable with short hops, which tends to help them become more aggressive fielders overall.
My teams were average fielding teams, at best, until I started using paddles regularly at our practices. The season I introduced them to our practices, my 2-5 team immediately went on an 8-0 tear and went from second to last to second in the division. There is no doubt in my mind that they work, and teams that do not use them regularly do so at their own peril.
BellaOnline Softball Subject List:
Coach´s Box
,
Health & Medical
,
History of Softball
,
International Softball
,
Organizations
,
Parents
,
Professional Softball
,
Reviews
,
Rules & Regulations
,
Scorekeeping
,
Stats & Analysis
,
Travel Ball
This site needs an editor - click to learn more!

You Should Also Read:
Making Paddles for Softball Defensive Stations
Maximize Defensive Softball Practice Efficiency




Related Articles
Editor's Picks Articles
Top Ten Articles
Previous Features
Site Map





Content copyright © 2019 by Don McKay. All rights reserved.
This content was written by Don McKay. If you wish to use this content in any manner, you need written permission. Contact BellaOnline Administration for details.