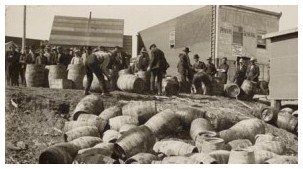 The Philadelphia beer scene came to a head during the first week of March 2010, when more than a dozen armed state police descended in simultaneous raids upon three upscale Philadelphia pubs: Local 44 at 44th & Spruce Streets; Memphis Taproom, 2331 East Cumberland Street in the Port Richmond neighborhood; and Resurrection Ale House, 2425 Grays Ferry Avenue. PA state agents confiscated three quarter-kegs of beer and 317 bottles valued at over $7,000.

Their crime? The Pennsylvania Liquor Control Board (PLCB) claims they had received a single complaint from a citizen, whose name remains undisclosed, that some of the beer available in these three pubs might not have been correctly registered with the state. According to laws created in 1987, beer manufacturers or importers are required to register each brand with the state, along with a registration fee that was initially $25, and has risen to $75 since its original inception.

Although owners Leigh Maida and Brendan Hartranft bought the beer legally from licensed Pennsylvania distributors and paid all the required taxes associated with the purchases, the PLCB alleges that the beers were not properly registered, comparing their labels against the PLCB's list of just over 2800 registered beers. Of the beers that are on the list, clerical errors are numerous.

The PA officers, unfamiliar with the beer they were usurping, took, as evidence, any beer that did not match their list. Monk's Cafe Flemish Sour Red Ale was listed as Monk's Cafe Ale. Dogfish Head Pangaea was listed as Doghead Fish Pangaea. De Dolle Oerbier was on the list as de rolle oebier. Duchesse de Bourgogne Flemish Red Ale was listed as Duchesse de Bourgogne Ale. Even Duvel, one of the most commonly distributed Belgian beers in Philadelphia, did not match. It was logged as Duvel Beer and Duvel Belgian Golden Ale. One brand of the unregistered, suspect beer was found in the back of a beer cellar - the brewing company who crafted that one went out of business 4 years ago.


Through a flurry of protests from local citizens, the PLCB is re-examining the confiscated beer and has, thus far, returned 72 of the 317 bottles. But Philadelphia voters remain riled for battle. The Fishtown Beer Runners, a local beer & fitness group founded in Philadelphia, has scheduled a Liquor Law Reform Run for Thursday, March 25th at 7:00 pm. The group celebrates "responsible running and drinking in the interest of science," and sets out on weekly runs that average 3-5 miles, every Thursday evening, regardless of the weather.

Co-founder David April organized the March 25th run to highlight the need for the Pennsylvania State Legislature to reform the antiquated Pennsylvania liquor laws. The group wil be running to Local 44, one of the bars raided by the state police. It is a 6.5 mile run from the starting point at 2346 East Susquehanna Avenue and everyone in the Philadelphia region is encouraged to participate, even if they can't run the entire route from Fishtown. Fishtown Beer Runners plan to head west on Market Street for most of the run and participants can join anywhere along the route, or take the El to City Hall and run from there.

In another local response to the raids, Philadelphia drinks author Lew Bryson founded the Facebook group, Abolish the PLCB - Rewrite the Code! on March 9, 2010. In just 4 days, his group has gathered over 3,864 members. One of the consumers on the site complained that the PLCB blocks the Guinness iPhone Pub Finder App. A photo of the phone display shows the PLCB's intrusion into the personal freedom of adults: "Locate disallowed. Unfortunately, the laws in the state you've requested prohibit the use of this pub finder application."

In 1977, the United States had little more than 50 brewing companies. In his book, Beer Companion, leading beer authority Michael Jackson noted that, [at the time of publication in 1992], the United States had more than 300 brewpubs and microbreweries. Since the early nineties, the beer community has enjoyed a renaissance - an Enlightenment, cultivated by the efforts of homebrewers who desired the civility of artisanship and flavor of well-crafted beer. According to the latest statistics released by the Brewers Association, there were 1,585 breweries operating in the US in 2009, of which 1,542 were smaller craft breweries. Often these are small mom-and-pop businesses, producing one-off batches of artisanal beers - aged in barrels, spiced with delicate herbs, dry-hopped, or fermented on fruit. Beer connoisseurs, akin to their wine counterparts, seek out these beers during meticulously-planned pub crawls. In other cases, they travel across the state to purchase hard-to-find beers to add to their collections.

The beer scene has become a civilized segment of society. It is no longer unusual for white tablecloth restaurants to present beer and food pairing dinners, or beer and cheese soirees. There are as many as 150,000 different beers available in the United States, and the PLCB still insists that every specialty one-off be registered through their seventy-five dollar payoff.

For Pennsylvania consumers, the beer landscape is ridiculous. The PLCB insists that consumers must purchase an entire CASE of beer from a beer distributor, even if they only want one or two bottles for cooking. Consumers are given the privilege to purchase smaller amounts in beer bars and licensed food stores who abide by even more ridiculous laws (seating for 30 people, limits of 2 six-packs for purchase, and separate cash registers for beer purchases, for example), but the prices are inflated because the consumer has few alternatives.

When will the Pennsylvania Liquor Control Board and the Pennsylvania State Legislators recognize beer as a food product and expel their infantile, sophomoric perception of beer as the latest temptation of Eve? The revenues gleaned are corrupt. The police raids are a waste of taxpayers' money - a clear assault on small business owners in the name of a higher authority.

At this point, voters are wondering who is bribing the PLCB.  It could get nasty.

Cheers!

Photos are: Prohibition photo from 1925 of the raid at Elk Lake; Resurrection Ale House (courtesy of Resurrection Ale House), one of the pubs accused by the PLCB of selling unregistered beer