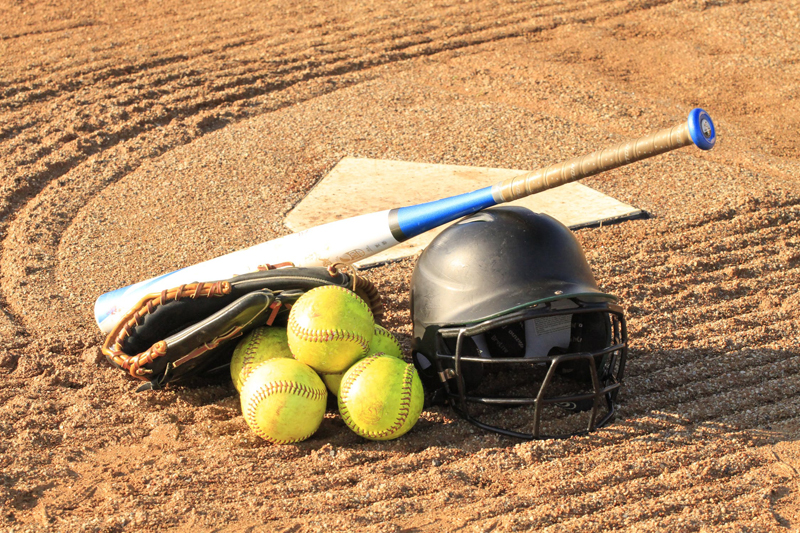 It does not take very long to become comfortable as a scorekeeper. After a few games, most new scorekeepers get the hang of keeping the book and start to feel like pros, developing their own feel for making typical calls like hit versus error and such. However, even the most seasoned scorekeeper can see something in a game that makes her go "Huh?" and not know how to score it. This article is a summary of as many of those type plays that I have seen, and they are drawn from the NCAA Softball Score Book rules.
Hits:
If a fly ball is misjudged by the fielder and she cannot recover to get into a position to catch the ball, it is a base hit.
If a ball untouched by a fielder hits the runner or an umpire, the batter gets credit for a hit. If the ball hits a runner, credit for a putout goes to the nearest fielder.
If a fair ball has a piece of equipment thrown at it, it is a base hit.
When no one covers a base for a play, preventing the throw, then the batter gets a base hit even if the out "should" have been made.
If a preceding runner is called out because she missed the first bag she was forced to, then the batter is credited with a fielder's choice.
A batter is credited only with the base she would have reached had no play on a preceding runner taken place.
If a fielder just holds onto the ball and does not make a throw, the batter gets credit for all the bases she advances.
Any ball hit over the fence in fair territory is a home run, even if it is deflected by a fielder.
On any kind of bunt, if the defense makes a play on the lead runner but does not get her out, then score the bunt as a sacrifice bunt.
Plays in the field:
If the runner advances because of a play on the batter for a dropped third strike, the runner advances because of a fielder's choice.
In contrast to a fielder just holding onto the ball, if the runner is safe because the fielder checked a runner and then threw late to the base, then all runners and the batter advanced due to a fielder's choice.
If a batter is out because a player batted out of order, then the catcher is given credit for a putout.
If a substitute batter comes to bat with 2 strikes already on her and she strikes out, the strike out is given to the batter for which she substituted.
No error is given on a stolen base no matter how bad the throw or catch unless the runner then advances another base.
A runner who advances a base because of a pickoff play at another base gets credit for a stolen base.
With runners on first and third, credit the runner with a stolen base of second if any play is made (example: a throw to the shortstop to try to trick the runner on third).
If a runner advances directly to second base after a walk, she gets credit for stealing second base.
If a fielder throws the ball that leads (even indirectly) to a putout, then she gets credit for an assist. If she makes two throws on the play (say, in a run down situation) that leads to one putout, she gets credit for only one assist on the play.
If a throw hits a runner, umpire, base, or other fielder resulting in an unnatural bounce that allows the runner to touch or advance a base, then the throwing fielder is charged with an error.
Cats 'n dogs:
If the bases are loaded and a run scores because of defensive obstruction, then the batter gets credit for an RBI.
For determining earned runs, if a relief pitcher enters in the middle of the inning, she does not get the benefit of reconstructing the inning without errors (as the starting pitcher would). The relief pitcher may therefore be charged with earned runs that are not earned runs charged against the team.
If the runner starts the inning at second base and then scores without error, credit the earned run to the team, but not to the pitcher.
BellaOnline Softball Subject List:
Coach´s Box
,
Health & Medical
,
History of Softball
,
International Softball
,
Organizations
,
Parents
,
Professional Softball
,
Reviews
,
Rules & Regulations
,
Scorekeeping
,
Stats & Analysis
,
Travel Ball
This site needs an editor - click to learn more!

You Should Also Read:
Softball Scorebook Abbreviations
Scorekeeping an Infield Hit
Scorekeeping when a Runner Advances




Related Articles
Editor's Picks Articles
Top Ten Articles
Previous Features
Site Map





Content copyright © 2023 by Don McKay. All rights reserved.
This content was written by Don McKay. If you wish to use this content in any manner, you need written permission. Contact BellaOnline Administration for details.